LEGENDARY
Wood Slicer Resawing Blades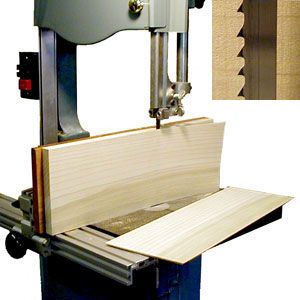 I just received my order and I want to
kick myself
for not ordering sooner. I have seen your ads about your Wood Slicer band saw blades for several years but always bought local until I finally got tired of breaking blades and smoking cuts.
I installed the 1/2 inch Wood Slicer on my band saw earlier today and fell in love with my saw again. I can now "slice" through my wood like a knife through gravy. I will tell all my woodworking friends to use your blades.
— Thanks, Mike L., Forest VA
Rikon 10" Benchtop Bandsaw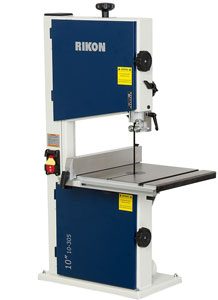 We've sold well over a thousand of this exceptional value from Rikon making it our all-time best-selling bandsaw ever. That's because it has proven itself as a solid performer that's also very affordable. After we installed one of our Wood Slicer resawing blades on our demo model, we were able to resaw uniform slices 1/64" thick off the length of a 4x4. We highly recommend it as your first bandsaw bought on a budget, or as a second bandsaw that lets you avoid having to constantly swap blades.
Rikon 14" Deluxe Bandsaw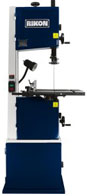 The Rikon 14" Deluxe Bandsaw is a great choice for all kinds of woodworkers. Furnituremakers will like the large 13" resawing capacity and cutting accuracy. Woodturners will like the stability of the large table when roughing bowl blanks. Includes 1-1/2 HP 115/230 volt motor, sturdy steel frame, double bearing blade guides, and tilting large cast iron table with a heavy rip fence and resawing pivot guide.