MADE BY HAND:
Furniture Projects from
the Unplugged Workshop
by Tom Fidgen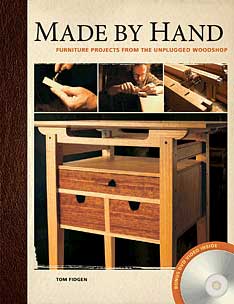 When Tom Fidgen moved his shop from his place in the country to downtown in a big city (where there was "no shop space to speak of"), he left his power tools behind and said he would "build with my hands like my grandfathers did before me..."
He spent the next year doing just that, all the while writing a book about woodworking using only hand tools. "Made By Hand" is that book, which also happens to include a 45-minute companion DVD that helps bring the book alive, even beyond the excellent photography and prose of the book itself.
He shares his personal experiences of learning and using tools, covering their history, technique and practical application, then sets about designing and building six projects: a cabinetmaker's tool chest, a dovetailed wall cabinet, a side table with tapered legs, a bookcase with mortise and tenon doors, and a modern take on a classic hunt board cabinet.
This book gently inspires the reader to slow the pace of woodworking and life, and allow time to reap the rewards of honest work done using only your hands to power your tools. Hardcover. 160 pages. Published by Popular Woodworking Books, 2009.
The New
Complete Guide
to the Bandsaw
by Mark Duginske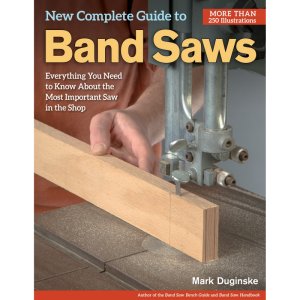 After Mark Duginske wrote the "Band Saw Handbook" back in 1989, that book became one of the best-selling woodworking books we have ever offered. Now with a new publisher and a beautifully updated format, Mark has once again raised the bar on the subject of understanding and using the band saw. Mark makes a solid case for the band saw being the most fundamental machine in a woodworking shop, although because of its unique architecture, many people experience it as one of the most complicated.
In "The Complete Guide to the Bandsaw," Mark shows how to make the band saw a powerfully creative tool in the woodworking shop, covering topics like shopping for a bandsaw, choosing blades, setting adjustments, mastering straight cuts, resawing, cutting cabriole legs, making band saw boxes, and creating and using patterns and templates. A master at designing and building jigs and fixtures and customizing the workflow to allow accuracy and efficiency, Mark shows how to build several basic jigs that demonstrate the principles for building more. By the end of this book, the reader will even know how to use the band saw to cut dovetail joints as well as other types of joinery. Softcover. 200 pages. Fox Chapel Publishing, 2007.
The Complete Illustrated Guide to Furniture &
Cabinet Construction
by Andy Rae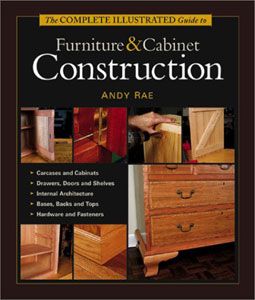 Perhaps no other book anywhere offers such a clear and comprehensive roadmap to mastering furniture and cabinetmaking. Beautifully organized and illustrated, the book first gives a thorough introduction to the basics of organizing a shop, understanding tools and machines, and the fundamentals of working wood.
From here the book delves deeply into furniture design, leading into a study of box and case construction, doors, bases, feet and stands, frame construction, and tabletops and work surfaces.
Each section of "The Complete Illustrated Guide to Furniture & Cabinet Construction" begins with an insightful overview, then moves into "step-by-step essays" that include over a thousand color photos and drawings with detailed explanatory captions. Almost every conceivable relevant topic is explored.
The author, Andy Rae, has distilled a lifetime of work and knowledge into a substantial hard cover volume that will serve as an excellent self-study course for any woodworker aspiring to truly master the craft of woodworking. Hardcover. 308 pages. Taunton Press, 2001.