On Veterans Day in 2010, we reported how Charlie Kested, a retired Navy veteran used a scrollsaw to painstakingly carve a full-size wooden replica of America's Declaration of Independence , completing it after 10 years of work despite suffering a life-threatening stroke before it was finished.
Back when we spoke with Charlie in the fall of 2010, he told us that after he finished his amazing carving of the Declaration of Independence, he was partway through carving Abraham Lincoln's entire Gettysburg Address and was hoping to complete it soon. Alas, the unfinished Gettysburg project suffered water damage while in storage at his winter home in Florida, and it appears its successful completion was not meant to be.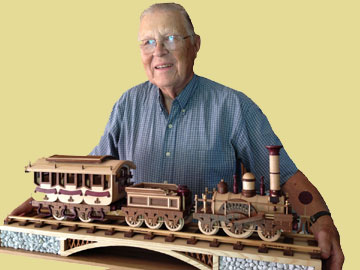 However he has since been working on building historical scale model replicas, one of which is an 1835 woodburning steam locomotive complete with a tender car and passenger car traveling over a railroad trestle.
He has also built two scale model farm tractors, one an early 1900s steam tractor with over 1400 parts, and a 1940s era John Deere tractor of the kind that has the front wheels close together.
We are grateful to Charlie's friend Peter Ellis, who was kind enough to send us a photo of Charlie showing off his completed model train project. (Click the image to see it larger).
When we asked Charlie what motivated him to continue undertaking such daunting projects (Charlie turned 83 years old on April 2), he replied that he is always looking for new ways to challenge himself.
It is our honor to congratulate Charlie on his continued exemplary courage and skill, and thank him for the heartwarming inspiration he has demonstrated for woodworkers as well as ordinary citizens everywhere. Charlie, we salute you in celebration of America's 236 years of freedom and independence!
Charlie and his wife Bev have been married for 55 years, and spend their summers in Johnstown, New York and winters at their home in St. Petersburg, Florida.