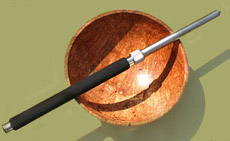 As the name implies, these
American-made woodturning tools
from Serious Toolworks in Medford, Oregon are designed and built for serious woodturners. At the heart of a Serious tool is tough, A2 tool steel, with a RC hardness of 62. These tools will more likely survive a dramatic catch where lesser tools would fail.
Not only durable in cross-section, the abrasion resistance properties of A2 steel will let you work longer between sharpening sessions, maintaining a sharp edge even when cutting hardwoods at high speeds. The tools are finished with a black-oxide coating to help protect them from surface oxidation in high moisture environments.
Serious Tools are sold unhandled. Install them in your own handle or use the Serious Toolworks Precision Camlock Handle for holding 3/4" diameter gouges and all the Serious scrapers. Three sizes of optional collets also allow you to use the Camlock handle with the 3/8", 1/2", and 5/8" diameter gouges.
The Serious gouges come rough shaped, but not sharpened so that you can apply your personal grind to each end of your gouge.

SERIOUS 5/8" ULTIMATE DEEP FLUTE BOWL GOUGE
Machined from a proprietary Super High Speed Steel alloy, combining excellent hardness and toughness, this exceptional gouge's Rockwell hardness measures between 68-70 – only carbide is harder. The resulting wear resistance is unmatched in woodturning tools – meaning fewer trips to the grinder. The Serious Ultimate Gouge develops a super fine edge, holds it for the longest period of time, will resist edge chipping, and clears high volumes of dry or wet shavings quickly. The Serious Ultimate Bowl Gouge is 5/8" x 12" and deep fluted from end to end, with the double ends CNC rounded. The tool comes rough shaped, but not sharpened so that you can apply your personal grind to each end of your gouge.

SERIOUS BOWL GOUGES
The Serious bowl gouges are made of A2 tool steel, with a RC hardness of 62. They feature a deep and broad V shaped flute, and have a useable length of 10" – compared to 5-7 inches for most gouges. Tip-to-tip fluting means a turner can have two different profiles on the same gouge, if using the Camlock Handle. Available in 3/8", 1/2", 5/8" and 3/4" diameters.

SERIOUS SPINDLE GOUGES
Also made of tough A2 tool steel hardened to RC 62, the Serious spindle gouges feature a shallow open U shaped flute for general purpose spindle turning. Available in 3/8" and 1/2" diameter

SERIOUS WOODTURNING SCRAPERS
Made from 3/8" thick A2 tool steel at RC 62 hardness, the Serious Toolworks scrapers are 50% heavier than most other scrapers, providing better wear resistance and much lower vibration transfer. Their extended reach and added heft allow for access to hard to reach spots and much quieter and smoother finishing cuts. Straight-turned shanks allow Serious Scrapers to be dropped directly into Serious Camlock Handles without requiring a collet. Available in 3 shapes and two widths: 1" and 1-1/2"

SERIOUS CAMLOCK HANDLE
The rigid 17-1/2" long camlock handle weighs just over 1.5 lbs and is wrapped with a cushioned foam grip. Changing out a tool is a snap and no tools are needed. Just a slight twist of the easy-grip, large knurled knob is all that is needed to lock the tool securely into the handle. Optional split collets instantly capture the 3/8", 1/2" and 5/8" gouges.

SERIOUS SPLIT COLLETS
Available in 3 sizes to accommodate gouges of 3/8", 1/2" and 5/8" diameter. 3/4" OD.