developer of a new stage in cordless technology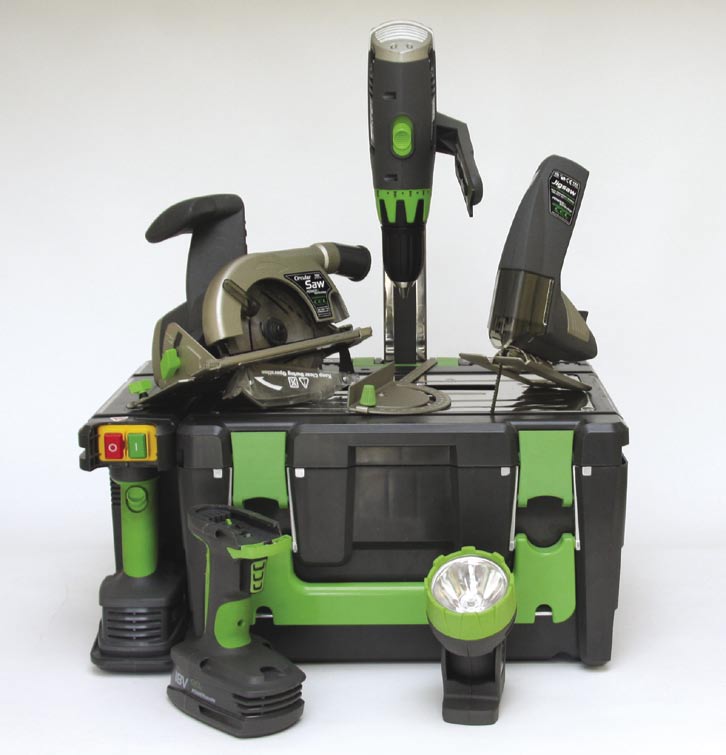 Eight Jobs
The Power8Workshop offers eight operations, including
an extremely useful halogen torch: it fits in the pillar
drill stand and could be used to illuminate your work,
or to brighten a dark corner of a cupboard.
Every year or so someone will design a workstation for harnessing powertools in a new and imaginative way. Sadly many of them fail, despite often being brilliant in concept and manufacture. Even the Triton, to a certain extent, suffers from the contradiction of immobilizing the freedom of the tools it embraces. So we weren't sure what to make of the Power8Workshop when we met the inventor, Chris Elsworthy. That is, until the moment Chris brought out one of the samples he'd been demonstrating at Grand Designs Live recently.
Power8Workshop isn't really for use in the workshop. Anyone who ever has to do woodworking away from the workshop, and is used to the benefits of stationary machines and kit will soon recognize its value. What Power8Worshop does is to capture the power of an 18V battery and convert it into a small tablesaw, drill press and even a scroll saw. It really is a workshop in a box, which you can take anywhere and set up in seconds.


Developing Power


It all began when product designer Chris Elsworthy was negotiating the fabrication of a completely different product with a Chinese manufacturer he'd worked with before. The factory wanted to develop their own products, to build equity in their range of powertools, so they weren't always servicing other companies. They gave him a pack of cordless powertools, similar to Ryobi's combo kit, and asked if he'd come up with some ideas.
"I went to a home improvement store and couldn't see any gaps in the market. Every gimmick has been done, but I did immediately throw away the blow-moulded box. I then wondered if I could add some value to the case. From there it's easy. As soon as you have a problem as an engineer you just have to find the solution."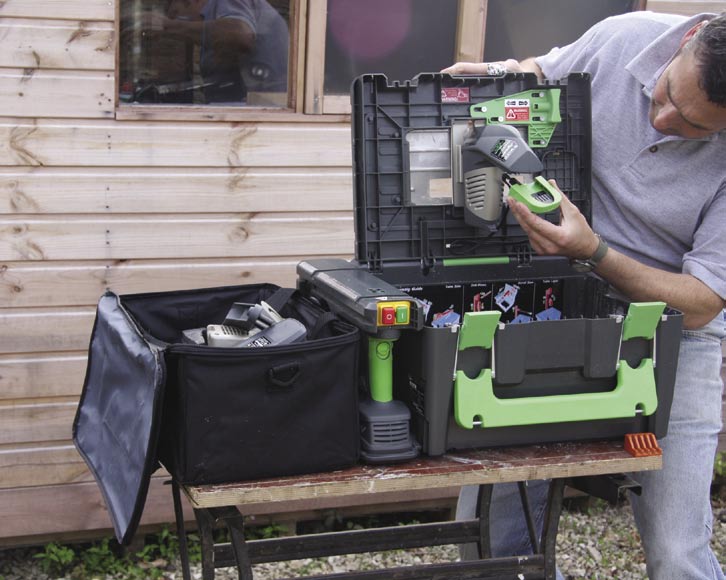 Portable Power
The tools are stored in a soft bag that you
remove when fitting a tool into the table.
In this case, with the Power8Workshop, there have been countless solutions to be found. First up Chris realised more than the battery could be unclipped from a cordless powertool: he made the whole handle removable. Then he started seeing if he could use that power 'centrally', so that with the handle and battery it could power various operations once it had been clipped into a charging unit on the side of the unit. By adding the red and green switches, plus remarkably simple ways of fitting the tools to the table, he was able to transform a plastic box into a machine.
The case converts into a tablesaw or a drill press, with the fence for the saw becoming the upright for the drill. The fence works surprisingly well, and is better than some on dedicated tablesaws. The body of the drill slides into the upright, and you can automatically turn it on and off with the switches at the front. There's none of the fiddling around with power tool switches that's the case with some devices. I suspect the machine is more likely to be used for ripping than crosscutting, which can be done by hand easily enough anyway. We weren't sure about the flashlight at first, until Chris showed how it can be used to illuminate your work and also for shining into awkward corners, fixed to the drillpress upright.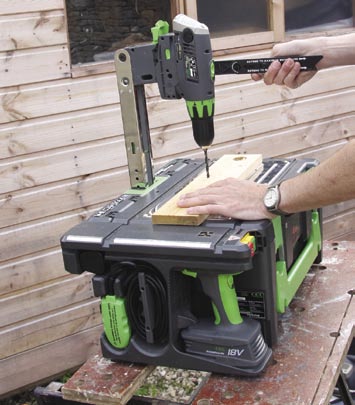 The drill fits onto the arm that doubles as a fence for
the saw (shown below), all powered by the handle/battery
which is charged on the side of the box. There is a
separate lead for charging remotely.
One of the many fantastically useful features of the Power8Workshop is that you can charge it so simply, just by plugging it into the wall, and once the batteries are charged it just trickle boosts them. That means there are no worries about leaving it on. There's an external charger so that you can charge the second battery if the first is being used, locked into the machine.
What Chris Elsworthy has created is a portable workshop, which needs no power leads and could even be charged by solar panels. With battery technology evolving so fast, it will get smaller, tougher and even more impressive in no time. What is amazing is the thought that has gone into solving so many potential problems with a unit like this. The concept is fantastic, and what's so remarkable is how they've been able to integrate so many clever solutions that don't undermine one another.
It will be fascinating to see how it survives on a building site, and if carpenters will be carrying them onto the subway in London, as one might expect. One great thing about it is that your cordless tools are not compromised by being fitted into the system because they can be removed so quickly and easily. That will be a benefit to everyone.
---
CLICK HERE for more Info and how to order:
Return to Wood News front page