Jim Dillon Interviews Mark Duginske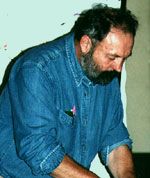 Mark Duginske is a fourth generation central Wisconsin woodworker. He makes his living as a woodworker, designer, writer, and inventor. He was formally a contributing editor to Fine Woodworking Magazine , and his work has also appeared in Fine Home Building , The Design Book , Americana , Chicago Magazine , Architectural Digest , Architectural Record , Woodsmith , Wood Shop News and Wood News . His restoration work in the Frank Lloyd Wright Home and Studio in Oak Park, Illinois has appeared on This Old House and the PBS Frank Lloyd Wright Special .
Mark has seven patents on woodworking tools and a number of patents pending. He recently sold his FastTrak patents to Kreg Tool Company. He is the author of ten books including Mastering Woodworking Machines (200488) and the Bandsaw Handbook (200393), which is the best-selling bandsaw book in the world. He has also produced three videos including Mastering Your Bandsaw (220429) and Mastering Woodworking Machines (220425).
Jim Dillon: Your Friday night lecture and slide show is going to be on creativity. How do you think creativity fits into the process of making furniture or cabinets in wood, and how can a typical woodworker develop her or his creative side?
Mark Duginske: Creativity is often thought to be like native talent in math, music, drawing, etc. and the assumption is that you either have it or you don't. Although one may have tendencies toward being creative, there is a lot that one can do to "increase" one's creativity. Some of those things are counterintuitive. Sure, to be successful one needs to work hard, but to be creative one also needs to learn how to "play" and not be too goal-oriented. Experimentation is important and if it is too goal-oriented it becomes a frustration rather than a learning experience. It's the old "you can't push the river" idea. When a very goal-oriented mother asked Einstein how her son could become a famous scientist, he replied that he would have to learn how to "play." The Friday evening lecture will also focus on my experience being a woodworker for one of Frank Lloyd Wright's students, and the problems with being the student of a famous designer. Also I will discuss the idea of problem solving and share my experience patenting the FastTrak System and then selling it to Kreg Tool.
JD: At the time you wrote Mastering Woodworking Machines , there weren't a lot of quality machine choices for a hobbyist woodworker. Now, with so many different machines being imported by so many companies, do you think it's gotten easier to put together a decent home shop than in the mid 1980's?
MD: Woodworking machines are a lot like computers. There are a number of acceptable machines. Some are available at inexpensive prices. The important thing is the "software" which the owner provides in terms of skill, jigs, fixtures and techniques. Knowledge is the best tool.
JD: If you could spend time in your shop making anything you wanted, what would it be?
MD: Chairs and tables from trees that I cut on my band saw mill and dry in my kiln. Being able to use wood from one tree for a project has huge advantages. So does being in control of the woodworking process from tree to finished project.
See a detailed description and/or register for Mark's free seminar on February 10, Creative Design (991311).
See a detailed description and/or register for Mark's seminar on February 11 & 12, Woodworking Mastery of Tools, Methods & Jigs (991312).