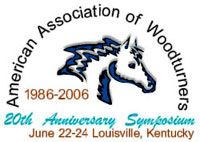 I Went to Turner's Heaven
by Phil "The Turner" Colson
This article originally appeared in the September 2006 issue of Wood news.
The 20th Annual American Association of Woodturners National Symposium was held in Louisville, Kentucky in June of 2006. This was my first national symposium and I didn't quite know what to expect.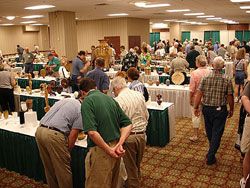 Upon arrival, I saw a lot of familiar faces from the various clubs I have attended and done demonstrations for and felt quite at home. I knew that the attendance was about 1,600, but I had no idea how big this was until I took three of my turnings to the instant gallery. It was huge. There was no way you could walk through the gallery and see all the pieces in one day. I walked around and saw the works of John Jordan, Binh Pho, Jacques Vesery, Cindy Drozda, and David Ellsworth, to name a few. It was thrilling to be able to view turners' pieces that I had only seen in pictures. There was a vessel so large the turner must have put small children inside it to sand and finish it off. I walked through several times and I still don't feel like I saw it all. The range of creativity was exhausting and exhilarating.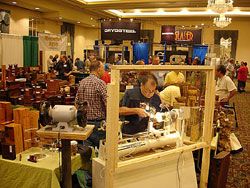 The vendor's area was filled with everything a turner could want and showcased all the new tools and gadgets. It too was huge. The vendors came from all over the globe. If they made something for turners, they were there. All the lathe manufacturers and turning tool companies were represented and had famous turners demonstrating their products. A new hollowing system that attaches to your tail stock caught my attention (I bought it). The new Glaser tools were on display under their new name CET and with their spokesman Alan Batty demonstrating. Anie of the JoolTool was always drawing a large crowd as she demonstrated her sharpening system (it is so simple to use and it really works). I spent a lot of time in the vendor's area looking at tools and gadgets, thinking about what a turner needs and wants. Some of the new products will be offered by Highland Woodworking in the future.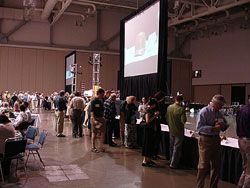 The demonstrations were awesome, consisting of four rotations for Thursday and Friday and three on Saturday. There were 142 possible demos, each packed with so much information it would make your head spin. Each demo room had two large screens and a video camera so everyone could see the demonstration. Pretty awesome! And the demonstrators were a who's who of woodturning. I got to see and talk with all the famous turners I had seen on videos and read about in books. It was thrilling.
My first rotation was with Mike Mahoney talking about utility items for your kitchen. He talked about how he eats off of or out of the wooden plates and bowls he turns. He collects antique turned bowls and uses them in the kitchen. Mike Mahoney is a must-see any time he is in your area. Another person I saw was Christophe Nancy from France doing his seed pod sculpture. I was inspired by Christophe and now I sculpt some of my work. Thank you, Christophe Nancy. I watched Mike Darlow tell me, in detail, everything there was to know about spindle turning and I mean everything. Another presenter was Andrew Brown, who formerly worked at Highland in the shipping department. He got into turning and Nick Cook sponsored him in the apprentice program at Arrowmont School of Arts and Crafts. After a year at Arrowmont he moved to Louisville, KY and became a professional turner. He also wears a kilt - strange people come from Highland.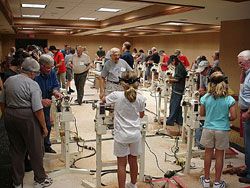 The highlight for me was volunteering in the children's rotation with Nick Cook and Bonnie Klein. There were 25 mini lathes with tools and chucks set up and the kids ranged in age from 10 to 17 years. Each rotation had a different project. Nick did honey dippers and egg cups and Bonnie did basic turning, tops and baseball pens. I helped both Nick and Bonnie for two rotations each. It was so inspiring to see these kids turn. Some were complete beginners, while others were very accomplished turners. Everyone had a blast. At the banquet on Friday night the 25 lathes, tools and chucks were given to 25 lucky children. One of the kids had won a lathe the year before and said he would like for another kid to have it. So another lucky kid's name was drawn from the hat.
If you get the opportunity to attend the 21st Annual American Association of Woodturners National Symposium next year, you should go. You will learn a lot, get inspired and go home and turn, turn, turn. All in all, I would have to say I was like a kid in a candy store, but I didn't get sick from eating all the candy, I got inspired.
Photography by Ed Davidson, courtesy of The American Association of Woodturners. For more information and photos of the Symposium, visit www.woodturner.org .
---
Return to The Highland Woodturner front page
This article first appeared in the September 2006 issue of Wood News.
To see the rest of that issue, CLICK HERE .