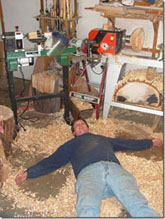 A Unique Woodturning Project:
Turning Wooden Lampshades
Seven years ago I started woodworking. I made many pieces of furniture, and then one spring, my wife wanted a new wood floor in the house. As compensation, I got my first lathe.
The minute I started turning, I knew it was a fun and productive use of my time. I stumbled upon a couple of walnut logs and made bowls for Christmas presents, then started making ornaments. Each year I tried to "outdo" the year before. Well, this year I made lamps and lamp shades.
---
Woodturning Tool Review: Easy Wood Tools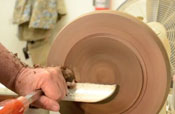 By George T. (Terry) Chapman

I am a wood turning snob. I admit it. I resent it when someone calls their woodturning tools "easy". It is not supposed to be easy – if it were easy, than everybody could do it.
With all that in mind, you can imagine my thoughts when I came across the Easy Wood Tool turning tools at the High a few weeks ago. These are new turning tools sold as easy to learn and easy to use. Yeah, right!! Snobbery kicked in.
CLICK HERE for Terry's reaction after using the Easy Wood Tools!
---