Turning a Chisel Handle
By Curtis Turner
Round Rock, TX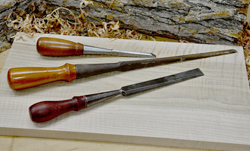 Turning a chisel handle is an easy project that can be the foundation for creating an entire set of matching handles. Once you see how easy this project is, you might even try your hand at making a matching awl!
---
New Product Tour: Turning a Pen with Morton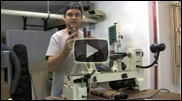 Just in time for the Holidays, Morton is turning pens in his shop, and he offers a detailed instruction video for you to follow and learn to do it yourself! With this video and a few pen turning supplies on hand, you can plow through your gift-giving list and be done before Thanksgiving!
Watch the video to learn how to turn a pen!
Check out pen kits and pen turning accessories at Highland!
---

Woodturner's 3/8" Bandsaw Blade

Our 3/8" wide WoodTurner's Bandsaw Blade, with 3 TPI, alternate set with raker tooth pattern and stout band thickness of .032", is the blade you are looking for if you want to create bowl blanks from green wood on the bandsaw. The significant tooth set of this blade provides ample room to keep the blade moving through dripping wet, kerf-closing, growth-tensioned logs.

CLICK HERE for more details on this workhorse blade:

General Finishes Wood Turner's Finish

General Finishes' Wood Turner's Finish is a non-toxic water/oil urethane hybrid. It is designed for use on bottle stoppers, salad bowls and other woodturnings. It produces a rich amber tone and dries to recoat in minutes. It can be applied with brush, rag or sprayed and it dries in minutes for re-coating. Available in 8oz and pint sizes.

CLICK HERE for more info and an informative video:

Want to receive
The Highland Woodturner EVERY MONTH?

CLICK HERE to sign up!

---

For this monthly column, we invite you to
SEND US PHOTOS
of your woodturning projects along with captions and a brief history and description of your woodturning. (Email photos at 800x600 resolution.) Receive a $50 store credit if we show your turning in a future issue.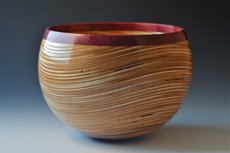 This month we are featuring some of the turning work of John Beaver, including several bowls with techniques that may make you wonder "how did he do that?"
Take a look at John's work HERE!
---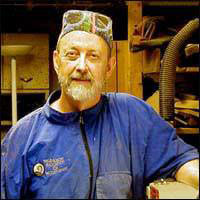 Using a Scraper for Woodturning

I want to share with you some of the techniques for using the scraper I've learned over the years.
First, it needs to be said that there is nothing wrong with using scrapers. Scrapers are just as effective as any other turning tool and like any turning tool, there are techniques to learn in order to get the most out of your scraper use.
Read Phil's tips on how to best use a scraper in your own woodturning HERE: