Shop Reorganization for the New Year
By Curtis Turner
Round Rock, TX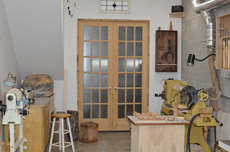 As 2012 comes to a close, I have begun to think about goals for next year. The ringing in of the New Year brings the opportunity to re-evaluate and reorganize with the promise of a fresh start. So, I recently reconsidered my shop setup, and how I use my tools.
CLICK HERE to read about the changes Curtis made to improve his workshop for the new year:
---
Amazing New Easy Chuck
by Easy Wood Tools

After rocking the world of woodturning with his innovative Easy Wood Tools a few years ago, Craig Jackson has now done the same thing with his new Easy Chuck for wood turners. Not satisfied with things being done "the old way," Craig has invented two new patented features for his Easy Chuck, and implemented them in his usual "Made in the USA" fashion.
What makes the Easy Chuck so unique?
---
Leather Woodturner's Shop Apron: Tough Protection for the Avid Woodturner

We finally found a leather apron that suits the needs of turners as well as other woodworkers. This beautiful top-grained leather apron is double stitched with thick nylon thread at all stress points. It has two hidden pockets conveniently located on the inside of the apron at waist height to keep the chips out.

CLICK HERE for more info:

Our Shop Smock: A Perfect Shield from All Those Chips!

Our shop smock is made from ruby-red colored, lightweight nylon and has an open mesh under the arms to keep you cool. When zipped up all the way, the stretch fabric on the back of the collar allows it to fit snugly but comfortably around your neck to keep out wood chips. Two more handy pockets are cleverly located on the back to prevent them from getting filled with dust and chips.

CLICK HERE to learn more:

---

---