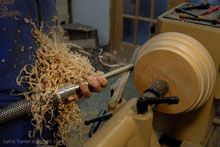 Oneway Mastercut Tools

By Curtis Turner
Round Rock, Texas

I recently made a purchase that I had put off for way too long. I finally decided to try the Oneway's Sure Grip Hosaluk Tool Handle along with several Mastercut gouges.

I have been testing this set up for about a month now. I wanted to share with you my observations.

CLICK HERE to read more about these great tools:

CLICK HERE for our Oneway Turning Tools Department


---
My Pile of Woodturning Tools

By Terry Chapman

In this classic blog entry, Terry Chapman shows off his large collection of woodturning tools and explains the best ones to use for the beginner.

CLICK HERE to see the tools:


---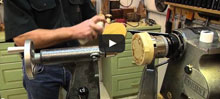 Woodturning with
Tim Yoder

Presented by
Popular Woodworking

Our friends at Popular Woodworking have a new episode of Woodturning with Tim Yoder, Episode 6: Turned Birdhouse. Watch as he takes some scrap wood he has laying around and literally turns it into a new birdhouse.

CLICK HERE to watch Episode 6: Turned Birdhouse:


---



NEW Easy Wood Tools 1/8" Easy Parting Tool

Easy Wood Tools has built some nice innovations into their new 1/8" parting tool. At the cutting end the tool body slims down to 3/32" and holds an 1/8" cutting tip. The narrow cutter helps you save material and part in very tight spaces. You can part up to 4" deep with only a 1/8" part width. The heavy tool body virtually eliminates chatter and vibration in most cuts. The solid carbide tip will stay sharp a long, long time. When it finally gets dull, it's easy to replace.

CLICK HERE for more product info:


Steel City 15430 8" Industrial Low-Speed Bench Grinder Package Deal

This is the affordable 8" low-speed heavy duty bench grinder that we've been waiting for! Adding our 60-grit and 100-grit premium pink aluminum oxide grinding wheels along with our upgrade knob kit make the Steel City 15430 the perfect solution for the woodturner who wants the performance of a sturdy cool-running low-speed 8" bench grinder without the expense of an $800 price tag.

CLICK HERE for more info:

---


Visit Highland's TURNING TOOL Department

Visit Highland's LATHE Department

Visit Highland's TURNING EQUIPMENT Department


Want to receive
The Highland Woodturner
EVERY MONTH?

CLICK HERE to sign up!
---

We invite you to SEND US PHOTOS of your woodturning projects or shop along with captions and a brief history and description of your woodturning. (Email photos at 800x600 resolution.) Receive a $50 store credit if we show your turning or shop in a future issue.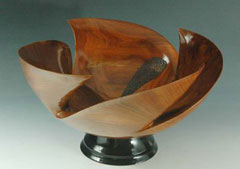 This month we are featuring the woodturning of Robert Wallace who started turning over 20 years ago when he needed to find a "quieter" woodworking activity after his daughter was born.

CLICK HERE to take a closer look at Robert's turnings:


---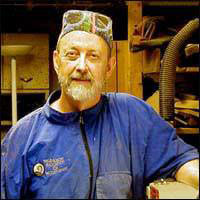 Drive Configurations

This month, Phil has a handy tip on configuring your drive so that you can turn any shape or size of wood that you desire.

CLICK HERE to see how:


---
Upcoming Turning Classes at Highland

Many classes fill up quickly, so please register now to make sure we hold a spot for you.

Jun 25 Taming the Skew
Jun 28 Basic Bowl Turning
Jun 29 Beginning Turning
Jul 23 Sharpening for Turners
Jul 26 Beginning Turning
Jul 27 Basic Bowl Turning
Jul 28 Natural Edge Bowl Turning

Classes Suitable for Teens
View Slideshow of a Beginning Turning Class with Hal Simmons


---
Recently Featured Products
Turning Green Wood
Crown 3/8 inch Pro-PM Bowl Gouge
Wave 2" Starter Kit
Galbert Woodturner's Caliper
Mirka Abranet Mesh Abrasives
Mirka Hand Sanding Blocks
Tormek T-7 Wet Grinder
Woodturner's Bandsaw Blade
Easy Wood Tools Aluminum Faceplate
Beall Wood Buff Kit