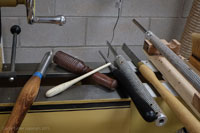 Making a Guiro

By Curtis Turner
Round Rock, Texas

Inspiration strikes again! Inspiration is a funny thing. It is rather unpredictable and uncontrollable. For some reason, I had the need to make another guiro. Yes, I made one years ago and no, I did not wear out the old one. I am not a musician and I have never played anything more challenging than a kazoo. I know you all have been eager to make your own guiro so let's get started.

CLICK HERE to read more:


---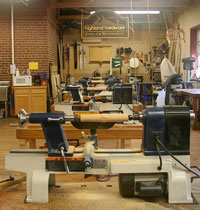 Topping Off a Turning Lesson

By Mollie Simon
Atlanta, GA

Our new blogger, Mollie Simon, just took Hal Simmon's 'Beginning Turning' at Highland Woodworking, and she has a full report of what she learned in the class and how it has helped her become a better woodworker.

CLICK HERE to read more about the class:

CLICK HERE to read Mollie's beginning expectations and background:


---



Rikon 8 inch Professional Low Speed Bench Grinder

Rikon's model 80-808 bench grinder runs at 1750 RPM, slow enough to dramatically reduce any likelihood of overheating your edge tools. The grinder is powered by a quiet-running 1 HP 120 volt continuous-duty induction motor. It's very smooth running and comes with bigger, beefier wheel washers than we've seen on any other grinder. Wheel washers may sound boring but they make a big difference. The wheel washers on this grinder are a full 2-5/8" in diameter and 7/16" thick (maximum, they're tapered of course). The inside washer doesn't seat on a tiny 1/32" shoulder like on some grinders we've tried. The 5/8" shaft on the Rikon Professional Grinder has a 13/16" shoulder to insure that the washer will seat without wobbling.

CLICK HERE for more info:




Record Power SC3 Geared Scroll Chuck Package 1in-8tpi

ON SALE- $50 OFF Regular Price

The Record Power SC3 Chuck Package is a serious lathe chuck at a great price, and makes a great starter chuck. It comes with three sets of jaws packed neatly in a fitted plastic case, and is operated using a convenient chuck key. The jaws include the standard jaws plus the 25 mm and mini step jaw sets. A woodworm screw is also included.

It is compatible with our full line of Nova chuck jaws .

CLICK HERE for more info:

---


Visit Highland's TURNING TOOL Department

Visit Highland's LATHE Department

Visit Highland's TURNING EQUIPMENT Department


Want to receive
The Highland Woodturner
EVERY MONTH?

CLICK HERE to sign up!
---

We invite you to SEND US PHOTOS of your woodturning projects or shop along with captions and a brief history and description of your woodturning. (Email photos at 800x600 resolution.) Receive a $50 store credit if we show your turning or shop in a future issue.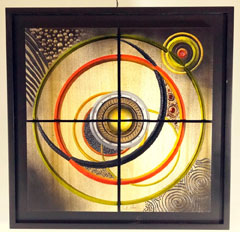 This month we are sharing the woodturning projects of Eldon DeHaan, who begins all of his turnings on the lathe and then transforms them into his own individual creations.

CLICK HERE to see Eldon's woodturnings:


---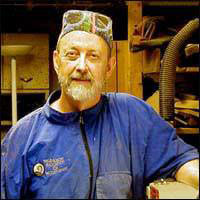 Foam Backed Sandpaper

This month, Phil has a tip on the advantages of using foam-backed sandpaper during your turning process.

CLICK HERE to read Phil's tip:


---
Upcoming Turning Classes at Highland

Many classes fill up quickly, so please register now to make sure we hold a spot for you.

August 23 Natural Edge Bowl Turning
September 9 Sharpening for Turners
September 12 Beginning Turning
September 13 Basic Bowl Turning

Classes Suitable for Teens
View Slideshow of a Beginning Turning Class with Hal Simmons


---
Recently Featured Products
Rikon 70-220VSR 12-1/2 inch Midi Lathe
Turning Custom Duck and Game Calls
Bodger Set of 6 HSS Turning Tools
Pens From The Wood Lathe
Galbert Woodturner's Caliper
Woodturner's 3/8 inch Bandsaw Blade
Gladstone HSS Tip Turning Scrapers
Learn To Turn - 2nd Edition
Getting Started in Woodturning