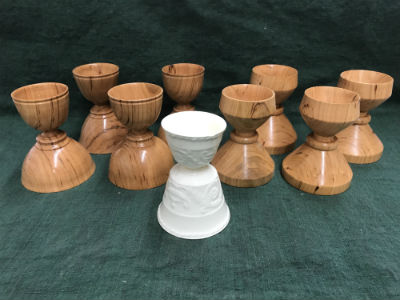 Turning an "Incredible" Egg Cup
By Temple Blackwood
Castine, ME
This month, Temple shows us how to turn an egg cup out of cherry using a standard egg ceramic egg cup as his template and then personalizing the design.
Video: Oneway Wolverine Grinding Jig
By Justin Moon
In this short video, Justin Moon explains the basics and offers tips for using the Oneway Wolverine Grinding Jig to accurately and repeatably sharpen all of your woodturning tools and more.
The Joy of Multi-Axis Woodturning
By Ray Bissonette
Snyder, NY

What began as an experiment about seven years ago has become my favorite woodturning pastime. I call it free hand offset turning. The choice of name derives from a couple factors: what I make emerges from only a rough plan with little or no measurement or layout relative to the work of most turners; I turn off center without tailstock support; the end product is always a bit surprising, usually pleasant but not always.

Click here to read more

Phil's Turning Tip: Have Fun!
By Phil Colson
Atlanta, GA

This month Phil Colson shares one of the most important tips in woodworking - just have fun - and explains his philosophy behind it.

Click here to read more
Oneway 2000 Series Large Lathes

If your turning leads you toward ever larger and more ambitious work, Oneway has a lathe that will take you there and serve you well throughout your turning career. Oneway's 2000 Series lathes are built for serious turners, with industrial-duty design and construction throughout. The massive 10-3/4" diameter tube that forms the body of the lathe provides not only great mass and stiffness, but nearly perfect torsional rigidity as well.


Click here for more info

Rikon 8 inch Professional
Low Speed Bench Grinder

We've finally found an affordable, low-speed bench grinder that runs smoothly and provides accurate sharpening of all of your turning tools. The grinder also includes heavy duty tool rests and an adjustable LED work light to assist in your sharpening process.


Click here
for more info
More Turning Tools and Books for Your Shop
Click the images below to visit some of our most popular tool departments
| | | | | | | |
| --- | --- | --- | --- | --- | --- | --- |
| | | | | | | |
| Finishing | Books | Clearance | Festool | Planes | Sharpening | Wood Turning |
Highland Woodworking
1045 N. Highland Ave. NE
Atlanta, Georgia 30306
Tel. 800-241-6748
Email us at email@highlandwoodworking.com
Visit us on the web at https://www.highlandwoodworking.com
Copyright © 2018 Highland Hardware, Inc.

Errors regarding pricing and specifications are subject to correction.
SOME SALE QUANTITIES MAY SELL OUT and become unavailable at the advertised price.