Here's My Woodworking!
by Kenneth Sternberg
Mauldin, SC
Click on any picture to see a larger version.
I have been working with wood and metal and stone and many other materials since about 1964, with whatever tools my Grandfather didn't hide well enough to prevent me from putting to use for purposes that they may or may not have been intended for. I have been a member of the Greenville Woodworkers Guild for 3 years or so. I try to make things similar to what was utilitarian from days gone by, and I especially like to make things that the average guy could have made for himself or others. I don't really make reproductions, more like forgeries of things that might have been. My wife sometimes calls it "Shaker gone bad".
I do most of my work out in the sunshine. I push my saws and such out on the drive if weather permits. If weather does not permit, I just don't do it.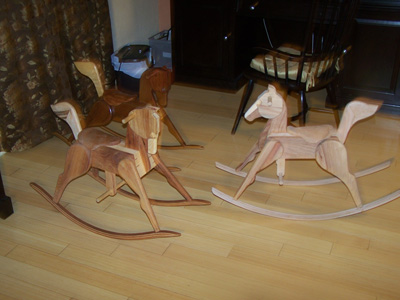 These are some little rocking horses that I build on occasion. I have sold a couple on Etsy, and donated a few. These are sized for a child of about 10-30 months.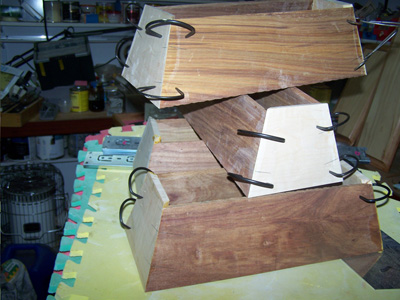 These are some of the bodies in the process of being built, made of jatoba and maple. I put biscuits in the corners or splines and then splines across the miters of some contrasting wood, for looks and strength.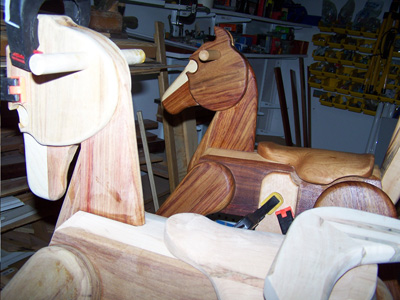 Here are several in the process of being built. I usually put beadlock mortise and tenons, or sometimes dowels, in each joint. These rocking horses are incredibly strong because of the hardwoods and those joints.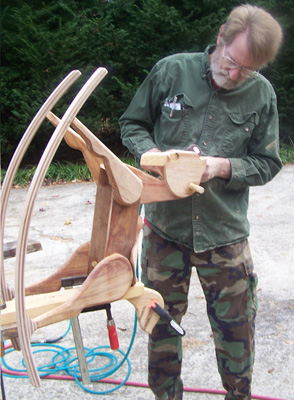 This is me tuning one up just a bit. I laminate the rockers for strength and looks. I built the first ones with a recurve similar to Mr. Maloof's rockers, but two year olds did not seem to like how those rocked as well, so I changed to suit my little customers.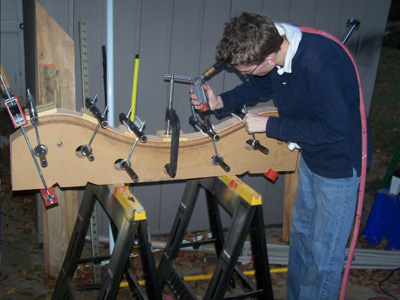 My son Stefan making some rockers for us. This is an example of the recurve versions I built before I learned that 1 and 2 year olds prefer a smooth contour.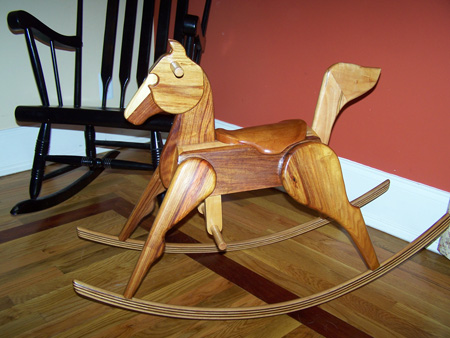 ---
You can email Kenneth at KESAC@aol.com.
Would you like to see your woodworking in this column? We invite you to SEND US PHOTOS of your favorite woodworking projects along with captions and a brief history of your woodworking. (Email photos at 800x600 resolution.) Receive a $50 store gift card if we show your stuff in a future issue.
Return to Wood News front page