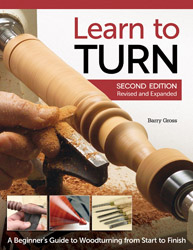 Learn to Turn, 2nd Edition is a woodturning book for true beginners. If you've considered trying woodturning but have been intimidated by other books available on the subject, you'll find artist and author Barry Gross puts the fun back into turning with this approachable and enjoyable guide. Readers will receive advice on every step of the turning process, including selecting the right lathe, basic safety and woodshop setup, an overview of the proper tools and how to use them, and the basics on sharpening, sanding, and finishing. Also included are step by step instructions for eight projects such as a birdhouse, a simple bowl, and a pepper mill. This guide also includes a special chapter that addresses and reveals the surprisingly simple solutions to common beginner mistakes.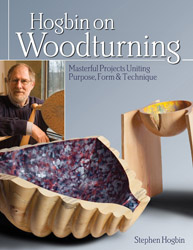 Legendary woodturner Stephen Hogbin's work has been groundbreaking at every turn. He first burst on the scene in the early 1970s with an exhibition of turnings like no one had ever seen—cut apart, reassembled, enhanced by carving, and bearing little resemblance to the standard round stuff that characterized the lathe. Now the internationally recognized designer examines ten of his finest and most innovative creations, and distills each piece to a useful project that any woodturner can replicate. This is the first time that Hogbin has described his techniques and presented his ideas in step-by-step project format.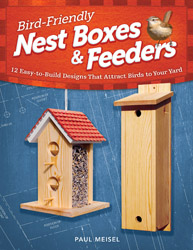 Bird-Friendly Nest Boxes and Feeders offers ten simple and classic designs for building traditional birdhouses and feeders, plus valuable insights on creating the perfect backyard bird environment. More than just a set of plans, it covers how to attract the right kinds of birds and ensure that they will keep coming back.This book includes complete plans for making basic, practical bird-welcoming structures, accompanied by patterns, illustrations and full color photographs. Each project is perfect for individuals striving to create the most natural bird environment possible. Woodworkers from beginner to expert will find projects appropriate for their skill level. From understanding the proper dimensions for a birdhouse, to choosing the right seed for attracting desired species, to learning how to keep squirrels away, the tips and tricks found here will help guide bird lovers to create a backyard oasis.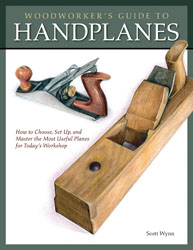 There is much to consider when choosing a woodworking handplane. This guide teaches you how to discern the difference between each style of plane, how to select one that's best for your approach to woodworking, how to setup and maintain each of the planes, and lastly, how to make a variety of handplanes. The author analyzes the six core anatomical elements common to all planes, then shows how these elements work. He also evaluates the styles of woodworking planes from various cultures, including Japanese and Chinese planes. This intelligent book features over 200 photographs and hand drawings that are as technically rich as they are beautiful.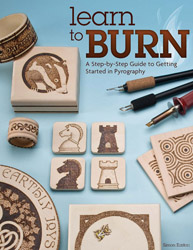 Known as Pyrography which literally means "writing with fire," woodburning is a rewarding art that is practically infinite in its applications. This book shows you everything you need to get started in this fun and expressive craft. Award winning artist and pyrographer Si Easton takes you from basic woodburning concepts to tips and techniques that encourage your creativity and help you develop your own individual style. His expert lessons teach you all of the essential techniques, from making simple marks to texturing, lettering, shading and finishing. Learn to Burn offers fifteen step-by-step projects for making decorative gifts—from spoons and spatulas to bangles, bowls and bookmarks—illustrated with clear how to photographs. Each pyro project can be completed using ready made materials that are easy to find at your local craft store. Fifty bonus patterns will allow you to unleash your creativity on hundreds of additional woodburning projects. This is a book that you'll come back to again and again as you develop your expertise in an innovative art form.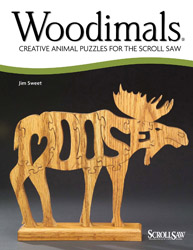 Get creative with your scroll saw and dive into the world of woodimals. Woodimals are fun and creative puzzles made in the shapes of countless animals from around the world. Each puzzle incorporates the name of its animal into its design, resulting in a piece that is both engaging and entertaining. Woodimals make perfect gifts and are excellent projects to create for young children just learning how to read. Turn your workshop into a classroom for your children or grandchildren and present them with an engaging and interactive learning experience. Woodimals come in all shapes, including American classics like the buffalo, creatures from the sea like dolphins, and exotic animals like the camel. They are perfect for beginner scrollers seeking to build their skills or for more advanced scrollers looking for project and gift ideas. This book contains 56 different Woodimals patterns.