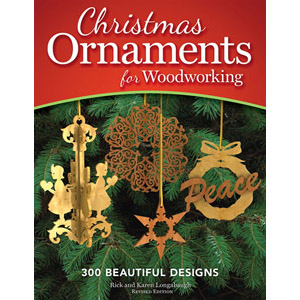 Christmas Ornaments For Woodworking
Ready to create your own beautiful Christmas decorations? With Christmas Ornaments For Woodworking by Rick and Karen Longabaugh, you are provided a huge resource of patterns, covering a wide range of themes. From simple to complex, two sided to multidimensional, you will find creating these projects enjoyable and some of them maybe even a challenge.
Rick and Karen Longabaugh begin by giving the reader basic techniques and steps for making the ornaments, then packs the book with these great patterns, which can be easily copied for your use. Themes include: Angels, Nativity, Christian Symbols, Santas, Elves, Snowmen, Snowflakes, Children, Country, Holiday Greetings, Musical, Classics and many, many more!