JULY BOOK SPECIAL
SAVE 33%
off these popular titles thru July 31st, 2014

PLUS look inside each book right now for FREE!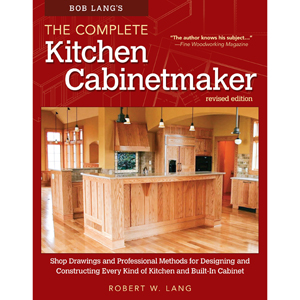 Bob Lang's The Complete Kitchen Cabinetmaker, Revised Edition
Demonstrating how woodworkers can approach the complex job of designing and making built-in cabinets for kitchens, family rooms, and home offices, this technical handbook provides meticulously detailed shop drawings, instructions, and hundreds of professional tips for saving time, materials, unnecessary aggravation, and money. Bob Lang offers practical, hands-on guidance for building traditional face-frame cabinets as well as constructing contemporary frameless Euro-style cabinets. Woodworkers will learn how to measure rooms and design fitting cabinetry that considers both function and aesthetics, how to develop working shop drawings and cutting lists, and how to work with materials as varied as solid wood and plastic laminate. Technical instructions for cutting and joining the basic box, as well as for fitting it to drawer stacks, sinks, corners, appliances, and islands, are also included, as are detailed steps for sanding, finishing, and installing each piece. This revised edition also offers a colorful new 16-page idea gallery with photographs of finished cabinets.
List price $24.95
Sale price $16.65
Click through below to see the Book Preview!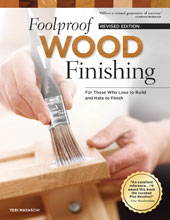 Foolproof Wood Finishing, Revised Edition
This is the essential guide for everyone who loves to build but hates to finish. Expert finishing instructor Teri Masaschi takes the mystery out of finishing, and helps you to avoid costly and frustrating mistakes. She shows how to choose, use, and apply the perfect finish in Foolproof Wood Finishing, Revised Edition. You'll learn step-by-step as you work your way through 51 proven and easy-to-follow finishing exercises. Discover how to determine the best finish for your project, prepare wood, fix minor defects, avoid uneven results, and circumvent common wood-coloring pitfalls. Also included are 23 "recipes" for creating timeless looks such as deep antique cherry and nut brown mahogany. To keep things from getting too serious, you'll get a laugh from amusing anecdotes culled from the author's many years of finishing experience. If you've ever wanted the secrets to stress-free, successful finishing, this refreshing guide is a must-have for your bookshelf.
List price $19.95
Sale price $13.32
*Available to Ship 7/14
Click through below to see the Book Preview!
Return to Wood News front page