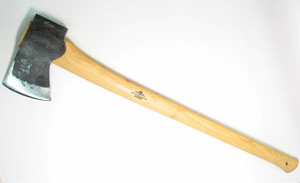 How to Sharpen an Axe
A dull Axe is no Axe at all. Any tool with a blade is almost worthless unless it is sharp, and when it comes to sharpening tools you can do it the hard way, the wrong way or the best way so make it easier on yourself and get the right information and the right tools for the job.
Click here to read
Axes: Tools of the Timber Framing Trade
Axes come in all shapes and sizes, from small 1-1/2 pound hatchets to large broadaxes with a 14" edge. While we don't use every axe style, we do use many of them regularly in our work of building and restoring traditional timber frames.
Click here to read