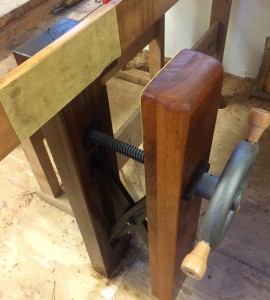 Installing My
Benchcrafted Leg Vise
Terry Chapman recently purchased the hardware for a new Benchcrafted Glide Leg Vise and has finished installing it on his workbench.
Click here to read
Building the Andre
Roubo Bench
After completing the addition to his workshop, Kerry Lancaster realized he had to have a workbench other than his table saw. Kerry's first order of business was to build a functional workbench.
Click here to read
The Year of
the Workbench
After reading Lon Schleining's
The Workbench
, Dick Rank was inspired to make something for himself for a change, and decided to build a new bench for his shop.
Click here to read