Click on any picture to see a larger version.

This morning comes with aches and pains from a flooring project. Three hundred square feet down a hallway with eight doorways and a stairway landing to cut around. Lots of bending over and kneeling and trips to the chopsaw out on the porch. My body is feeling the effects of unusual levels of manual labor. This usually leads me to reflect on how people in the past must have been in better physical shape, more used to a day of exertion and pushing their bodies to the limit.

Eric Sloane, in his book A Reverence for Wood, says that only when we can look at objects from the past through a craftsman's eyes, understanding what went into making the object, can we truly begin to appreciate both the people and the object. So let's take a trip to Opelika, Alabama. In Municipal Park there is a little covered bridge over Rocky Brook. It is one of only 11 historic covered bridges left in the state. Take a closer look, do you think you could make this?




Back in 1900, Otto Puls was hired to build a bridge over Wacoochee Creek on Shotwell Road in eastern Alabama. He used the Town Lattice design, a patented bridge concept developed specifically to simplify bridge construction by eliminating complex timberframe joinery. In a Town Lattice bridge, the side trusses are a simple grid of crisscrossed planks connected by wooden pins (called treenails). While Otto didn't have to cut any mortises or tenons he did have to drill 1.25" diameter holes—a lot of them. For the 76 feet to span the creek there would have been a whopping 2000 holes through 2" thick southern pine planks.

What would it have been like to drill 2000 holes by hand? I pulled a piece of old southern pine timber off the woodrack to do a little experiment. Back in 1900 there were boring machines (beam drills) but even those were hand cranked. The portable electric drill wasn't invented until 1916. How much people-power and time would it take to muscle through a plank? For my first go at it, I started out with a T-handle barn drill and a
1-1/4" auger bit. The drill pulled nice chips and the bit cut easily enough twisting the ends of the handle. My second trial was to use the same auger bit in my Stanley ratcheting brace. It was a lot harder to turn; the 10" sweep is actually shorter than the handle of the barn drill and you can only pull on one side (instead of pushing and pulling like with the barn drill). Boring through 2" of pine took about 1 minute. If you assume a standard 50/50 work-rest cycle for heavy physical work, that meant Otto would have been boring away for about 8 solid days to build the Salem-Shotwell bridge.

As the physical effort occupied my mind, I also quickly found myself checking the condition of the tool and the bit. How sharp is the bit? Is this a softwood auger bit or a hardwood auger bit? Would a bit of oil on the ratchet make it easier to turn? Charles Hayward has a whole section in his chapter on Boring Tools called, "When Your Bits Give Trouble." It's interesting how a physically demanding task quickly turns my focus to making sure my tools are sharp. If I was using my 1/2" electric drill I would have just leaned on the handle a little harder and burned a few more electrons.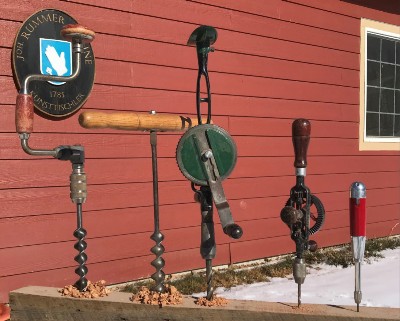 Figure 2. Drilling in a southern yellow pine barn beam
(l-r: ratcheting brace, barn drill, breast drill, MF#5, MF#100)


With a renewed appreciation for manual drilling, I looked over at the collection of drilling tools in my shop. There is my great-uncle's #12A Miller Falls breast drill, stamped with his initials in the stock. It is a muscular tool that was clearly ready for hard work. The stock is there so you can put all your weight on the drill bit. The crank has two positions—one for easy, close in work, the other extended position for maximum torque. It is also a 2-speed drill that allows the gearing to change for heavy work. Miller Falls made this tool to drill holes even in iron, steel, and hardwoods. I can imagine Uncle John helping his dad in the shop drilling through some strap iron and oak to put a wagon back together. But for me, 100 years later, the 1/2" test hole in the picture above is the most I have ever used this drill. It just seems like too much work when I can pick up my cordless drill from its charging stand.

My Stanley brace is one that Grandpa Burnham gave me back in high school. He said that every woodworker needed a brace and showed me how much easier it was to drive screws with a brace compared to a screwdriver. Put a 2" x 12 flathead woodscrew into oak and you can appreciate how easy a 10" swing makes the job compared to turning a screwdriver. This is a tool I have actually used quite a bit. The brace works well with large tenon cutters for rustic furniture. With spoon bits and center bits, a brace can do things you can't do with a power drill and it feels great to use this hand tool.

I also have a collection of smaller boring tools for the grandkids. A Miller Falls #5 eggbeater drill comes with the warning from Grandpa, "Keep your fingers out of the gears!" And for the cool factor you can't top the 1950's Miller Falls #100 "Buck Rogers" push drill. One of the first tools I used in the shop was a push drill like this. I think Dad's calculation back then was the same as mine now, "How much damage can a kid do with a manual drill?"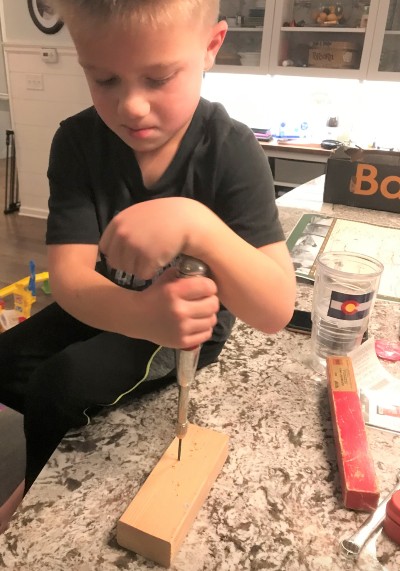 Figure 3. My grandson Grayson using the Miller Falls #100
Buck Rogers push drill on the kitchen counter.


As I look at my collection of boring tools, why do I keep them? Are they wall art for a restaurant or are they something I should keep ready to use? Nick Offerman said, "And what we've lost sight of is that performing manual labor with your hands is one of the most incredibly satisfying and positive things you can do."

When Otto Puls finished boring 2000 holes and stood up his bridge, I am sure he stood back and looked it over with a sense of accomplishment and pride. It was an object that came at some cost to the maker. Would he have felt the same if he had knocked it out in 2 days with a power drill? The good people of Salem and Shotwell that now had a shorter route through the woods looked at Otto and valued him for what he had given to their communities with his sweat and blisters. Would they have felt the same esteem towards Otto if a CNC machine had cut all of his parts and bored the holes?

I don't really want to go drill 2000 holes with my brace. I'm sure Uncle John was ecstatic when he got his first electric drill and the Miller Falls was consigned to the toolchest. But I do appreciate Offerman's point. If I want to realize the satisfaction and pride of putting myself into my work, I have to be willing to pay the price of aches and pains. So pass the muscle ointment and let me re-read Hayward's chapter on how to sharpen my auger bits. I have a bridge to build.

References

Lost Art Press. 2016. The Woodworker: The Charles Hayward Years. Vol 1. Tools. Lost Art Press. 456 p.

Offerman, N. 2016. Good Clean Fun. Penguin Random House. 352 p.
Salem-Shotwell Covered Bridge.. Wikipedia page
Sloane, E. 1965. A Reverence for Wood. Dover Publications. 111 p.

---
Bob Rummer lives in Colorado and is a part-time woodworker. He can be reached directly via email at rummersohne@gmail.com. You can see his shop and some of his work at www.JRummerSons.com.