Welcome to ANOTHER special "Tips From Sticks-In-The-Mud Woodshop." Jim has been taking a break from his regular Wood News column, but has another quick tip he wants to share. Take a look below to read what Jim has been up to lately.

I am a hobbyist who loves woodworking and writing for those who also love the craft. I have found some ways to accomplish tasks in the workshop that might be helpful to you, and I enjoy hearing your own problem-solving ideas. If, in the process, I can also make you laugh, I have achieved 100% of my goals.
#Knifeforwood
I make lists. I make shopping lists, trip lists, lists for going birding by myself, lists to bird out of someone else's vehicle, lists to bird out of someone else's boat.

I make lists. I have a list of clothes and tools I need to take to work with me when I'm doing a renovation or repair job at the clinic.

I make lists. Sometimes, my lists fail me.

Mostly they fail me when I forget to customize them for a particular job, and that's what happened this time. I'd put a new "window" air conditioner in our kennel at the office. However, the kennel's huge windows aren't a sash style, and, thus, won't accommodate simply sliding a window unit in, closing the glass and pulling out the side aprons. No, it requires cutting a hole in the wall and making the hole and the air conditioner work together.

And, of course, the unit you buy today won't be available when it's time to replace it, so the previous hole in the wall never works with the new purchase.

Brenda says, "Every time I find something I like, they quit making it." I tried to buy the exact same AC I was taking out, and, of course, it was no longer available.

That means changing the framing, and, ultimately, the siding on the outside, too.

This particular installation added another complicating factor, and that was the smaller size of the more modern, efficient unit. The first time I put it in, modifying both the frame and the wood siding, I put it a little too far inside the building, because the vents are located on top, and air was blowing against the framing.

Weeks went by before I realized condensation was dripping indoors, necessitating a "reinstall."

And new framing.

And new siding.

I measured carefully, cut carefully, just once, and took the siding home to prime and paint. I knew I would have to do some trimming to one board to fit it exactly to the outline of the unit, but most everything else would be pre-protected by two coats of primer and two coats of exterior paint.

Saturday morning came and I rolled out of bed at 4:02. "Get an early start and I might be through in time for breakfast," I thought.

Arriving, I had the old siding off in no time, and the first two, unmodified pieces tacked in place, fitting perfectly. I marked up the last piece and made my cuts.

It was then I realized I'd need a rabbet on the cut edge, to make the pieces of lap siding, well, lap.

No problem, you say, put the dado blade in the 3 HP Delta table saw and you're still through in time for sausage and egg burritos at McDonald's.

Well, I would be, except the Unisaw was a 30-minute drive. One way.

No, we'd be making rabbets the po-boy way, with a circular saw on one edge and the back face of the siding.

No problem.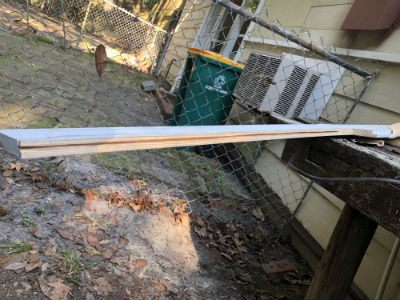 Good ol' boys have been making rabbets like this with circular saws
for decades. This one turned out beautifully, except...


Well, no problem until I got to the cut-out part, and the saw stopped about three inches shy.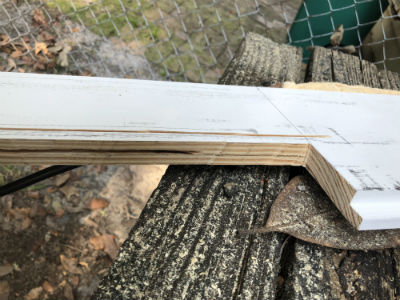 ...except that the circular saw wouldn't go all the way to the end
of this notch.


This is where my list failed me. I didn't have a chisel.

A quick prayer for guidance and blessing, and the answer was delivered: "Jim, your Vecturo is in the back of your car." The lines were already there on the board. If I'd wanted (read, "If I had even an iota of patience"), I could have put the fence on the Vecturo, with the semicircular blade, and made a really professional job of it. But, I reasoned, it's on the inside, where NOBODY will ever see it. Cut the rabbet, slap on some primer, then paint, nail the board, go to breakfast.

Even handheld, the Vecturo followed the line beautifully and the rabbet was finished in no time. Who needs a chisel?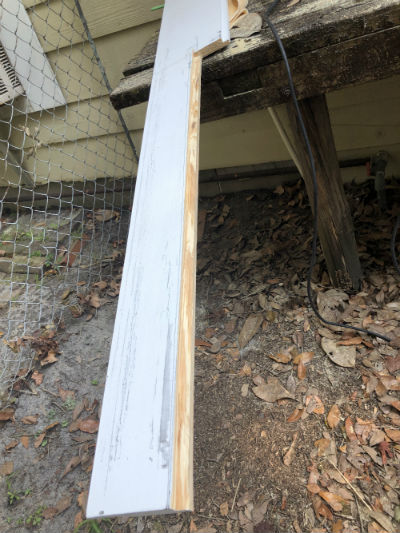 Rabbet finished! Paint it! Nail it!


Now, I recognize that the Vecturo isn't going to replace our chisels, or our dado blades, but, this save just shows what a versatile and useful tool Festool has created. #knifeforwood #vecturoknifeforwood

---
Jim Randolph is a veterinarian in Long Beach, Mississippi. His earlier careers as lawn mower, dairy farmer, automobile mechanic, microwave communications electronics instructor and journeyman carpenter all influence his approach to woodworking. His favorite projects are furniture built for his wife, Brenda, and for their children and grandchildren. His and Brenda's home, nicknamed Sticks-In-The-Mud, is built on pilings (sticks) near the wetlands (mud) on a bayou off Jourdan River. His shop is in the lower level of their home. Questions and comments on woodworking may be written in the comments section of each tip in the Highland Woodworking Blog. Questions about pet care should be directed to his blog on pet care, www.MyPetsDoctor.com. We regret that, because of high volume, not all inquiries can be answered personally.