Decorative Finishing Papers
By Alan Noel
Professional Wood Finisher
I don't know about you but even as a very small child I can remember being mesmerized with small wooden boxes of various sizes and shapes and wondering what in the world was in them. And, that fascination is still as strong as ever to open the box to see what treasures lie within. So, needless to say I own many boxes and have made and given many as presents over the years using various veneers, exotics and whatever scraps were lying around. I would simply glue the entire box together and then make a cut on the table saw to create the top which would be a perfect fit. Then I would add the hardware making any necessary adjustments and then finish it out.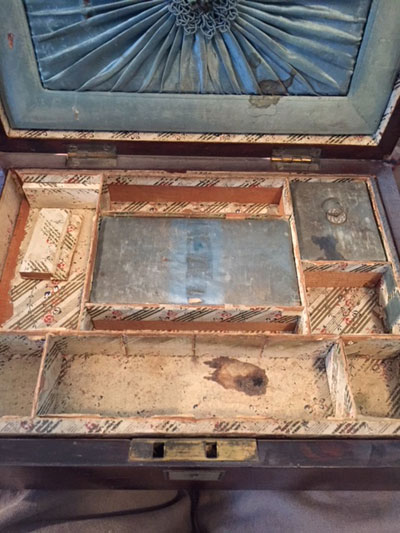 Victorian Sewing Box circa 1880 lined with tissue paper


Some of the boxes I saw were lined with cloth but the boxes that were made in the 18th and 19th centuries were mostly lined with decorative papers that can be found at local art supply stores. Using Hide Glue I tried various types of cloth to line with but this proved to be cumbersome and messy. At first I would cut the pieces into sections and try to make them fit in the box while gluing but this led to much frustration because the glue was getting everywhere. And it was because of this that I tried good old white Elmers glue and once again, a big mess. So out of frustration I dipped my brush into some warm water and just smeared the glue in all directions and I even coated the exposed paper with glue to even the mess out and left for the day.

On my return the next day the box was the last thing I wanted to look at but I did and what a surprise! Good ol' Elmers with a bit of water mixed in dried crystal clear. All of the paper was flat and all in all it looked just great. From then on I would quickly cover the interior with Elmers, place the pre-cuts in the box, use the same brush to push it all down and then coat the entire surface with Elmers and a little water making sure all of the pieces were flat and secure. Decorative papers that are softer and layered work best. And as always, practice on scrap first.



CLICK HERE to visit the Highland Woodworking Finishing Department
---
Alan can be reached directly via email c/o Alan Noel Furniture Refinishing at anoelfurniturere@bellsouth.net. You can also visit Alan's website by CLICKING HERE.

Visiting Atlanta? Attend one of Alan's upcoming highly informative Highland Woodworking wood finishing seminars:
June 6, 2018 Finishing the Finish
June 9-10, 2018 Antique Restoration
July 14, 2018 Finishing 101
July 18, 2018 Coloring Wood

Return to Wood News front page
Click the images below to visit some of our most popular tool departments
| | | | | | | |
| --- | --- | --- | --- | --- | --- | --- |
| | | | | | | |
| Finishing | Books | Clearance | Festool | Planes | Sharpening | Wood Turning |
Highland Woodworking
1045 N. Highland Ave. NE
Atlanta, Georgia 30306
Tel. 800-241-6748
Email us at email@highlandwoodworking.com
Visit us on the web at www.highlandwoodworking.com
Copyright © 2018 Highland Hardware, Inc.

Errors regarding pricing and specifications are subject to correction.
SOME SALE QUANTITIES MAY SELL OUT and become unavailable at the advertised price.