Click on any picture to see a larger version.
I am getting a head start on holiday baking this month. The vanillebrezeln are about to come out of the oven and my mouth waters thinking about the sweet buttery cookies with a hint of lemon zest, topped with crunchy almond powder. This particular recipe is from my German cookbook, but my Scotch-Irish ancestors would have easily recognized the ingredients and process as a standard shortbread recipe. Three basic ingredients--flour, butter, and sugar - in the right proportions. Make sure to chill the dough before baking. If you follow the directions, the magic happens, and wonderful treats come out of the oven. While I munch on a warm cookie, my thoughts turn to the recipe box I keep in the shop.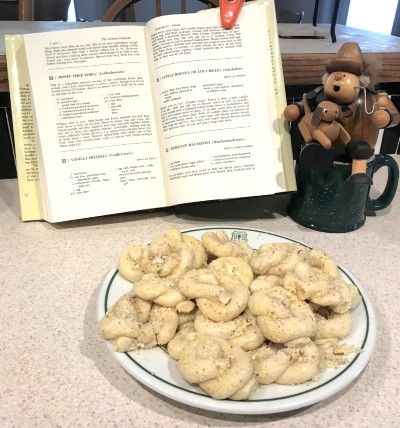 Figure 1. Warm cookies for an afternoon snack in the woodshop.


We often focus on woodworking skills like planing and sawing and marking as the hallmarks of a woodworker. But there is another set of useful skills for your woodshop that are closer to chemistry class. Instead of planes and chisels, woodshop recipes call for special measuring tools, mixing jars, careful technique, and hot plates. Not what most of us signed up for when we stepped into woodworking. Before further discussion however, a safety message. There are a lot of hazards (for you, for the environment) associated with chemicals that we use in the woodshop. Please be careful, read all the directions for any process or product and use the PPE! Goggles, gloves, good ventilation, a fire extinguisher, even a respirator may be required for some of these shop recipes.

With that said, here are some of my go-to concoctions:

Electrolytic Rust Removal - Highland has lots of products to help with rust prevention and removal. But on vintage tools with lots of nooks and crannies I turn to electrolytic rust removal. Grandpa Rummer was an auto mechanic/woodworker/clockmaker. He would have loved using a battery charger to de-rust old tools. You put your rusty tools in a tub of solution (3 tbsp washing soda/gal of water). Hook up some electrodes and the tool to the battery charger and watch the bubbles begin! Rust falls off even from pitted surfaces.

Japanning or Replating after you get your rusty tools cleaned up. I wrote about replating in the March 2018 Wood News. Electroless nickel plating is some serious chemistry with a steaming broth of fluorescent green simmering on the hot plate. Rusty tools go in and shiny tools come out, just like magic. Several years back I estimated the cost of the chemicals for replating a Stanley 45 at about $50 with this DIY setup.


Many vintage tools were coated with a shiny black surface called japanning rather than nickel. You can substitute gloss epoxy enamel when you restore a tool, or you can head to the shop kitchen and brew up some authentic japanning mix with a recipe of varnish (boiled linseed oil and turpentine) mixed with asphaltum in the ratio of 2:5:3. Like cookies, this recipe calls for baking after applying the coating.

Chemically Staining Wood - I suspect that most of our woodshop recipes fall into the category of finishes and stains. Recently I made a bathroom vanity in the Greene and Greene style. To get the shiny black square plugs I ebonized walnut with a ferric acetate solution. The recipe calls for dissolving old nails or steel wool in vinegar and then filtering out the gunk before you treat the wood with the filtrate. The resulting color change goes deep into the wood and doesn't obscure the grain. There are other chemical processes like ammonia fuming, ferric nitrate staining, or ammonium chloride burning to achieve different types of color changes in various species.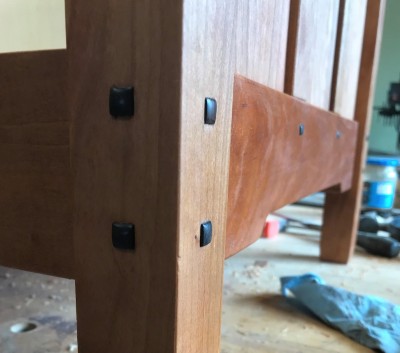 Figure 3. Ebonized walnut plugs for a Greene and Greene detail
on a cherry bathroom vanity.


Wiping Oil Varnish - My basic furniture finish is a wiping oil. I like the way the oil makes the wood glow. It goes on in thin layers that don't run or sag and it gives me a lot of control over the sheen of the piece. Unfortunately the store-bought mix is starting to push $32 per quart. Anne of All Trades shares a simple wiping oil recipe that is equal parts boiled linseed oil, mineral spirits, and oil-based spar urethane. The cost of the basic ingredients ends up less than one-third that of the commercial product.

Grandpa Burnham was a master finisher. He mixed varnish and dyes to get dramatic colors on his violins. His shop had scales and balances for weighing gram amounts of materials, several hot plates, and a UV curing cabinet that gave his shop windows a ghoulish purple glow at night. The smells of turpentine, linseed oil, and hide glue mingled in the air of the shop. He knew how to manipulate all the basic ingredients and the process to achieve a glorious finish. His knowledge came from study, experimentation, and experience.

Perhaps one of the most famous woodworking secret recipes is the mystery of Antonio Stradivari's finish for his stringed instruments. Could the amazing sound of a Strad be due to mysterious effects of a secret finish? Recent research used high-tech analysis to examine the finish on several instruments (Spinella et al., 2017). They found that Antonio probably used conventional finishing techniques of the time - a base coat of linseed oil with a topcoat of varnish composed of linseed oil, resin, and pigments. The varnish preparation process in the 1700's (Augerson, 2011) involved heating the linseed oil to 270°C for 3 hours, cooling it to 150°C and adding colophony (powdered resin). Then the mixture was reheated to 250°C for 30 minutes, cooled and stored until use. However, these new tests also revealed that the properties of the finish are highly dependent on having the right proportions of oil and resin. Using 21st-century polymer chemistry and trying different ratios of components, they determined that a mix of 75/25 (oil-resin) optimized the chemical reactions between the components resulting in "dynamic homogeneity" in the finish. Is that Antonio's secret? Did he somehow hit on the optimum ratio of oil and resin through trial and error?

Let me try and finish this up (pun intended) with some points about shop recipes. First, there is nothing wrong with using commercial products. They are convenient, reliable, and designed to minimize hazards of use. You don't have to measure or remember whether you are supposed to add acid to water or water to acid (please, ALWAYS add acid to water, not the other way round). However, store-bought products can be a bit like the red tomato-shaped object in the grocery store. They are manufactured to survive shipping, to sit on a store shelf, to meet an average expectation of flavor (performance), and your choices are often very limited. If you want the vibrant experience of a fresh, succulent heritage tomato you have to grow your own. Imagine the difference if you use fresh sandarac resin in your finish instead of settling for the synthetic resins in the can at the hardware store.

Can I encourage you to be bold and try some new things? Experiment like Stradivari with some different blends of finish. Try using walnut oil instead of linseed oil or add some pigments to your topcoat of finish. Build your knowledge of finishing techniques like Grandpa Burnham. Travis Remington shared his finishing experiences last month in the Highland Woodworking Blog. He took Len Reinhart's "Making Wood Pop with Color" online class from The Highland Woodworker. One of his key takeaways was to take notes of what you do and how it turns out. Highland Woodworking has a great collection of finishing books and tips in their online library. Build your own collection of recipes for the shop.

There is a saying that "a recipe is a story that ends with a good meal." Making your own mixtures for the woodshop certainly enhances the story. Ingredients like "aqua fortis", "colophony", "asphaltum", and "vermilion" sound mysterious. You can customize your recipes in arcane ways like, "I only use French red ocher from Gascony" or "I mix all of my wiping varnish when there is a full moon and I always stir counter-clockwise." More seriously, making your own mixtures allows you to fine tune the materials and achieve truly custom results. In the end, like the cookies, the joy is in the eating. Your latest woodworking project, completed with your own magic blend of secret ingredients, sits on the counter and basks in the morning light. People will look at it in wonder and ask, "How did you do that?"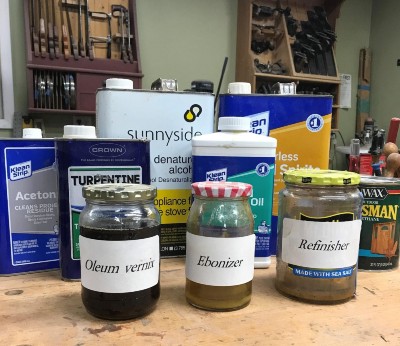 Figure 4. Some of my favorites--wiping oil varnish, ebonizing solution,
and a refinishing mixture.


References

Augerson, C. 2011. Copal varnishes used on 18th-and 19th-century carriages.. Journal of the American Institute for Conservation. 50(1):14-34.

Spinella et al. 2017. A Step Forward in Disclosing the Secret of Stradivari's Varnish by NMR Spectroscopy.. Journal of Polymer Science (55):3949-3954.
---
Bob Rummer lives in Colorado and is a part-time woodworker. He can be reached directly via email at rummersohne@gmail.com. You can see his shop and some of his work at www.JRummerSons.com.