Click on any picture to see a larger version.
I have to admit that I have mixed feelings about paint on wood. When I see a DIY show taking a piece of solid wood furniture and painting it sky blue, something inside me reacts -- "Why would you cover up a nice piece of wood with paint?" Some of my negative feelings about paint come from my experience with refinishing projects. For example, I acquired my large workbench at auction from the Des Moines Public Schools — a four-station maple slab sitting on an olive green cabinet. There was gum stuck under the benchtop and a label inside that said "Surplus—Department of Defense." Carefully examining the inside of the base cabinet however revealed that it was maple all the way through. A bit of paint stripper, sanding, and mahogany dye turned olive drab into vibrant red.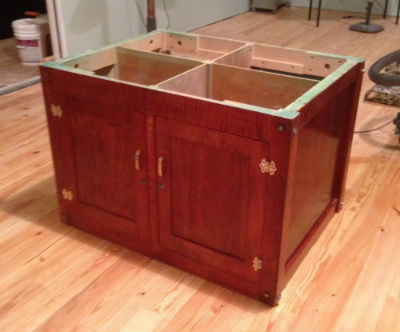 Figure 1. My school woodshop workbench - curly maple and solid brass hardware that
had been painted a uniform olive green.


Things like my workbench make me agree with Paul Frankl (1928) — "Wood in its natural state still retains some of the life of the tree from which it was cut. This life is covered over by layers of paint and varnish and its natural character is lost completely. The wood that is finished best, is finished least." (BTW, if you like early modern I highly recommend Frankl's book listed in the references). I think many of us share this sentiment. A Highland poll in 2018 found that about 26% of us said paint doesn't belong on fine furniture, another 37% were mixed. In the interest of full disclosure however I do have a wide selection of paint in my finishing cabinet and I have worn out lots of paint brushes over the years. So when should we paint, when should we leave it natural? There are three places that I tend to use paint.

One type of object that often gets paint is toys. Grandpa Rummer was a toymaker. He made tops, wooden puzzles, magnet games, cars and trucks and boats, things with rubber band motors....the list goes one. My brother Ken remembers a working crane (green) with an electromagnet. My sister Gwen got a kid-size refrigerator with a hand-rubbed white paint finish that was as shiny as the real thing. Strange that we each seem to remember the color of the toys Grandpa made. Take a look in the Highland catalog for toymaking books and plans — lots of brightly colored fun. While building toy projects often requires adult supervision or assistance, when it comes to finishing just hand over the paint brush, markers, and stickers and stand back. Paint is a key element of the imagination and play. Me - "What is this blue spot on the side of the airplane? Grandkid — "That's where you add the rocket fuel." Paint makes the duck yellow, paint adds the eyes and smiles, paint puts racing stripes and numbers on cars. How could you do toys without paint?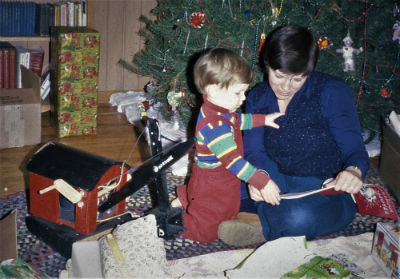 Figure 2. Mike Mulligan's Steam Shovel made for my nephew Tim, shiny red and gloss
black with white lettering and eyes!


A second purpose for paint is when you actually want to cover up the grain of the wood. I made a lot of my shop cabinets from utility grade pine and plywood. Aiming for an old-time Victorian hardware store look, I chose a General Finishes Tuscan Red milk paint with the GF Burnt Umber glaze. Paint covers the knots and gives the cabinets a uniform look. It also puts a focus on the tools and overall design of the piece rather than the wood grain. The router cabinet, sawtill, clamp rack, and mitersaw station are all painted. But when it came to my plane till I thought it would be better to show off some joinery and pretty hardwood (red elm and maple). While it is pretty on its own it stands out like a sore thumb with all the other shop cabinets. Maybe I should get out the paint?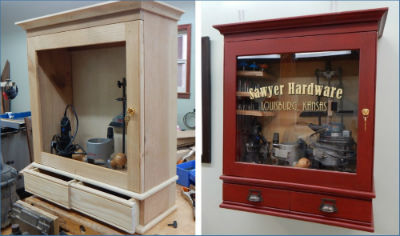 Figure 3. Router cabinet in plain pine and painted. Should it be natural?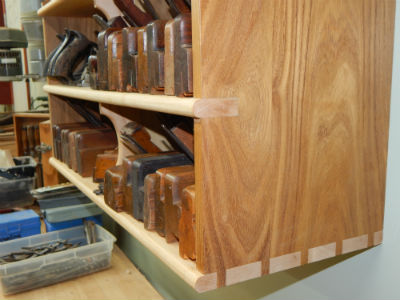 Figure 4. Plane till showing off the red elm and maple. Maybe it should be painted?


The third place that I use paint on wood is for purely decorative purposes. One approach is to use the wood surface as the blank canvas for a painted design. Think of the rich traditions of folk art painting on wooden objects (tole painting or German bauernmalerei). With a toleware design you can turn a 6-board chest into a Christmas trunk or a blanket chest or a toolbox or a toybox. Tole painting often includes names or commemorative dates that personalize an object. You don't have to be Rembrandt to add folk art designs to your work. There are lots of online tutorials and how-to books that cover the basics.

Another way to use decorative painting on wood is to just highlight decorative elements of the piece (carvings or moldings) with paint. I spent a day at the Nelson-Atkins art museum over the holidays and saw some beautiful examples of this technique in bentwood cedar boxes of the Pacific Northwest. The low relief carvings are accented with red and black paint while most of the box is natural. Interestingly, this is also an example of a bent plank box. The four sides are one continuous board, kerfed and steam bent to form the box. There is one corner joint to tie it all together. That's on my "someday" list of things to try in the shop.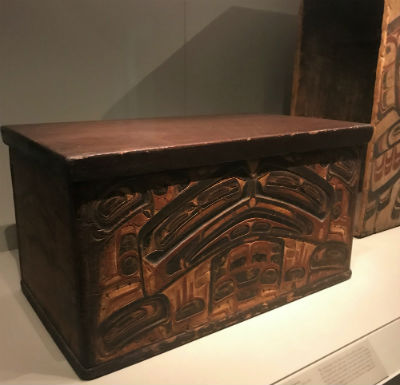 Figure 5. A carved cedar box attributed to Capt Richard Carpenter in the collections at the
Nelson-Atkins Museum in Kansas City.


The Roman architect Vitruvius said that good design has three main qualities — durability, utility, and beauty (firmatis, utilitas, venustatis). When we build something and come to the question of how to finish it, to paint or not to paint, we should really be thinking of the overall purpose of the piece — not whether the wood has pretty grain. Will the toy last longer or bring more imaginative play if it is painted? Will the cabinet show off its contents better with paint or natural finish? Can a painted design enhance the beauty of the piece? Sometimes the answer is paint — sometimes the answer is not to paint. The skill of the craftsman is to know the difference.

References
Frankl, Paul. 1928. New Dimensions. Payson and Clarke, NY. 187 p.

Gilsdorf, Bob. 2009. Zany Wooden Toys That Whiz Spin Pop, and Fly. Fox Chapel Publishing. 224 p.


---
Bob Rummer lives in Lawrence, Kansas and is a part-time woodworker. He can be reached directly via email at rummersohne@gmail.com. You can see his shop and some of his work at www.JRummerSons.com.