Click on any picture to see a larger version.
I just put new nickel plating on a vintage Stanley #45 combination plane. Judging from the commentary I see on old tool websites I am now a heathen, an imbecile, or a tool butcher. Before you judge me, let me go through the "why" and "how" of replating an old tool.

First, everyone agrees that you better know something about vintage tools when you contemplate restoration. There are some tools that are truly collectible artifacts that should be conserved or preserved. A rare type, a tool in unusually fine condition, or George Washington's hatchet, for example. Let me acknowledge that I understand and value the conservation of tools. I have my great-grandfather's Metallic Plane Co. jointer plane (ca. 1870's). It is in rough shape with a broken tote, rusty iron, and some chips in the sole. It is in retirement. The parts are fragile and the tapered iron is irreplaceable. It sits on the shelf and tells me stories about the good old days in the wagon shop. It doesn't get exercised at the bench and I won't be replating or repainting it or performing any other kind of "restoration." Careful conservation practices are valuable and appropriate for these types of tools.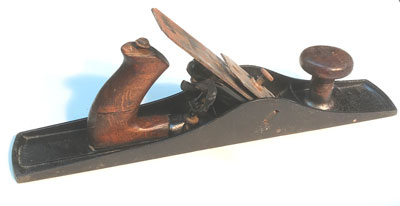 Great-Grandpa's Metallic Plane Co. plane that sits on the shelf


At the other end of the scale are old tools that are fairly common or are in such poor condition that they have no interest for a tool collector. Nobody cares if you paint a sawmill scene on that old ripsaw and hang it in the man cave. Nobody will fuss if you paint that Montgomery Wards smoothing plane Auburn orange and blue.

The place that we seem to get into arguments is with old tools that have value to both collectors and woodworkers. The woodworker wants a functional tool, the collector wants the tool kept in its "vintage" condition. The tool collector sees value in maintaining patina and the vintage look. There is something called the "marker layer" on a tool—the worn places, the sweat and dirt, that convey a sense of the craftsmen that have used the tool. User stamps on old wooden planes are golden. Some careful, gentle cleaning is allowed. If you "overclean" the tool and take it all the way to shiny, you have destroyed the marker layer and likely reduced any collector value.

Herb Kean, in his book Restoring Antique Tools however, states "Antique tools should be in the same condition today as they were a hundred or more years ago in the hands of a prideful worker." These old tools are well designed for their intended task, do it well, and can keep on going with proper maintenance. Does the collector have any higher claim to this tool than the person that is going to keep using it? If you have one of these I think you have a responsibility to take care of your tools, so they have a chance to retire sometime in the future. You are just as much a part of the story of the tool as the owner a hundred years ago that left his initials stamped in the body of the plane. Letting it rust or end up on the wall as decoration at a restaurant is not being responsible with the tool.

In my case, I had some well-worn Stanleys—a #19 block plane with a badly worn and pitted lever cap, a Stanley #66 hand beader with about 30% plating, and a Stanley #45 combination plane with about 50% plating left. Tool makers didn't include nickel plating just for show. Plating serves to prevent rust and to keep sliding surfaces smooth and functional. Worn plating becomes a constant source of surface rust and friction. If I follow Herb Kean's advice, there are a range of options for addressing this, from cleaning and a surface treatment (wax or oil) to paint or plating. I recently saw an online post for a plane that was "fully restored with two coats of metallic enamel paint." Hmmm.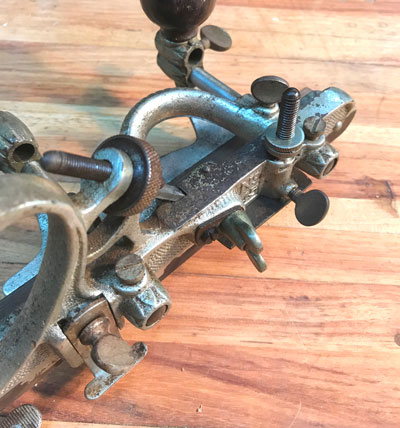 Rusty Stanley 45, cleaned but crusty


Replating is the real deal. It replaces the original surface as intended by the manufacturer. You can have a tool replated by a commercial service or you can do-it-yourself. The primary questions with replating seem to be cost and complexity. I found an "electroless" nickel plating home kit from Caswell Plating that seems to address both of those issues.

Electroless plating is a chemical process that doesn't require electrodes—just mixing chemicals and heating the bath to about 190°F. This process also has the advantage of depositing a uniform layer of metal even into depressions and inside holes. Another advantage of the kit is that it includes a process to neutralize leftover material and safely deal with the waste. No muss, no fuss. The kit came with chemicals, two enamelware pots, measuring cups, thermometer, instructions, and miscellaneous supplies. I had to provide distilled water, household ammonia, and a hot plate. The whole kit lists today for about $220.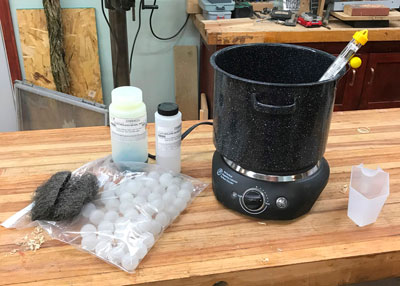 Electroless Nickel replating kit


Kits are sized by the amount of chemicals to plate a certain amount of surface area. The Standard kit I purchased is sized to plate about 260 in 2 at 0.0005 in. Take a ruler and start estimating the surface area of your tool. After disassembling the Stanley 45 and measuring all the parts I came up with a rough estimate of about 130 in 2. My brother and I plated two Stanley #45's, a #66, and a block plane lever cap with the kit.

In the end we found that it took about as much time to disassemble the tools and clean up all the parts as it did to actually plate the tools. The parts are cycled through the hot bath in batches. Each batch soaks for 30 minutes to get to the 1/2 mil thickness. The most complex part of the process was keeping track of the depletion of the bath. You have to calculate your part areas and you have to add more nickel solution after a certain time to keep the bath working. If you can balance a checkbook, you can handle the math to replate tools.

Taking another look at costs, if you are going to reuse the kit it turns out that the consumable chemicals are only about half the initial kit cost. Based on a 1/2 mil thickness I would estimate that replating a Stanley #45 costs about $50. Is it worth it? A "fine" condition vintage 45 would be in the $300-$500 range. A brand-new combination plane starts at around $400. Taking a worn-down user that I got online for $75 and adding $50 in plating seems like a pretty good deal. Even better is the thought that this tool will now likely survive my estate sale and get passed on to some future woodworker that wants to experience the joy of a sharp plow cutting a groove by hand.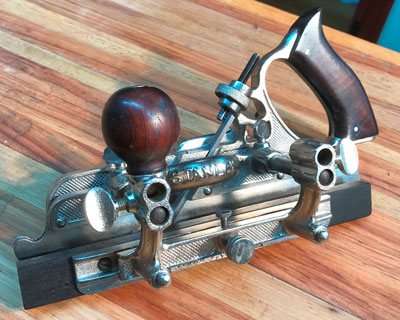 Replated Stanley 45 ready for another 100 years
---
Bob Rummer lives in Lawrence, Kansas and is a part-time woodworker. He can be reached directly via email at rummersohne@gmail.com. You can see his shop and some of his work at www.JRummerSons.com.