New Woodpeckers® OneTIME Tool®
Precision Triangles

Monday, March 11 is the last day to order!
Precise 45° & 90° Angles in a Project-Sized Triangle
If your woodworking adventure began like most, the first square you used was a stamped aluminum or molded plastic carpenter's square with 90° and 45° in one tool. It's handy, because the hooked lip aligns easily to the workpiece edge and you have the two most common angles for woodworking in one tool. Woodpeckers' Latest OneTIME Tool takes that basic geometry and enlarges it enough to handle cabinetry layout. Instead of stamping them out by the thousands, Woodpeckers manufactures them to the same exacting tolerances they use for their famous Woodworking Squares. Then Woodpeckers folded in one more wrinkle...the reference edge is removeable.

When you're using the triangle as a giant carpenter's square, the base gives you a positive reference to your workpiece edge...just hook it and mark. It also acts as a foot when you want to check a vertical face, like the side of a cabinet. And, nothing could be handier when you're setting up a track saw table.

But there are times when you want a 90° or 45° reference without a shoulder, for example, checking the inside of a drawer for square, or setting the miter gauge on your table saw. When you want it flat, just spin out the six socket head cap screws and the base comes off, leaving you with a triangle that lays perfectly flat. Don't worry about recalibration when you want to put the base back on, it's indexed for perfect realignment every time you install it.

The Precision Triangles are machined from cast and ground aluminum plate – the most dimensionally stable aluminum available. Woodpeckers anodizes the surface for improved wear resistance and to give the triangles the familiar "Woodpeckers Red" color. The two 90° edges are laser engraved with graduations guaranteed to .004". The resulting white-on-red makes for a scale that is easy to read, even for older eyes or poor lighting conditions.

Choose from two sizes, or order the set! We offer the Precision Triangles in 12" and 18" sizes with inch or metric scales. Either size makes a great addition to your shop. If you make a variety of cabinets and cases, you may want to consider both sizes. The set is available at a discount in a single space-saving wall case.
Learn more about the
NEW Woodpeckers OneTime Tool
Precision Triangles
Don't Delay, Order Yours Today!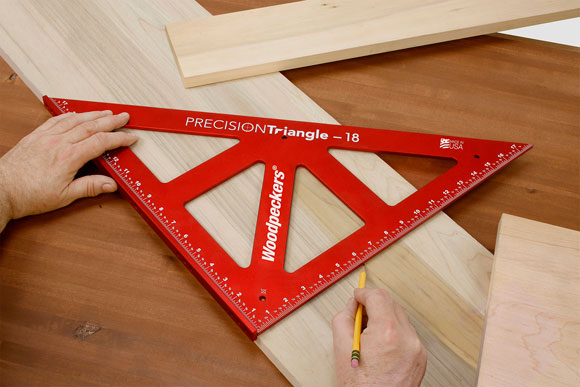 NEW Woodpeckers OneTime Tool
Precision Triangles
• When They're Gone, They're Gone! Like all our OneTIME Tools, each set of Precision Triangles is made to order in a one-time production run. Woodpeckers makes only enough to fill pre-orders. Once orders are filled, the Precision Triangles will be retired from their product line.

• Only available for a limited time - order by March 11, 2019!

• Delivery is scheduled for July, 2019.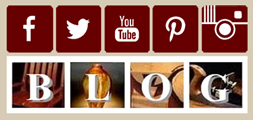 Highland Woodworking
1045 N. Highland Ave. NE
Atlanta, Georgia 30306
Tel. 800-241-6748
Email us at email@highlandwoodworking.com
Visit us on the web at www.highlandwoodworking.com
Copyright © 2019 Highland Hardware, Inc.

Errors regarding pricing and specifications are subject to correction.
SOME SALE QUANTITIES MAY SELL OUT and become unavailable at the advertised price.