New Woodpeckers® OneTIME Tool®
Boat Builders Bevel Gauge

Monday, November 5 is the last day to order!
The Boat Builders Bevel Gauge Stays Where You Put It.
Transfer Odd Angles Easily with Woodpeckers Newest OneTIME Tool.
Let's get one thing clear right away. You don't have to a boat builder for this tool to be useful. If you ever need to replicate an angle from one part of a project to another, you need this bevel gauge. Boat builders face this problem all the time. No matter how carefully they stick to the plans, there comes a point where the angle on the drawing and the angle on the project don't quite match. In the boat building world, the project always wins...fitting is much more important than matching a specific angle.

That's why a boat builder (or anyone who makes stuff "fit") needs a bevel gauge that can be pressed into or around an angle and hold that angle while transferring to a joining workpiece. Our product developers tested scores of different spring washers and pivot shafts to find just the right balance between moving easily into position and staying there through normal handling. When we got it just right, we had to start all over again, because we decided to offer two different sizes.

The 5" Boat Builders Bevel Gauge handles common jobs easily. It's a comfortable size to work with most of the time. In "boatspeak", it's ideal for scarf joints, frame members and lapstrake fitting. If you're remodeling you'll find it works well in older homes where "square" is a relative term.

The 3" model is just barely bigger than a pocket knife, making it perfect for really tight areas and small projects. It's small and light enough that you can have it with you all the time while you're working with odd angles.

Both models use stainless steel for the blades, pivot pins, spring washers and machine screws. The main bodies are machined from very stable cast aluminum plate and then anodized for wear and corrosion resistance. In short, these bevel gauges are better prepared for life in a marine environment than any others on the market.

Both models come in a protective case with a custom cut foam liner. Or, if you can't make up your mind which size to get, we've got you covered with a special price on the pair in a slightly larger case that holds both.
Learn more about the
NEW Woodpeckers OneTime Tool
Boat Builders Bevel Gauge
Don't Delay, Order Yours Today!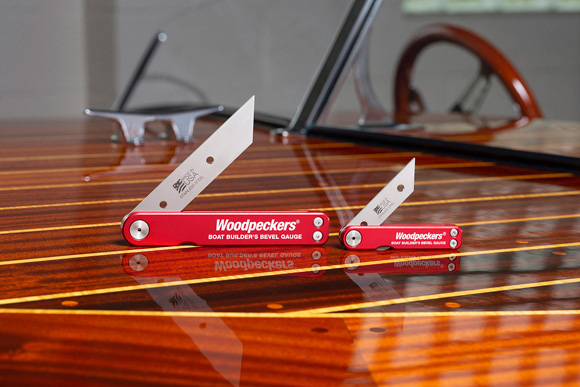 NEW Woodpeckers OneTime Tool
Boat Builders Bevel Gauge
• When They're Gone, They're Gone! Like all our OneTIME Tools, the Boat Builders Bevel Gauges are made to order in a one-time production run. Woodpeckers makes only enough to fill pre-orders. Once orders are filled, the Boat Builders Bevel Gauge will be retired from their product line.

• Only available for a limited time - order by November 5, 2018!

• Delivery is scheduled for March, 2019.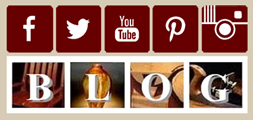 Highland Woodworking
1045 N. Highland Ave. NE
Atlanta, Georgia 30306
Tel. 800-241-6748
Email us at email@highlandwoodworking.com
Visit us on the web at www.highlandwoodworking.com
Copyright © 2018 Highland Hardware, Inc.

Errors regarding pricing and specifications are subject to correction.
SOME SALE QUANTITIES MAY SELL OUT and become unavailable at the advertised price.