New Woodpeckers® OneTIME Tool®
Gauge Blocks

Monday, February 4 is the last day to order!
Precise Pocket-Sized Reference Squares in Two Profiles
Everyone who has relied on the protractor scale of a power tool once has learned not to do it a second time. They are notoriously inaccurate, regardless of brand, cost or age. But big bulky squares have their own problems when it comes to machine set-up. Woodpeckers' latest OneTIME Tool solves the problem with highly accurate angles machined into a pair of squares sized to fit perfectly next to blades and bits. Plus, Woodpeckers made them thick enough to stand up on their own – leaving your hands free to adjust and lock your machinery. Gauge Block 225 gives you perfect 45° and 90° angles and Gauge Block 369 gives you 30°, 60° and 90° angles.

Gauge Block 225 also has scales on both edges (one inch and one metric), that are perfect for setting the depth of cut on a saw blade, router bit and drill. The edges are
2-1/4" long, giving you ample room to check angles or set depth of cut without interfering with guards, guides or fences.

Gauge Block 369 is 1-5/8" x 2-3/4". With the long leg a half inch longer than the GB-225, it gives you a better reference when setting band saw or scroll saw tables. The angles on the GB-369 make it simple to set up for hexagons and equilateral triangles.

Both Gauge Blocks are precision machined from a solid chunk of stainless steel. They're 3/8" thick, allowing them to stand on their own and giving them a solid feel in your hand. All the edges are gently eased and the surface features a satin finish that makes the scale easy to read and won't glare when you're checking blade angles. You can purchase the GB-225 or the GB-369 individually in a protective case, or be ready for every machine set up and save yourself a few bucks by getting the set.
Learn more about the
NEW Woodpeckers OneTime Tool
Gauge Blocks
Don't Delay, Order Yours Today!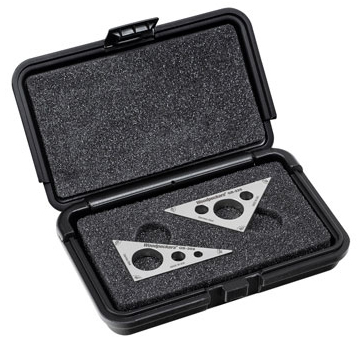 NEW Woodpeckers OneTime Tool
Gauge Blocks
• When They're Gone, They're Gone! Like all our OneTIME Tools, each set of Gauge Blocks is made to order in a one-time production run. Woodpeckers makes only enough to fill pre-orders. Once orders are filled, the Gauge Blocks will be retired from their product line.

• Only available for a limited time - order by February 4, 2019!

• Delivery is scheduled for June, 2019.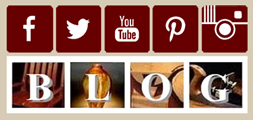 Highland Woodworking
1045 N. Highland Ave. NE
Atlanta, Georgia 30306
Tel. 800-241-6748
Email us at email@highlandwoodworking.com
Visit us on the web at www.highlandwoodworking.com
Copyright © 2019 Highland Hardware, Inc.

Errors regarding pricing and specifications are subject to correction.
SOME SALE QUANTITIES MAY SELL OUT and become unavailable at the advertised price.