Repairing a Sanding Pad
By Curtis Turner
Round Rock, TX

Click on any image to see a larger version.

Occasionally, projects get interrupted by an equipment failure. This happened while I was finish sanding a bowl. The hook pad separated from the foam pad on my handheld rotatory sander. I set the parts aside and completed the project by hand sanding.

I never looked closely at how the head was attached to the handle. After inspecting, I felt I could repair or at least salvage something from this equipment failure. I could see it was a simple task to remove the sanding head. The axle was molded into the foam with the tee-nut. I didn't have the ability to remake it in the same fashion, so I decided to convert it into a standard sanding pad for use in power rotary tools.




The pin or stem of the pad was held in place by two locking rings. I was able to remove them using needle nose pliers.

I scraped away the old degraded foam from the hook pad (Velcro). I used a piece of dense foam I had been saving for just such an occasion and the stem from an old sanding pad as the three pieces for this rebuild.


I used the hook pad as a template and traced the outline with a Sharpie on the foam. Fortunately, I had a large Hirsch Gouge that matched the curvature of the hook pad. I just used hand pressure to cut the foam and walked the gouge along the outline.



Next, I mixed up some StickFast Epoxy and applied it to the hook pad and stem. I carefully centered the three pieces and used a clamp to hold them in place.




Just a couple of things to note. I have tried CA Glue in the past for similar repairs; however, I have found the CA tends to melt away the foam. The epoxy does not have this issue. Also, I found these Klemmsia Wooden Cam-Action Clamps the perfect tool for the job. They are lightweight and can hold small, delicate or tricky glue-ups in a way that heavier clamps would be difficult to use.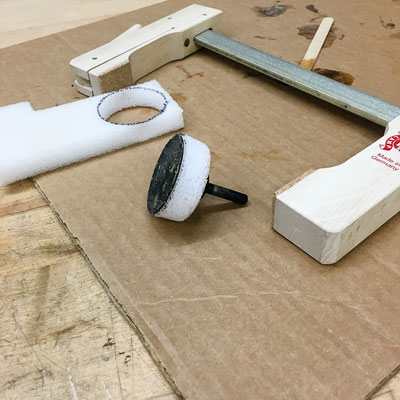 I let this dry overnight.



This worked perfectly. However, this could have also been done by clamping the sanding disk in a chuck with pin jaws then sanded with the lathe on to true the pad.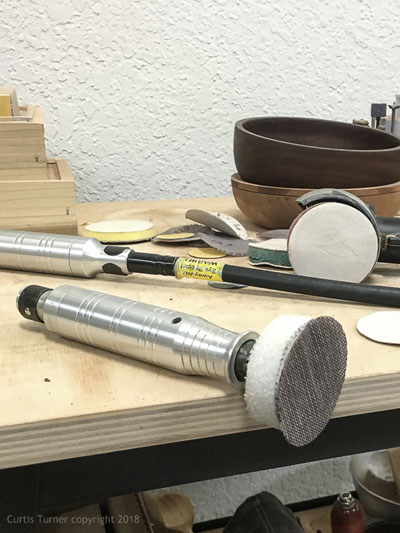 This repair was simple and used supplies I already had on hand.


It felt good to salvage something from this equipment failure. However, I would like to try and cut grooves into the replacement stem and remount in the head with the locking rings. But for now, I am just using it with my Foredom Rotary Tool.


---
Curtis was a former President of Central Texas Woodturners, is a member of the American Association of Woodturners, and is a member of Fine Woodworkers of Austin. Curtis teaches and demonstrates nationally for Lie-Nielsen Toolworks. He also teaches for TechShop. He owns a studio where he works and teaches. Curtis lives in Central Texas with his wife and four young children. Take a look at his website at www.curtisturnerstudio.com or visit his Instagram: tx_planes.
Return to The Highland Woodturner front page
Click the images below to visit some of our most popular tool departments
| | | | | | | |
| --- | --- | --- | --- | --- | --- | --- |
| | | | | | | |
| Finishing | Books | Clearance | Festool | Planes | Sharpening | Wood Turning |
Highland Woodworking
1045 N. Highland Ave. NE
Atlanta, Georgia 30306
Tel. 800-241-6748
Email us at email@highlandwoodworking.com
Visit us on the web at www.highlandwoodworking.com
Copyright © 2018 Highland Hardware, Inc.

Errors regarding pricing and specifications are subject to correction.
SOME SALE QUANTITIES MAY SELL OUT and become unavailable at the advertised price.