This month's feature is someone you probably know, but have never met. She's an integral part of Highland Woodworking. Ms. Molly Bagby is not only a Marketing and Social Media Manager for the worldwide famous one stop shop for woodworkers; she is also the daughter of the founders, Sharon and Chris Bagby. Without question you can say, she grew up in Highland Woodworking.

Highland Woodworking is widely known as a premier purveyor of fine woodworking tools and products; including top-notch customer service and woodworking classes for every skill level. Highland first opened its doors back in 1978 as a hardware store and slowly evolved over time to sell primarily woodworking tools and supplies. Walking through the multi-level array of options you'll find plenty of Festool tools, over three dozen species of wood veneer and the coveted Lie-Nielsen hand planes. Not to mention, the employees of the store are seasoned woodworkers that can walk you through almost any project.

As a woodworker myself, I began shopping at Highland about a decade ago, for specific things I couldn't find at big box stores. I purchased my Rikon bandsaw and have taken several classes in the state-of-the-art workshop located on the top floor of the store. I made sure I stayed connected to Highland by being more than just a customer. I was featured in the Highland blog and stopped by periodically to talk shop with the knowledgeable staff. Years later I joined Instagram and slowly climbed my way to 500 followers. I reached out to Molly, who was gracious enough to donate to my first giveaway and when the opportunity arose to take over the Women in Woodworking column for Highland's online newsletter, I was eager to do so. I couldn't think of a better person to feature this month other than someone who knows every detail about my favorite place to shop.


The Bagby family celebrating Highland Woodworking's
40th Anniversary with Deneb Puchalski, Nick Offerman,
and Roy Underhill. Photo: Bill Rush Photography


As I mentioned earlier, Molly literally grew up in Highland Woodworking. Molly's mother, Sharon Bagby, did not take much time off after having Molly. Her love and dedication for Highland brought Sharon back to the store she owned and loved. Molly would be carried around the store in a pouch and often take her naps on a sleeping pad in the shipping department. She knows the stores operations inside and out.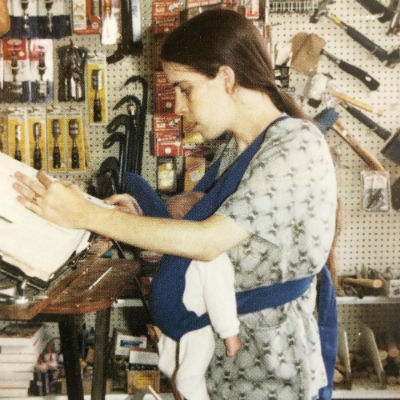 Sharon Bagby doing inventory shortly after Molly's
older sister, Kelley, was born. Sharon had the same
work regimen with Molly.


A few years ago, Molly starting working on her own projects. She recalls her first project, a wooden spoon made from the Narex Wooden Spoon Carving Kit, which her Dad, Chris Bagby, gifted to her. The Narex kits includes: a double edged hooked knife, a #5 bent spoon gouge, and a straight detail knife. It's the perfect set for beginning carving and even includes a blank to practice. Molly's dad cut a few additional blanks for her, which she definitely needed. This project led to learning more about creating and envisioning more of her own projects.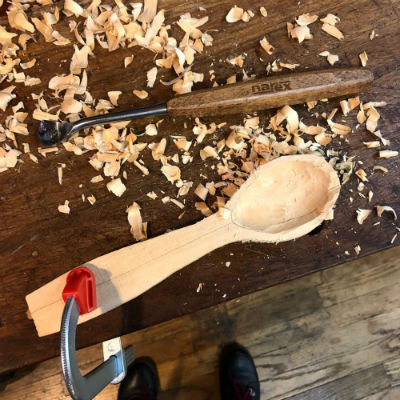 Sometimes you can find Molly working on her
projects at the register at Highland.


Molly has had a chance to rub elbows with the who's who in the woodworking world. The Bagby family is close with the Lie-Nielsen family. Yes, that Lie-Nelsen. Molly credits the company's founder and owner Thomas Lie-Nielsen as an inspiration and has gotten to know their family by visiting the Lie-Nielsen Open House in Maine every July. In 2017 she signed up for a beginner's woodworking class at Center for Furniture Craftsmanship, which is a local neighbor to Lie-Nielsen in coastal Maine. They have a variety of classes for every level of woodworker and the school is spearheaded by renowned craftsman, Peter Korn. Many of the classes offered here are two week intensive courses. Molly had the opportunity to take a fundamentals of woodworking class with him and Mary Ellen Hitt. As with any fine woodworking project, perfection and beauty takes time. Molly is still working on completing a step stool project that she started during her time in Maine. The stepstool is assembled with hand cut dovetails and waiting to be glued up. In order to get those precise angles, Molly used her favorite tool, the David Barron Magnetic Dovetail Guide, which she credits for making her saw cuts precise.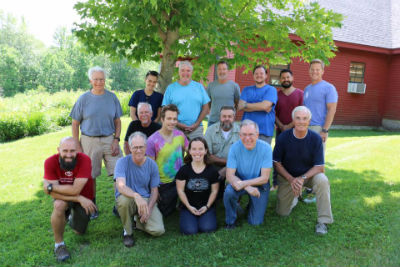 Fellow classmates at the Center for Furniture Craftsmanship.


There are several advantages to working at a woodworking store, one of them being having access to pallets. Many of the shipments that come into Highland come in on pallets and the store sells pallet project books; sounds like the perfect marriage. Molly has also started working on a beer bottle holder from pallets that she has been spending a lot of time sanding...and sanding again. I asked her what was the most challenging project she has taken on, and it was definitely this one. There are many pallet projects out there, and getting to a beautifully finished piece is a lot of work.


Cutting up the pallet wood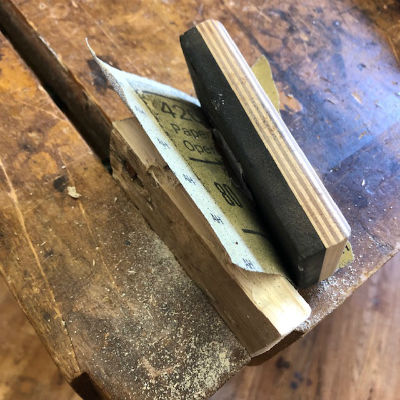 Non-stop sanding


Some of the other perks of her role are the access she gets to all of the latest tools plus the full classroom workshop that is equipped with eight workbenches, a SawStop tablesaw, a Rikon bandsaw, hand tool setups, sharpening stations, lathes, and almost anything else a woodworker could dream to own. When Molly wants to test out something it's all right there.

Molly credits Highland Woodworking's customers as being the best part of owning a family business in the woodworking industry. When she shares what she does and where she works, people respond with; "Oh yeah, I've heard of Highland Woodworking." Highland really is an old fashioned Mom and Pop business started by Molly's parents over 40 years ago. Now Molly and her sister, Kelley, are helping to run the business and continuing to connect with customers that have been shopping at Highland since before Molly was born.

You can find Molly working hard behind the scenes at one of Atlanta's top purveyors of woodworking supplies or contributing to the store's blog. She believes than anyone can be a woodworker and "patience is a virtue…you're not going to have a handmade project done in a day but the more time and patience you put into it the more you'll appreciate and have stories about what you made."

If you are in Atlanta, definitely drop by Highland Woodworking and follow Molly's journey on Instagram at @highlandwoodwoman. You can also email her at mbagby@highlandwoodworking.com

---
You can check out Char's website at https://www.thewoodenmaven.com/ and follow her on Instagram at @woodenmaven.
Return to the Wood News Online front page