Here's My Woodcarving!
By Don Francis
Liberty Hill, TX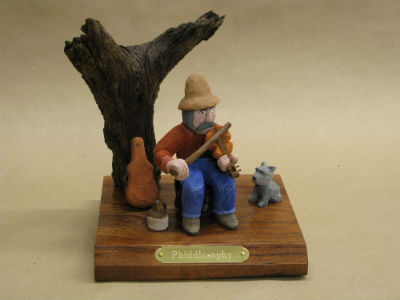 I recently carved this for a friend of mine that plays and makes violins.


I drifted very slowly into woodworking, first repairing items and building things out of necessity. The first pieces of furniture I created were things my daughters needed for their apartments during college: a bookcase, a stand for a television, and a bunk bed with a futon underneath. I later built a commissioned replica dry sink for a co-worker that saw one on the internet she liked. That's when I came to the realization that I was a woodworker. Since then I have made many pieces of furniture for family, friends, and our church. I have also done some DIY carpentry such as our garage and carport combination to replace the garage which I now use as my workshop.

My carvings started while working for a fellow engineer that was of Swedish decent. He and his father were prolific woodcarvers. He gave me the incentive to start carving by providing a band sawed armadillo blank and a couple of knives. Since then, I have carved and whittled many small pieces for myself and others. The most elaborate piece was a recent one entitled "Phiddlosophy", seen above, for my friend that plays the violin and recently completed his first violin construction.

Below are a few other carvings I've made.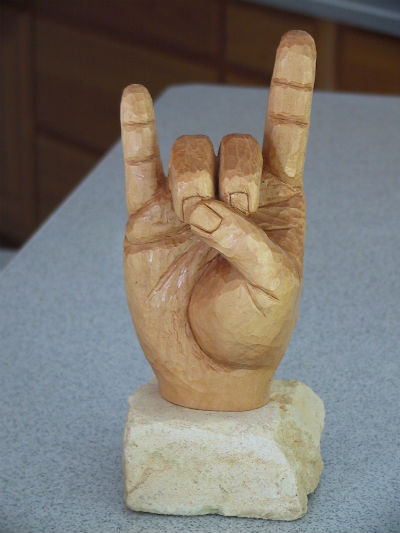 A University of Texas Hook'em hand I made a few years ago for my first daughter when
she graduated from UT. I have made several of these for other UT grads.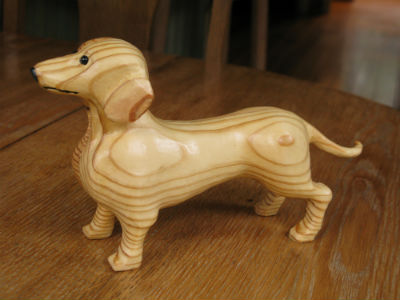 A picture of a dachshund I carved for my younger daughter a year ago.
She had seen such a carving and suggested I make one.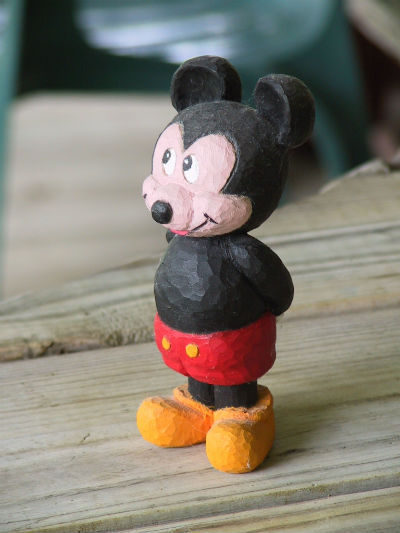 A rendition of Mickey Mouse I did for my father. He was born the same year
Mickey Mouse was first created.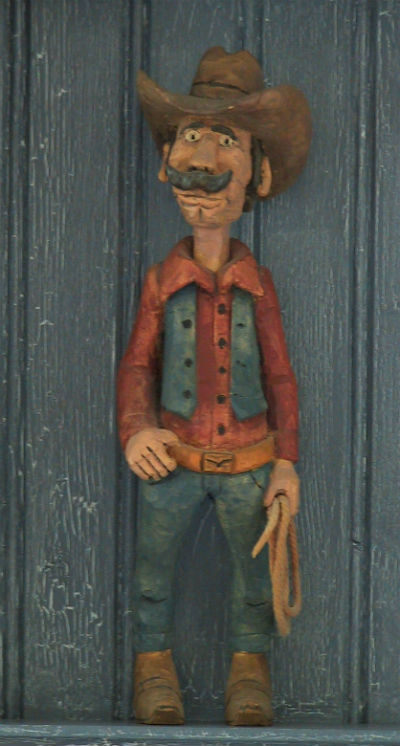 One of several cowboy carvings I have done. My boss that got me into carving
carves a lot of cowboy figures.
---
Return to the Wood News Online front page
Carving Submissions

Would you like for your carvings to appear in this column? We invite you to SEND US PHOTOS of your woodcarving projects along with captions and a brief history and description of your woodworking. (Email photos at 800x600 resolution.) Receive a $50 store credit redeemable towards merchandise if we show your carving in a future issue.

Click here to submit
your carvings




Show Us Your Woodcarving
Archive Gallery

Want to see more carvings? Check out our gallery of past Show Us Your Woodcarving columns from previous issues of Wood News Online.

Click here to view our archive gallery



Click the images below to visit some of our most popular tool departments
| | | | | | | |
| --- | --- | --- | --- | --- | --- | --- |
| | | | | | | |
| Finishing | Books | Clearance | Festool | Planes | Sharpening | Wood Turning |
Highland Woodworking
1045 N. Highland Ave. NE
Atlanta, Georgia 30306
Tel. 800-241-6748
Email us at email@highlandwoodworking.com
Visit us on the web at www.highlandwoodworking.com
Copyright © 2020 Highland Hardware, Inc.

Errors regarding pricing and specifications are subject to correction.
SOME SALE QUANTITIES MAY SELL OUT and become unavailable at the advertised price.