Here's My Woodcarving!
By Edward Mercer
Brunswick, GA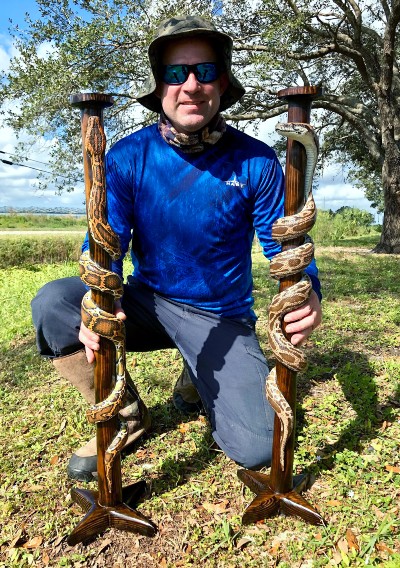 These are the first two carvings that I completed.
A Burmese Python and a Labyrinth Python.


My passion for carving snakes comes from my love and admiration for these reptiles. I've personally owned and worked with snakes for over 25 years so I have intimate knowledge of the size, scale and structure of my subjects. I've been drawing and painting my entire life and I have a degree in Graphic Design; however, I feel that my greatest work shows through when I'm passionate about what I'm creating.

When the pandemic began, I began looking for something creative to do with my time so I started whittling wood but when I started power carving, I knew that I had found my calling. I carved my first snake about eight months ago and with each carving, I have grown as a carver; learning new techniques and improving on the quality and likeness of my subjects.

My carvings take about three weeks to complete. I like for each of my carvings to tell a story and represent the uniqueness in the individuals that I'm creating them for. Once I figure out the storyline, I then design and sketch my idea to reference while I carve. After I've completed the carving process using a mini power carver, dremel and a ton of sandpaper, I then wood burn thousands of individual scales on the snake. This process takes at least a week working 8-10 hours a day. I finish by hand painting each carving to the likeness of my subject and adding any additional personal touches.


I really enjoy seeing the progression of each carving and watching these snakes come to life and I can't wait to see where this craft takes me. If you're interested in owning a one-of-a-kind carving, you can follow my Instagram page to see my work and commission a personalized carving.

Below are more pictures of the Burmese and Labyrinth Pythons:

Below is a carving of an Eastern Black Rat snake climbing a lamp post (which actually lights up) with a chipmunk on top. My sister sees this snake, which she named Natasha, regularly in her yard. She used to have an abundance of chipmunks until the snake arrived. Now, she doesn't seem to have as many chipmunks...


The carving below was created for a firefighter. This Texas Broadband water snake was chosen because it has colors and patterns like fire.


Below is another carving for a firefighter. He wanted an Eyelash Pit Viper, like one that he saw when he visited Costa Rica.


Below are pictures of the project I'm currently working on. It is an arch with 8' columns and each column has a different kind of snake carved into it. One column takes over a month to complete.


---
Edward can be reached directly via email at pythonhunter10@gmail.com.
Return to the Wood News Online front page
Carving Submissions

Would you like for your carvings to appear in this column? We invite you to SEND US PHOTOS of your woodcarving projects along with captions and a brief history and description of your woodworking. (Email photos at 800x600 resolution.) Receive a $50 store credit redeemable towards merchandise if we show your carving in a future issue.

Click here to submit
your carvings




Show Us Your Woodcarving
Archive Gallery

Want to see more carvings? Check out our gallery of past Show Us Your Woodcarving columns from previous issues of Wood News Online.

Click here to view our archive gallery



Click the images below to visit some of our most popular tool departments
| | | | | | | |
| --- | --- | --- | --- | --- | --- | --- |
| | | | | | | |
| Finishing | Books | Clearance | Festool | Planes | Sharpening | Wood Turning |
Highland Woodworking
1045 N. Highland Ave. NE
Atlanta, Georgia 30306
Tel. 800-241-6748
Email us at email@highlandwoodworking.com
Visit us on the web at www.highlandwoodworking.com
Copyright © 2021 Highland Hardware, Inc.

Errors regarding pricing and specifications are subject to correction.
SOME SALE QUANTITIES MAY SELL OUT and become unavailable at the advertised price.