Here's My Woodcarving!
By Gary Assarian
Bloomfield Hills, MI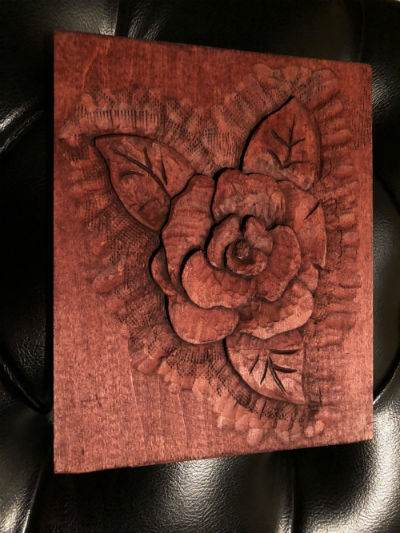 Dimensional flower made from basswood with shellac top coated
and gel stain added


EDITOR'S NOTE: We previously featured Gary's woodworking projects in our July 2017 issue of Wood News Online.

I have been a hobbyist woodworker for over 20 years. During that time, I have concentrated on making different types of woodworking projects. I enjoy variety and new challenges. One should not stop learning or remain in their comfort zone. I hope to progress in my knowledge of all things wood and craft.

I was looking for something that would make the projects stand out. Carving seemed to fit the objective. I embrace a maker's motto, "Do it because you know it's better, Not because it's easy! So, I decided to learn to carve. Having never done this before I needed carving tools. All thanks to Santa I have an ample supply of high-quality tools. I watched a number of videos to acclimate to carving and to begin to understand the different lexicon. These were very helpful. I observed that I would need a stand for the tools so I built one, which is pictured below.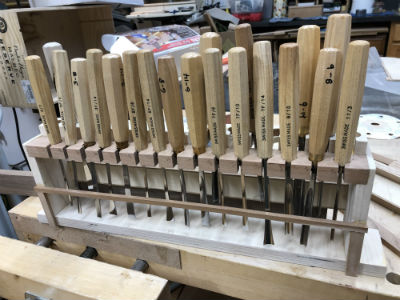 Gauge rack, two tiers, keeps tools in their place


It made it far more productive to find the proper gauge. I also signed up for a carving class with Mary May at the Marc Adams School of Woodworking. The class was designed for individuals at various levels of experience, however, I didn't find myself lost and there were a number of us at the level of beginner. She patiently walked us through various carving projects. The results of which are shown in the photographs below.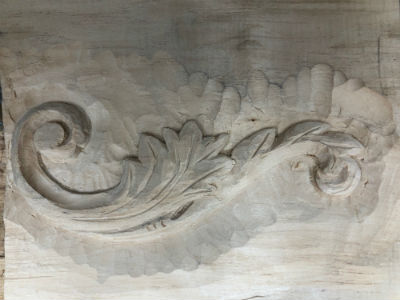 The acanthus leaf made from basswood


The acanthus leaf was the most difficult. Fortunately, we did this toward the end of the week, so I had notched some hours of experience before taking on the project. Like everything in woodworking, there is no one way but your way. You just need to take the plunge and practice. Carving is very satisfying and doable if one follows a systematic approach.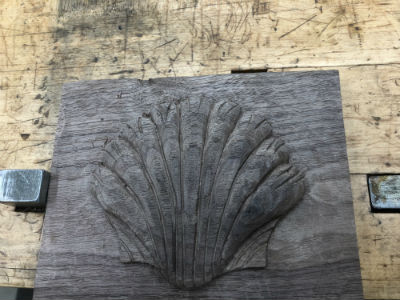 Shell made from walnut


Handwork is wonderful and allows you to feel the workpiece. Working in a second dimension you need to understand the process, giving the experience more meaning. Zeroing in on the why, the how to accomplish your objective makes the project more alive. Slow and deliberate is the best way for me. Follow the steps!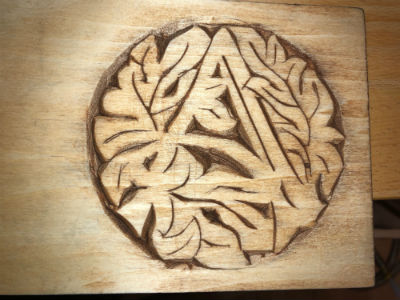 Flower letter "A" on basswood with a lacquer topcoat
and chestnut stain


It is interesting that some of the things that one would expect to be difficult are less so, and things that one expects to be simple end up difficult. We had a variety of projects to explore new techniques which, though difficult, made for good practice. The only shortcoming of my initial training was in the area of sharpening. One should spend a good amount of time with a mentor to help with making and keeping tools sharp. Carving is infinitely easier with sharp tools and allows you to work with different species of wood. As you can see I have much work to do to refine my craft but that gives me an opportunity to continue to grow it. I am definitely hooked and now on to Kumiko, another wood art form I have started to learn. It is never too late to learn!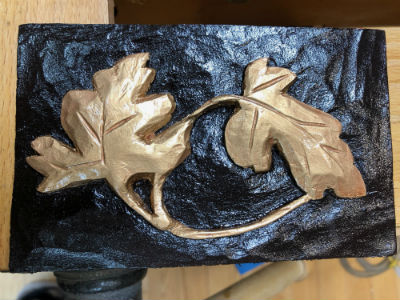 2 leaves made from basswood with a walnut gel stain
and gold leaf paint
---
Return to the Wood News Online front page
Carving Submissions

Would you like for your carvings to appear in this column? We invite you to SEND US PHOTOS of your woodcarving projects along with captions and a brief history and description of your woodworking. (Email photos at 800x600 resolution.) Receive a $50 store credit redeemable towards merchandise if we show your carving in a future issue.

Click here to submit
your carvings




Show Us Your Woodcarving
Archive Gallery

Want to see more carvings? Check out our gallery of past Show Us Your Woodcarving columns from previous issues of Wood News Online.

Click here to view our archive gallery



Click the images below to visit some of our most popular tool departments
| | | | | | | |
| --- | --- | --- | --- | --- | --- | --- |
| | | | | | | |
| Finishing | Books | Clearance | Festool | Planes | Sharpening | Wood Turning |
Highland Woodworking
1045 N. Highland Ave. NE
Atlanta, Georgia 30306
Tel. 800-241-6748
Email us at email@highlandwoodworking.com
Visit us on the web at www.highlandwoodworking.com
Copyright © 2018 Highland Hardware, Inc.

Errors regarding pricing and specifications are subject to correction.
SOME SALE QUANTITIES MAY SELL OUT and become unavailable at the advertised price.