Here's My Woodcarving!
By Gerard Merchant
Tempe, AZ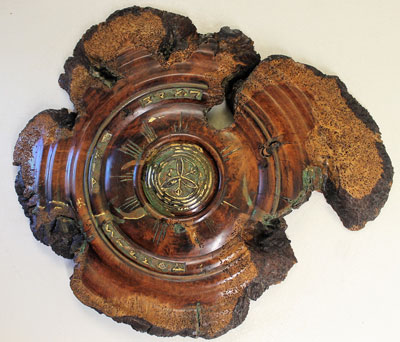 Well, let me tell you about the man behind this work. I was born in a small town in the hills of Virginia. I started with hammer and nail at the age of six, along with my twin brother, using my father's tools and lumber. I was raised in New York City, during the good, free and wild years. I received my first taste of construction work in my early 20's. While working construction I was rewarded with a raise in position to supervisor by the age of 22. Years later I opened a shop in Tempe AZ in 1995. I was manufacturing custom kitchens and entry doors for commercial and residential markets.

I enjoy learning as much as possible. I'm self-taught, by reading everything about woodworking that presents itself to me. I have found that as I grow older my priorities have changed. With age my focus has moved from sustaining a business to creating one-of-a-kind, hand-crafted pieces with an attention to craftsmanship in a purest form, (my own). I focus on the design and execution of old world techniques for joinery and construction and a keen eye to the final finish. I have a deep passion in regard to the craft of woodworking. I am in awe of the smell of fresh cut lumber, to the craft of honing sharp hand tools, and how far I can drift from woods original form, a tree, and still maintain respect for its origin.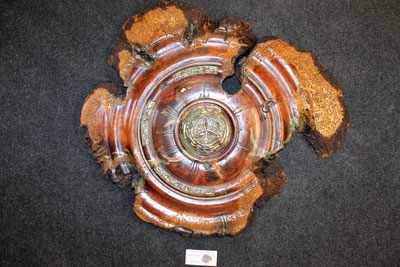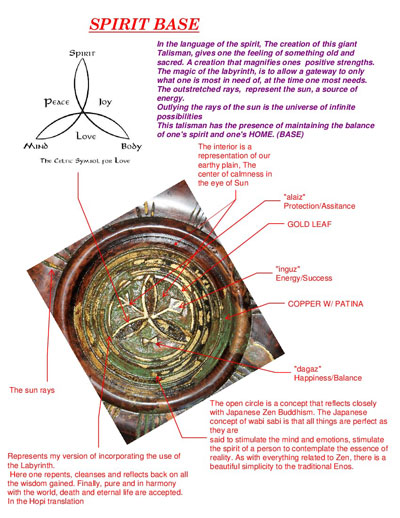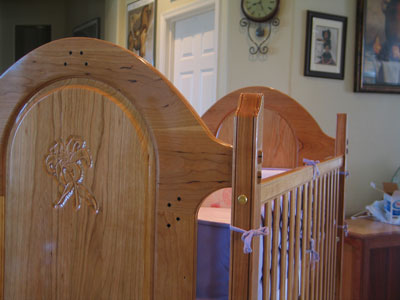 Cherry crib was my first carving ever.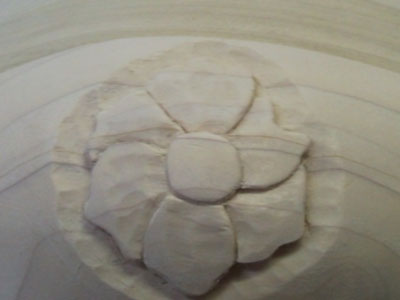 Carved leaves was my second carving.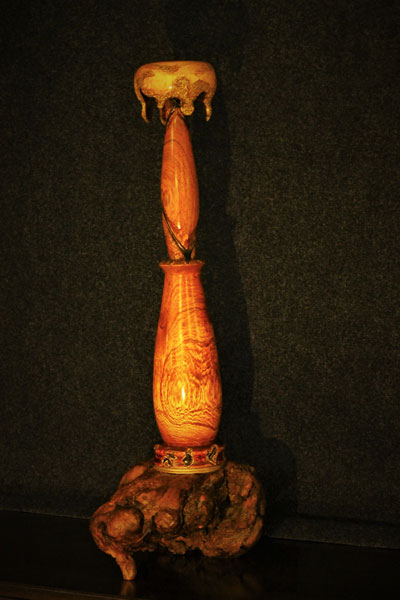 Carved Candle stick vase was my third attempt at carving. The base is
cottonwood, in it's natural form, (no carving, not much) The stem and top
flowering leaf are hand carved to represent plant base form. inlays of colored
resin and rusted iron ore, to create a leaf. The texture is made with a burr
and painted with gold metal based paint. Veins and small leaves surround
the base and mid ring.
---
You can visit Gerard's website to view more projects at https://www.custommade.com/by/gmstudiosllc/.
Return to the Wood News Online front page
Click the images below to visit some of our most popular tool departments
| | | | | | | |
| --- | --- | --- | --- | --- | --- | --- |
| | | | | | | |
| Finishing | Books | Clearance | Festool | Planes | Sharpening | Wood Turning |
Highland Woodworking
1045 N. Highland Ave. NE
Atlanta, Georgia 30306
Tel. 800-241-6748
Email us at email@highlandwoodworking.com
Visit us on the web at www.highlandwoodworking.com
Copyright © 2018 Highland Hardware, Inc.

Errors regarding pricing and specifications are subject to correction.
SOME SALE QUANTITIES MAY SELL OUT and become unavailable at the advertised price.