Here's My Woodcarving!
By Gina French
I am a pediatrician and most of my hours are spent on that. My first job as a pediatrician was working for the Indian Health Service. As a result I wound up in northern Minnesota in the very small town of Bemidji in the late 80's. There wasn't a lot to do in my limited down time, so I decided to learn some woodworking. I give most of my carvings away to people, most of them have some story attached.

Woodworking in general has been a good place for me to destress from my day job where I am responsible for people's most precious children. I always know that the worst that will happen in the shop is that I will waste some wood or a present won't get finished in time.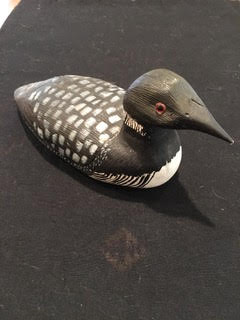 I took a class and made a little loon
as one of my first projects.


My mother was collecting owls at the time I started woodcarving, so I decided to make her a snowy owl. I used to carry it back and forth to the hospital when I was on call and work on it in the call room. I told everyone I was working on a duck until it was done.


My sister wanted a heron to put in her living room next to a potted tree. So she got one.

I went through a bit of a santa claus phase. One year I made about 20 of them for all the staff in the pediatric clinic at Columbus Children's Hospital. They were of the style of the two little guys you see below. I started the bigger santa a long time ago and I finally finished it for my mother last year. I thought she might like to see an Hispanic santa for a change. She seemed to like it.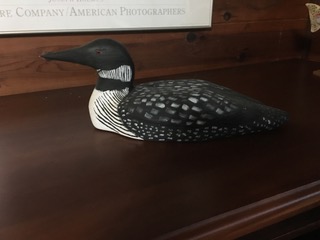 Larger Loon


I made a trout for my father-in-law who was an avid fisherman. This was my first attempt to actually put something in a mounting.

On New Year's Eve before 1998 began, my sister, a police officer was seriously wounded. I was snowed in in Columbus and couldn't get to her for several days and I started working on this relief carving of the Virgin Mary for her while saying rosaries all the time while I was doing it. It was in the old days so when I was finally able to fly out I was still carving it on the plane all the way across the country. It diverted my brain from the constant worry. I finished it as I arrived. I had never done a relief carving before.

I've also carved a few functional spoons and am currently working on a Buddha for a friend. I've learned all of my carving techniques from books after I carved that first little loon.


---
Gina can be reached directly via email at ginafrench@me.com.
Return to the Wood News Online front page
Carving Submissions

Would you like for your carvings to appear in this column? We invite you to SEND US PHOTOS of your woodcarving projects along with captions and a brief history and description of your woodworking. (Email photos at 800x600 resolution.) Receive a $50 store credit redeemable towards merchandise if we show your carving in a future issue.

Click here to submit
your carvings




Show Us Your Woodcarving
Archive Gallery

Want to see more carvings? Check out our gallery of past Show Us Your Woodcarving columns from previous issues of Wood News Online.

Click here to view our archive gallery



Click the images below to visit some of our most popular tool departments
| | | | | | | |
| --- | --- | --- | --- | --- | --- | --- |
| | | | | | | |
| Finishing | Books | Clearance | Festool | Planes | Sharpening | Wood Turning |
Highland Woodworking
1045 N. Highland Ave. NE
Atlanta, Georgia 30306
Tel. 800-241-6748
Email us at email@highlandwoodworking.com
Visit us on the web at www.highlandwoodworking.com
Copyright © 2018 Highland Hardware, Inc.

Errors regarding pricing and specifications are subject to correction.
SOME SALE QUANTITIES MAY SELL OUT and become unavailable at the advertised price.