Here's My Woodcarving!
By Jim Brown
Colorado Springs, CO

I started out by doing large custom commission pieces for years. I decided to stop that line of work about five years ago (age catches up you know) and looked for a smaller size work for my energy. I was scrolling the internet when I found an outlet for using scroll saws from a craftsman named Steve Garrison. He gave me the basic concept for a shell design and then the variations you see below are from my own imagination. I've probably made about fifty originals since it is hard to make a duplicate from the same "tree."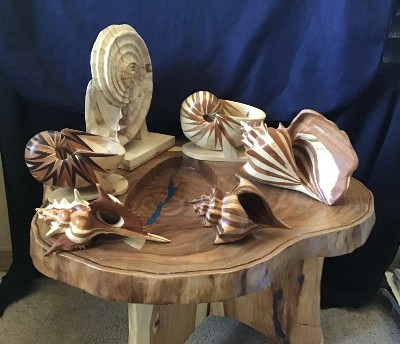 Shell Group


My "Colorado Sea Shells" are segmented scroll-saw carvings. I use various wood combinations and adaptions, creating unique shapes and colors. The shells are a wonder, and instant attention getters.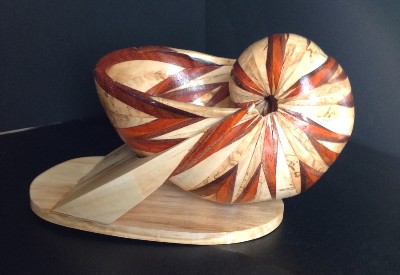 Nautilus Starburst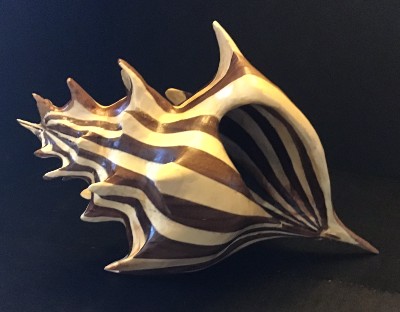 Conch Shell 1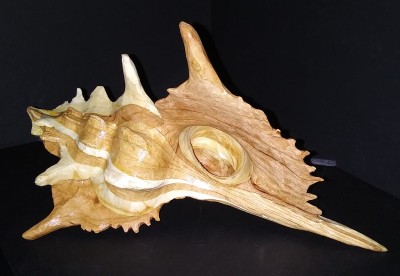 Murex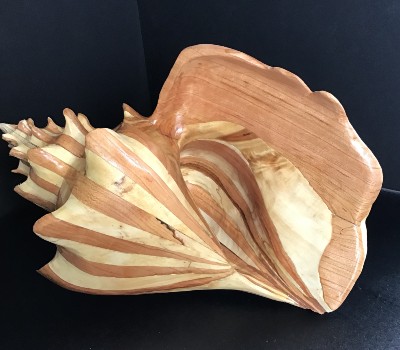 Conch Shell 2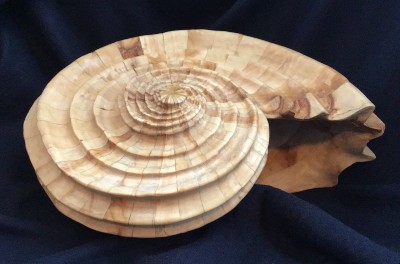 Aspen Shell - 12" Diameter
---
Jim can be reached directly via email at jbrown@copper.net. You can also visit his website at Colorado Seashells.
Return to the Wood News Online front page
Carving Submissions

Would you like for your carvings to appear in this column? We invite you to SEND US PHOTOS of your woodcarving projects along with captions and a brief history and description of your woodworking. (Email photos at 800x600 resolution.) Receive a $50 store credit redeemable towards merchandise if we show your carving in a future issue.

Click here to submit
your carvings




Show Us Your Woodcarving
Archive Gallery

Want to see more carvings? Check out our gallery of past Show Us Your Woodcarving columns from previous issues of Wood News Online.

Click here to view our archive gallery



Click the images below to visit some of our most popular tool departments
| | | | | | | |
| --- | --- | --- | --- | --- | --- | --- |
| | | | | | | |
| Finishing | Books | Clearance | Festool | Planes | Sharpening | Wood Turning |
Highland Woodworking
1045 N. Highland Ave. NE
Atlanta, Georgia 30306
Tel. 800-241-6748
Email us at email@highlandwoodworking.com
Visit us on the web at www.highlandwoodworking.com
Copyright © 2021 Highland Hardware, Inc.

Errors regarding pricing and specifications are subject to correction.
SOME SALE QUANTITIES MAY SELL OUT and become unavailable at the advertised price.