Here's My Woodcarving!
By Jim Fontenot
Macon, GA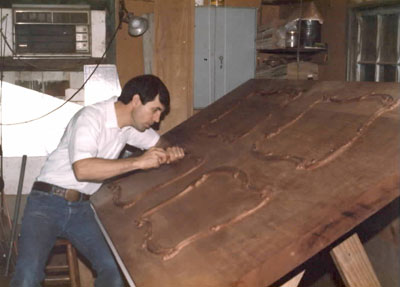 1986 at my home shop in Church Point, Louisiana
In our earliest years my best buddy, David, and I always seemed to be trying to create something out of wood. Trying to work with the most rudimentary of tools must have instilled in me the desire to one day have a real workshop with real tools. During my college years, having only a block plane, drill and handsaw I managed to build two small boats. By 1973, now with a good job, I began to assemble the tools that would allow me to have an actual workshop.

My interest in woodworking has always been mainly focused on furniture or home accent projects. Some of the more ambitious projects required details that could only be done with hand work of a gouge or chisel. Most work is low relief, such as a flower and leaf detail added to a chair crest rail. My first carvings were small flowers scratched into wood with a very cheap set of carving gouges that came as a set of twelve in a plastic sleeve. Price - about $4.00. Better tools followed, two or three at a time, as various projects required. One project called for ball and claw feet for a drop leaf secretary, another required a dogwood flower and branch for a weaving loom and a hope chest. The hope chest for my daughter was selected to be included in Lon Schleining's book, Treasure Chests (The Taunton Press, 2001). In truth, the chest was probably chosen more for the uniqueness of the heart shaped dovetail joints than for the carving. However, I was well pleased with the carving which is the focal point of the piece. Learning to sharpen tools well and coming to like the process was an important step towards better carving.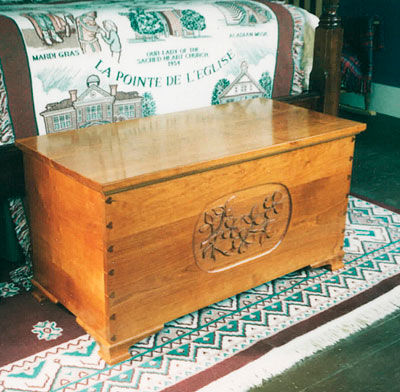 Hope chest 1994


Currently, my shop is in the lower level of our home here in Macon and at 750 sq. ft. is adequate for my needs. Soon we will be moving to our new home being built in NW Georgia in McLemore's cove between Lookout Mountain and Pigeon Lookout Mountain. The detached garage and shop building will give me about the same work area as I have now.

My largest project was carving a door for a French chateau being built on the bank of the Mermentau River in Louisiana. Presented with a 48" by 96" slab of 3" thick mahogany, I was required to remove a 1/2" layer from each face of the door (32 bf of material) leaving only eight raised rectangular outlines on which to carve a floral motif. Completed in 350 hours, this was to be my only real commercial piece. I did not bid or advertise for the job. It was offered to me because there were so few people doing this kind of work and I accepted because I didn't know any better. I did learn to repeat each detail on each of the four segments per side before starting the next detail. This kept them more consistent and the work more balanced as a whole. The designs were drawn by me from photos that I took of an antique dresser that my client owned. Pleasing a very exacting and demanding client was a challenge. At one point, after having removed only 7/16" and not the requested 1/2" (to better suit my design interpretation and leave more material for the door) he had me remove the the remaining 1/16" from the entire side. I was able to talk him out of having me do the work on site and 45 minutes from my home.

Below are a few of my projects: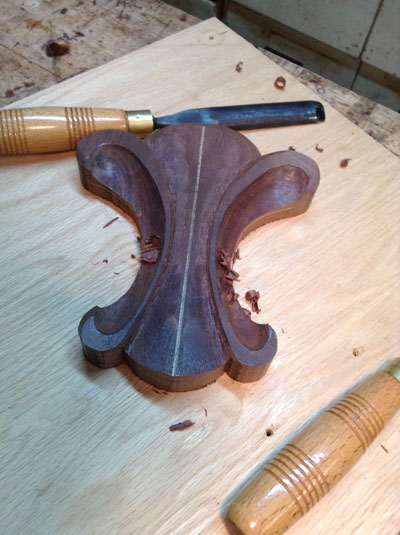 Roughing out piece for mirror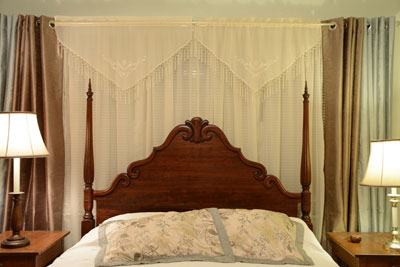 First I made my wife a headboard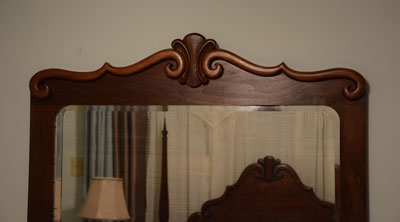 Later she found an old mirror and asked for a matching piece.


I have been honored by being asked to make several pieces of work for the beautiful St. Joseph's Catholic Church here in Macon. When asked to build a sheetrock partition to close off this area it occurred to me that there should be a better way that would not block the beautiful windows. My first thought was wrought iron grill work; but since woodworking is my forte, this became a chance to try the style of work that I have admired for so many years and never had a reason to attempt. The carving amounted only to finishing the router produced coves into the pointed corners in the upper half and making the triangular incises in the upper and lower halves of the divider. In the lower half each element is mitered and set into either a square or rectangular frame. This piece gave me much satisfaction.


These framed wildlife carvings were for a "man cave" playhouse built by the Middle Georgia Woodworkers and Middle Georgia Woodturners of Macon. The playhouse is an annual project with the proceeds donated to Rebuilding Macon Inc., an organization that refurbishes homes in the area. Black Walnut on weathered oak.


---
Return to the Wood News Online front page
Click the images below to visit some of our most popular tool departments
| | | | | | | |
| --- | --- | --- | --- | --- | --- | --- |
| | | | | | | |
| Finishing | Books | Clearance | Festool | Planes | Sharpening | Wood Turning |
Highland Woodworking
1045 N. Highland Ave. NE
Atlanta, Georgia 30306
Tel. 800-241-6748
Email us at email@highlandwoodworking.com
Visit us on the web at www.highlandwoodworking.com
Copyright © 2018 Highland Hardware, Inc.

Errors regarding pricing and specifications are subject to correction.
SOME SALE QUANTITIES MAY SELL OUT and become unavailable at the advertised price.