Here's My Woodcarving!
By Kenan Schultz
Baytown, TX
I have been woodworking for about 20 years or so. I consider myself as a boxmaker/carver, although most of my work has been carving for about the last 5 years. Most of my carving is in the round and I carve in various hardwoods, using traditional carving tools and sometimes power carving tools. I'm not a purist, I'm just an old guy that doesn't like to listen to the noise of machines.

I find most of my inspiration from nature. My main interest is carving horse busts, but I have recently been enamored with carving owls. I can't seem to get them out of my mind, so I carve them!

My latest stylized barn owl is carved from one piece of black walnut with the exception of the carved African Blackwood talons that were applied. The carving is about 10" tall.



Meercats carved in a Cypress knee:

"Dream Catcher" carved in Mahogany on an oak burl base.
Bandsaw Bird boxes made in various woods:
Carousel horse that is a work in progress: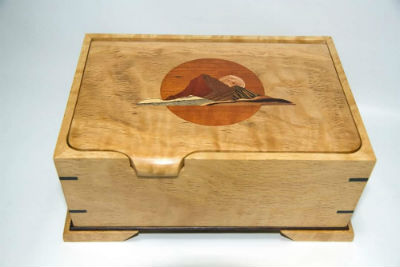 "Moonscape" made in curly oak with wenge accents.
Various woods for the inlay and dyed leather.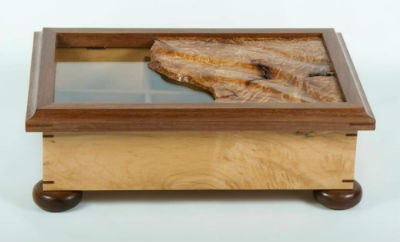 Watch case - made in maple and mahogany, with a sculpted oak burl
top designed to mimic the waves of our Gulf coast.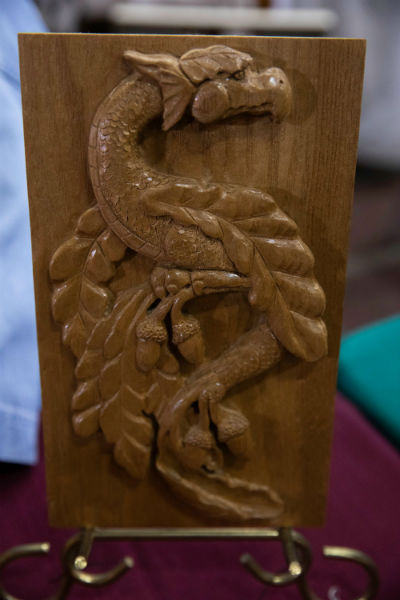 Green Dragon carved in Sassafrass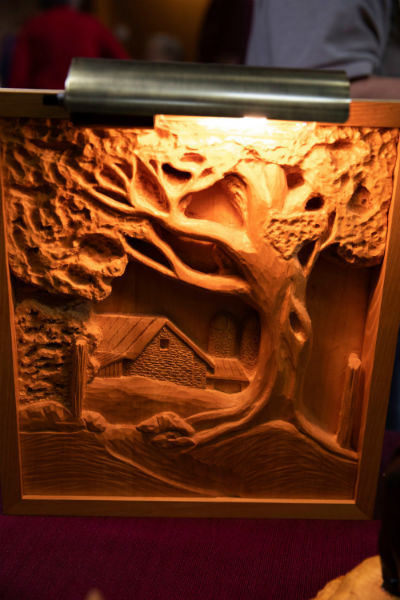 A relief carving in Basswood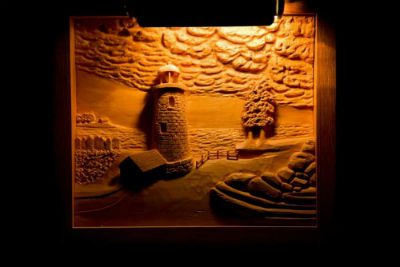 A relief carving in Basswood
---
Kenan can be reached directly via email at wyattearp77530@yahoo.com.
You can also visit his Facebook page at Kenan Schultz.
Return to the Wood News Online front page
Carving Submissions

Would you like for your carvings to appear in this column? We invite you to SEND US PHOTOS of your woodcarving projects along with captions and a brief history and description of your woodworking. (Email photos at 800x600 resolution.) Receive a $50 store credit redeemable towards merchandise if we show your carving in a future issue.

Click here to submit
your carvings




Show Us Your Woodcarving
Archive Gallery

Want to see more carvings? Check out our gallery of past Show Us Your Woodcarving columns from previous issues of Wood News Online.

Click here to view our archive gallery



Click the images below to visit some of our most popular tool departments
| | | | | | | |
| --- | --- | --- | --- | --- | --- | --- |
| | | | | | | |
| Finishing | Books | Clearance | Festool | Planes | Sharpening | Wood Turning |
Highland Woodworking
1045 N. Highland Ave. NE
Atlanta, Georgia 30306
Tel. 800-241-6748
Email us at email@highlandwoodworking.com
Visit us on the web at www.highlandwoodworking.com
Copyright © 2020 Highland Hardware, Inc.

Errors regarding pricing and specifications are subject to correction.
SOME SALE QUANTITIES MAY SELL OUT and become unavailable at the advertised price.