Here's My Woodcarving!
By Raymond Hartenstine
North Providence, RI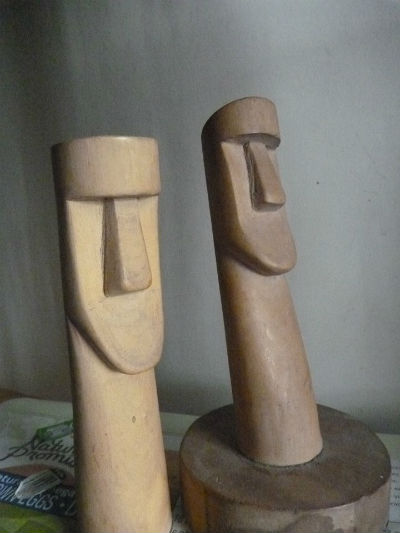 Tiki/ Eastern Island head


I live in North Providence, Rhode Island. I bought my 1st two-blade folding knife at a Sears in North NJ in about 1968. Later in 1969, I started carving a simpler version of the Easter Island Tiki heads above. I was very inspired by the photos I saw in Thor Heyerdahl's book Aku-Aku. I bought a medium size Old Timer knife that had 3 folding blades. Having a pocket knife that had 3 different styles of blades such as clip, spey, and sheepfoot allowed me more options when carving from fallen tree branches. I used this knife to do my carving of Tiki as well as small wooden human heads that were from 1 inch in diameter to 1-1/2 to 2 inches in diameter.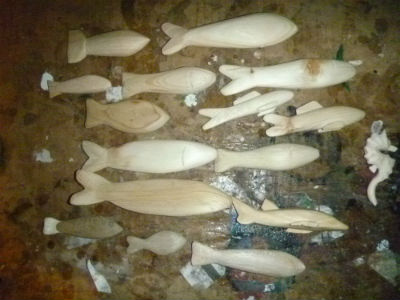 Some of my early fish carvings


Once I went to college, and graduated from college, I didn't do a lot of wood carving at all. After my divorce in 1997 I sporadically did some wood carving, but not as much as I had used to. About 8 to 10 years ago, when I had some really stressful situations, I retook up wood carving as a way to release some of my frustrations. Back then I would pick up small fallen branches, and just slice them to nothing, and created a lot of shavings. After awhile I decided if I was going to cut up branches and make a lot of shavings, I would make them into something useful and make wood carvings. The 2013 photo shows most of the kind of carvings I made at that time.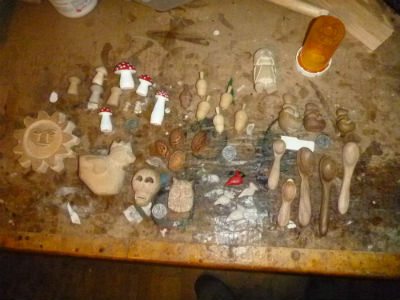 Collection of items I have carved as of 2013


Currently, my so called workshop, where I do the majority of my carving is in the living room of my apartment. In the last 4 to 5 years I would buy inexpensive "simple, but more advance" wood carvings sold in second hand or antique stores, and then copy them as a way of teaching myself how to do more complex wood carving. Sometimes I would duplicate wood carvings I saw in books as well, and it was from 2 books on Swedish wood carving that I taught myself how to do wooden spoon carving.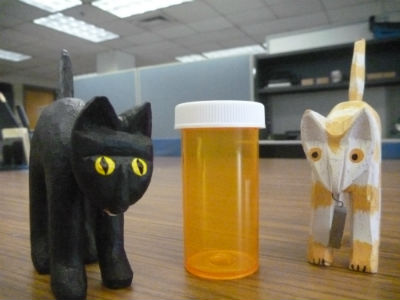 Carved black cat from 5 years ago based on the cat carving I had bought on the right



I like to collect antique tools and some older knives. In about 2014/2015, I bought a 100 year old, traditional-style, Swedish Sloyd knife and it too had a short 1-3/4 inch blade. After re-sharpening this Sloyd knife, I started to use it for most of my carving. Eventually in 2016 I found and bought a modern made version of this traditional Swedish Sloyd knife that was made by Hyde Tools, and have continued to use this style of Sloyd knife for the majority of my wood carvings. These traditional Swedish Sloyd knives, are American made, reasonably priced and are the same ones Highland Woodworking sells in their catalog. This traditional Swedish Sloyd knife, that I prefer to use, has a 1-3/4 inch long blade. I personally feel a longer blade is more of a hindrance than a help. Also the rounded handle is a lot more comfortable in my hand than the more bulky pocket knife I had been using. Occasionally, when I need different knife blades of different shapes, I use Warren Cutlery knife handles which have large and small blades of different shapes, which allow me to remove wood from difficult angles and spaces that the Sloyd knife cannot get to. The Warren Cutlery handles and blades are reasonably inexpensive, and their large and small J style crooked blades can be used for carving wooden spoons.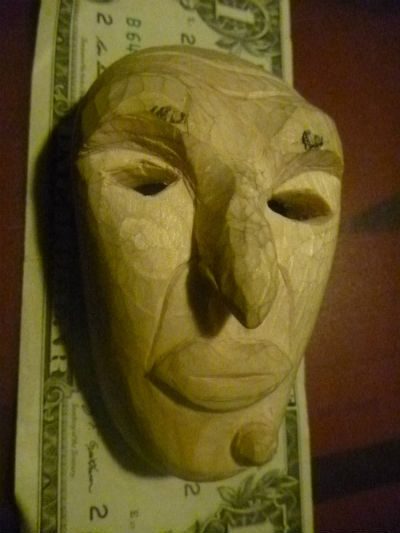 Crone mask carved out of a 2 X 3 pine scrap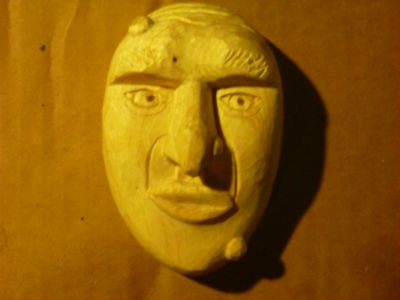 Witch woman carved out of 2 X 4 pine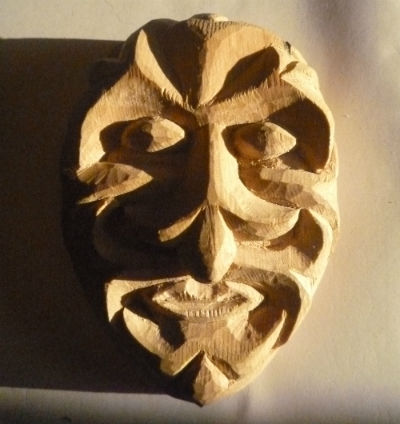 Green man carved out of spruce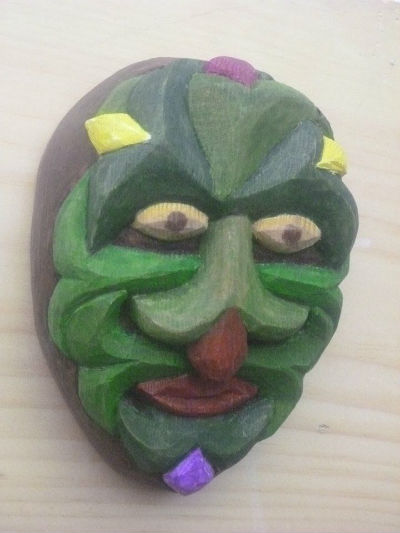 Green man in color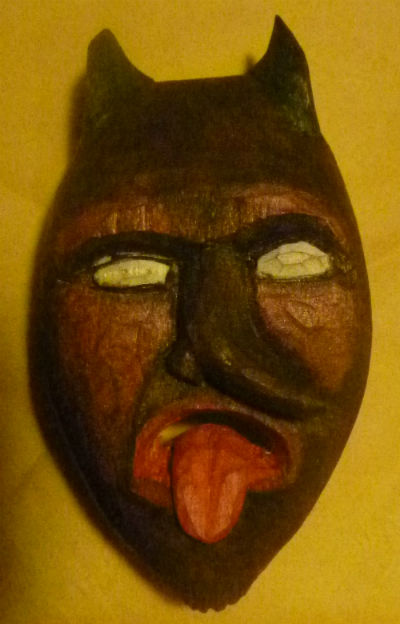 Bass wood devil mask in color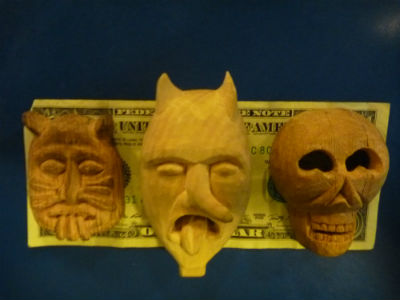 Mini devil mask carved out of bass wood, the green man and skull mask carved out of oak


Below is a photo of my version of what is called a Jumping Jack toy, which I carved partly as a 3D version of a Bat toy. The top string is hidden from view in the photo but you hold onto the top string and pull the bottom string (the one with the small carved pumpkin attached) and the wings go up and down as you pull or release the pumpkin string.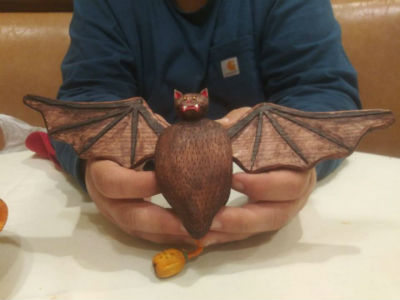 3D pull toy bat carving for my Grandson


My next attempt at this semi 3D jumping jack will be an Owl.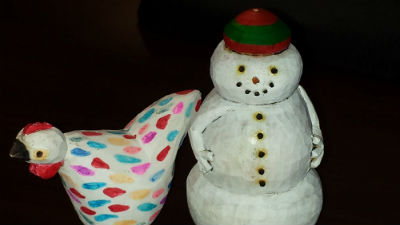 Chicken and snow man I carved 3 to 4 years ago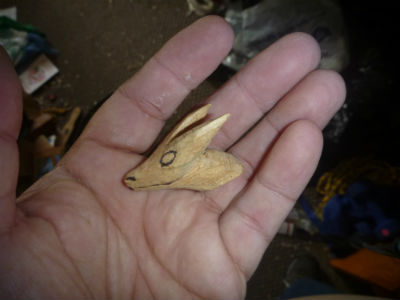 Small version of a dragon head carved about 4 to 6 years ago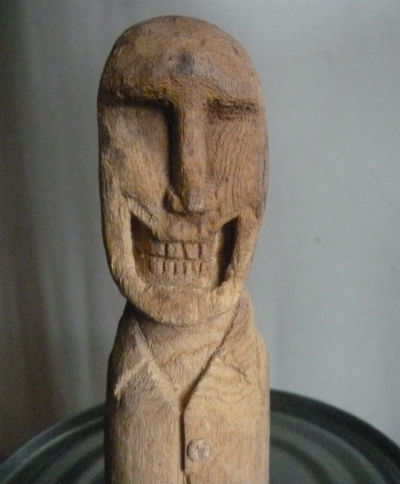 Schmaltzy used car salesman's head carved when I was about 16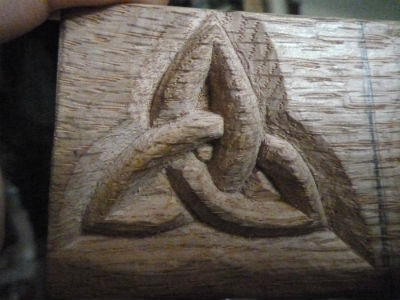 Celtic knot carved in oak from 6 years ago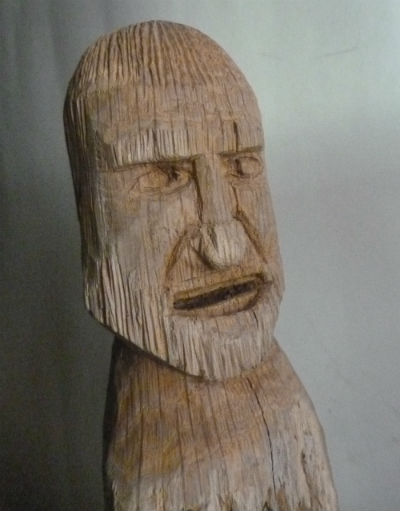 0ne-eyed man carved out of a 2 X 6 inch partly rotted oak branch. I carved it 15 to 20
years ago when I was in my 40's
---
Ray can be reached directly via email at rhartenstine@ric.edu You can also visit his Facebook page at Rhode Island Wood Carvers.
Return to the Wood News Online front page
Carving Submissions

Would you like for your carvings to appear in this column? We invite you to SEND US PHOTOS of your woodcarving projects along with captions and a brief history and description of your woodworking. (Email photos at 800x600 resolution.) Receive a $50 store credit redeemable towards merchandise if we show your carving in a future issue.

Click here to submit
your carvings




Show Us Your Woodcarving
Archive Gallery

Want to see more carvings? Check out our gallery of past Show Us Your Woodcarving columns from previous issues of Wood News Online.

Click here to view our archive gallery



Click the images below to visit some of our most popular tool departments
| | | | | | | |
| --- | --- | --- | --- | --- | --- | --- |
| | | | | | | |
| Finishing | Books | Clearance | Festool | Planes | Sharpening | Wood Turning |
Highland Woodworking
1045 N. Highland Ave. NE
Atlanta, Georgia 30306
Tel. 800-241-6748
Email us at email@highlandwoodworking.com
Visit us on the web at www.highlandwoodworking.com
Copyright © 2019 Highland Hardware, Inc.

Errors regarding pricing and specifications are subject to correction.
SOME SALE QUANTITIES MAY SELL OUT and become unavailable at the advertised price.