Here's My Woodcarving!
By Richard Aber
Ocala, FL
I am a retired art teacher with 35 years of teaching experience. My wife and I make our home in Ocala, Florida's 55+ community, "On Top of the World". I am a member of the Art Club, the Woodshop and the Carving Club. I am a citizen of the Little River Band of Ottawa Indians.

The reliefs below show a growth progression. The first relief has a very low profile or a raised drawing effect. The second relief is a more in-depth carving, so that light can create a dramatic scene. In the second relief, some of the subjects took on a more in-the-round carving. I also added additional pieces such as the cherry wood Indian maiden, known as Buffalo Women, as well as a Bristlecone pine tree with some of its branches reaching out beyond the frame.



Low relief, mahogany,10"x 65"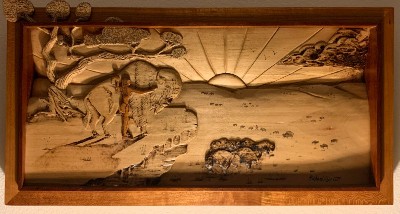 High relief with light drama, 11"x 22" bass wood, cherry wood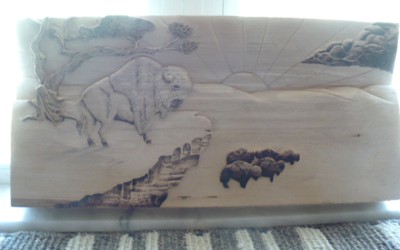 Relief in progress


I am carving something almost all the time. Three of my other carvings are ceremonial pipes. This is where my Indian heritage comes in to play. My pipes are usually gifts to people that deserve them. They are used in ceremonies such as sunrise services, funerals, and special meetings. The pipes have lots of symbolism in them.

The first pipe has a black walnut stem with one turtle and an alabaster bowl carved into an eagle head.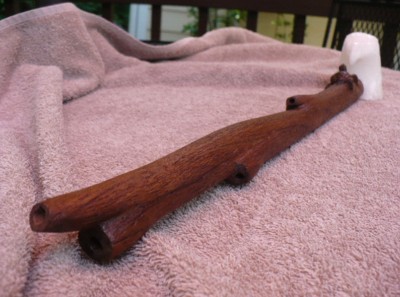 First eagle pipe with alabaster head. Each pipe is about 18" long.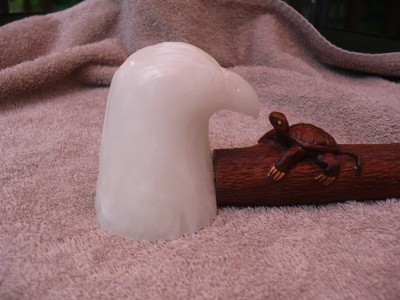 Detail of first eagle pipe


The second pipe has a full-bodied eagle and three turtles all in walnut. The bowl in the eagle body is copper as are the claws and eyes.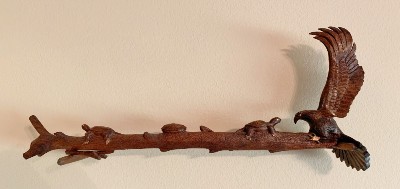 Pipe 2


The third pipe has seven turtles representing the seven grandfathers. The nine eagle feathers represent the nine original villages. I carved the eagle first, in case I messed up. The bowl in this pipe is located in the trunk of the tree and is lined with copper. The whole carving is just two pieces of wood.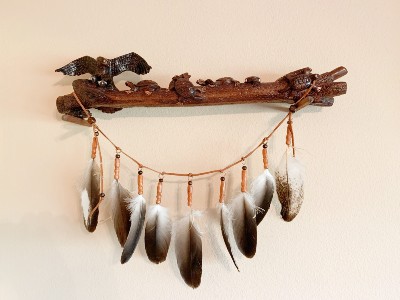 Pipe 3 with eagle feathers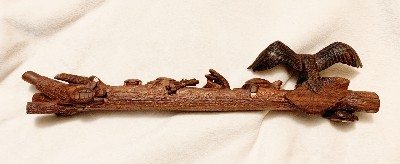 Backside of pipe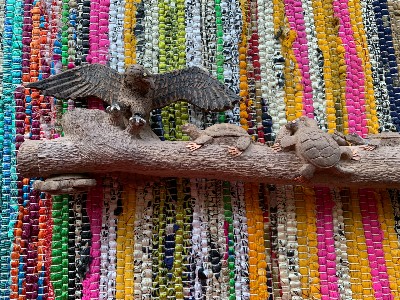 Detail of the eagle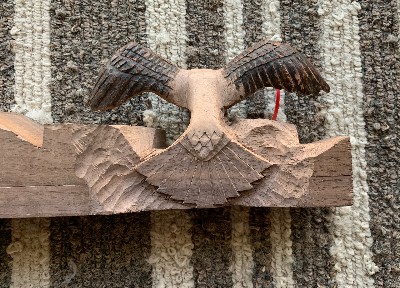 Detail of the eagle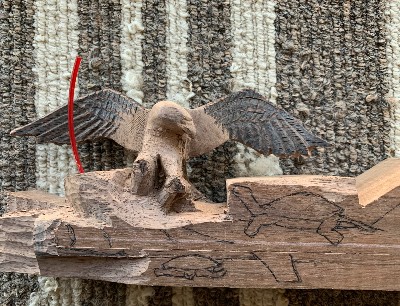 Detail of the eagle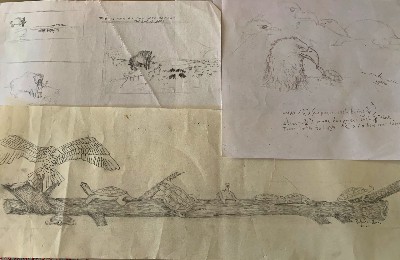 Some of my drawings
---
Richard can be reached directly via email at richardaber2@aol.com.
Return to the Wood News Online front page
Carving Submissions

Would you like for your carvings to appear in this column? We invite you to SEND US PHOTOS of your woodcarving projects along with captions and a brief history and description of your woodworking. (Email photos at 800x600 resolution.) Receive a $50 store credit redeemable towards merchandise if we show your carving in a future issue.

Click here to submit
your carvings




Show Us Your Woodcarving
Archive Gallery

Want to see more carvings? Check out our gallery of past Show Us Your Woodcarving columns from previous issues of Wood News Online.

Click here to view our archive gallery



Click the images below to visit some of our most popular tool departments
| | | | | | | |
| --- | --- | --- | --- | --- | --- | --- |
| | | | | | | |
| Finishing | Books | Clearance | Festool | Planes | Sharpening | Wood Turning |
Highland Woodworking
1045 N. Highland Ave. NE
Atlanta, Georgia 30306
Tel. 800-241-6748
Email us at email@highlandwoodworking.com
Visit us on the web at www.highlandwoodworking.com
Copyright © 2022 Highland Hardware, Inc.

Errors regarding pricing and specifications are subject to correction.
SOME SALE QUANTITIES MAY SELL OUT and become unavailable at the advertised price.