Here's My Woodcarving!
By Tim McGinn
Seasons, Powntley Copse, Alton, England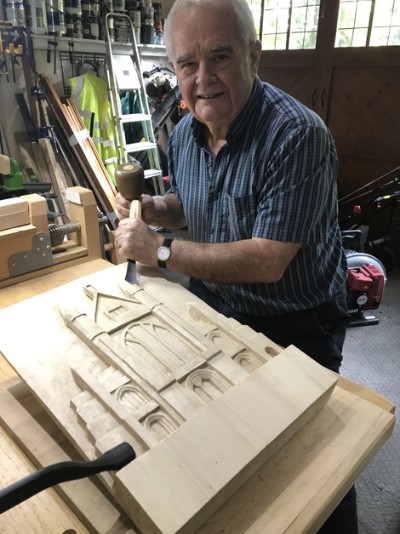 Me carving a relief of Winchester Cathedral in my Workshop


My workshop was just featured in the January 2022 issue of Wood News Online. With the evolution of the workshop I have been able to carve a wide range of interesting objects including reliefs, full 3D figures and coats of arms.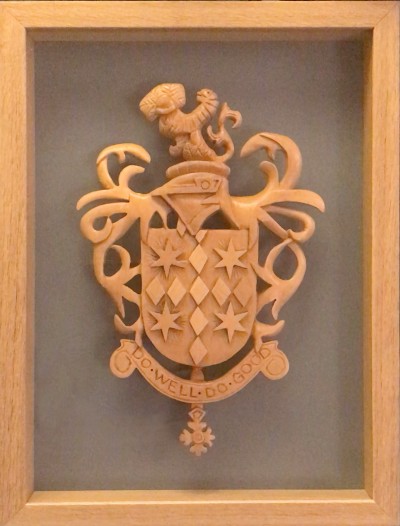 Coat of Arms of Sir Ken Olisa OBE CStJ FRSA FBCS


My friend Ken is a former business colleague. He recently challenged me to carve his Coat of Arms as Lord Lieutenant of Greater London; Her Majesty the Queen's representative in Greater London and charged with upholding the dignity of the Crown.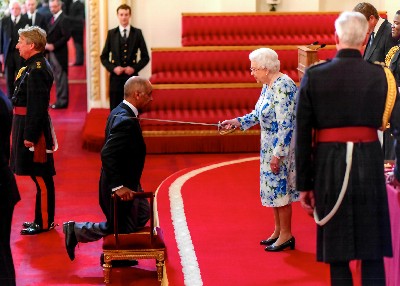 Sir Ken Olisa Investiture by Her Majesty Queen Elizabeth ll


In acknowledgement of his business leadership and personal philanthropy, Ken was invested by our Queen as a Knight of the Realm and the picture above shows the traditional ceremony conducted by the Queen with her sword conferring the honour on Ken's shoulder.

A knighthood or damehood can be presented for all types of different achievement and recognises the person for a major contribution to our country at a national or international level; their work and achievements are viewed as an inspiration to others.

Benedictine Bookcase

My second cousin was a Benedictine Priest at Ampleforth Abbey near York in England and invited me to stay as a guest of the Abbot where I encountered this remarkably simple bookcase and later made my replica.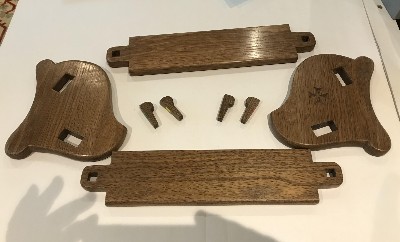 Benedictine Bookcase - Unassembled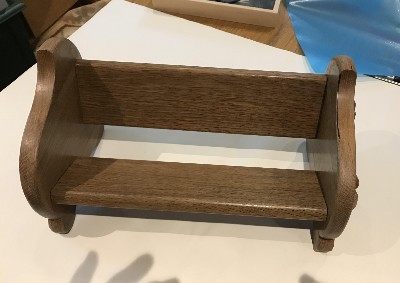 Benedictine Bookcase - Assembled


The abbey is close to the village of Kilburn in Yorkshire, the home of Robert Thompson the Mouseman and revered carpenter. Thompson designed and created furniture mainly in oak always characterised by a mouse carved into the body of the item. Ampleforth Abbey is like a showroom of his works with mice everywhere!

Trajan Roman Script Carving


Trajan Roman Characters


The carving lettering I prefer is the classic Trajan Roman and I like to use the Auriou Chris Pye Individual Letter Carving Tools produced in France by the Forge de St Jeury.

These chisels are optimised for the Upper Case Letters characterised in the Trajan Roman font reflecting the inscriptions on the Emperor Trajan's column in Rome defining his achievements which included defining the Roman Alphabet at that time.

The statue of Trajan is also an outdoor twentieth-century bronze sculpture depicting the Roman Emperor Trajan, located in front of a section of the London Wall built by the Romans two thousand years ago, at Tower Hill in London, England, and still there today.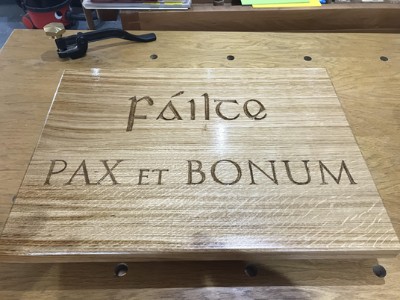 House Welcome Sign in Gaelic Irish Script and Trajan Roman


My good friends Clare and Jim Madden asked me to carve a plaque for the porch of their renovated Arts and Crafts home on the coast of East Devon, England.

Failte is "Welcome" in Gaelic reflecting Jim's Irish heritage. PAX et BONUM is the motto of St Francis of Assisi and the Franciscan Orders which includes the Poor Clare Sisters. Its meaning is "Peace and Goodwill be with you."

Some of my work has been published by Carving Magazine and I am privileged to be the Secretary of the Southern Fellowship of Woodworkers in England. The fellowship was established 28 Years ago and brings together woodworkers with a passion for woodwork, whether enthusiastic hobbyist or skilled professional.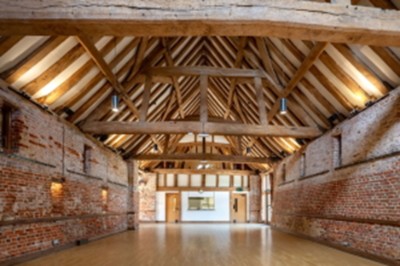 Cross Barn in Odiham, Hampshire England


We meet monthly nearby in the 500-year old stunning medieval Cross Barn close by Odiham Castle in Hampshire where King John was held before riding to Runneymede to sign the Magna Carta.


---
Tim is Chairman of Westbrook International, a business consultancy he established in 1992 after an international business career in the Americas, Europe and Asia. He is a Freeman of the City of London and Liveryman of the Worshipful Company of Information Technologists. Retired now, Tim lives near Alton in Hampshire, England where he is an enthusiastic woodworker, gardener, golfer and grandfather to three delightful granddaughters.You can email Tim at timonthyjsmcginn@gmail.com.
Return to the Wood News Online front page
Carving Submissions

Would you like for your carvings to appear in this column? We invite you to SEND US PHOTOS of your woodcarving projects along with captions and a brief history and description of your woodworking. (Email photos at 800x600 resolution.) Receive a $50 store credit redeemable towards merchandise if we show your carving in a future issue.

Click here to submit
your carvings




Show Us Your Woodcarving
Archive Gallery

Want to see more carvings? Check out our gallery of past Show Us Your Woodcarving columns from previous issues of Wood News Online.

Click here to view our archive gallery



Click the images below to visit some of our most popular tool departments
| | | | | | | |
| --- | --- | --- | --- | --- | --- | --- |
| | | | | | | |
| Finishing | Books | Clearance | Festool | Planes | Sharpening | Wood Turning |
Highland Woodworking
1045 N. Highland Ave. NE
Atlanta, Georgia 30306
Tel. 800-241-6748
Email us at email@highlandwoodworking.com
Visit us on the web at www.highlandwoodworking.com
Copyright © 2022 Highland Hardware, Inc.

Errors regarding pricing and specifications are subject to correction.
SOME SALE QUANTITIES MAY SELL OUT and become unavailable at the advertised price.