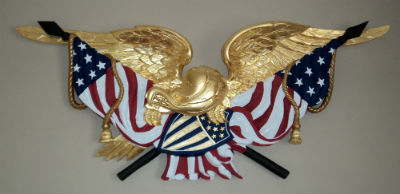 Original Design, based on a carving done by the great carver,
Paul White of Sandwich, MA. 4 feet wide.


My eagles are based on John Halley Bellamy's famous eagles carved in the early to mid-1800's in his small shops in Kittery, Maine and Portsmouth, NH. I have devoted a tremendous amount of research to finding out more about Bellamy, his art and the world in which he lived; I visit his collections in New England and continue to travel to his home area (Portsmouth and Kittery Point) periodically as well as to new exhibitions.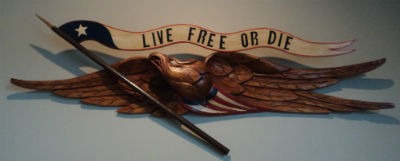 'Live Free or Die' Bellamy Eagle. Carved for a NH customer.
4 feet wide. Natural aged finish


I enjoy carving these eagles because they reflect the history and cultural climate of America's early Republic so well. Bellamy's fame quickly spread worldwide within his lifetime. Bellamy's carved eagles are an iconic American folk motif celebrating the spirit of the Americvan Revolution and the patriotic 19th century American times.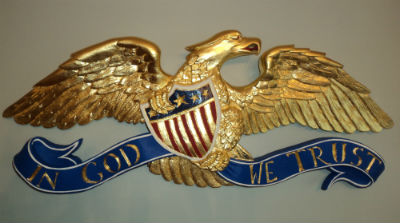 "1812" Eagle, 'In God We Trust'; 4 foot span, 6 inch relief;
gold-leaf, carved letters on blue banner,
flag shield with gold-leafed bar, stars and outlines


I offer my eagles in the traditional finishes: either painted white with gold leaf accents and carefully painted banners, or unfinished, or gilded with genuine 24k Gold-leaf. I perform every step myself, including board selection, roughing out with Windsor chair tools, carving, painting, gold-leafing, and the intricate detailed painting of shields, banners, and flags. While remaining true to the spirit of Bellamy's symbolic, aesthetically pleasing folk motif, I have developed some of my own stylistic features, such as a greater depth of carving, curved necks to give a greater sense of flow, up-curved wing tips which add to the feeling of movement, etc. I also enjoy developing my own eagles, which are historically-based but completely new designs.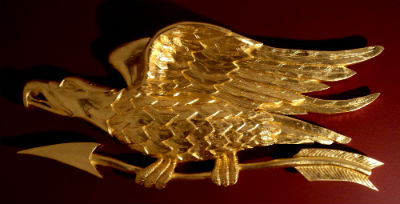 Portsmouth 'Soaring eagle'; 32 inch span, high relief;
Featured in "Early American Life Magazine", Aug. 2018


Materials match the originals: Basswood (Linden), Pine, and Poplar. I will occasionally carve unfinished eagles in attractive figured hardwoods, walnut, cherry, or mahogany. Methods are strictly traditional with no power tool use beyond the milling of the boards. There is really no way to improve on the 18th century tools for speed, efficiency, or final appearance. I experimented with grinders for the initial roughing out stage, but quickly found that my period windsor chair hand tools were much better (cleaner and quieter too). These tools include my gutter adze, scorp, spokeshaves, drawknives, compass planes, and scrapers.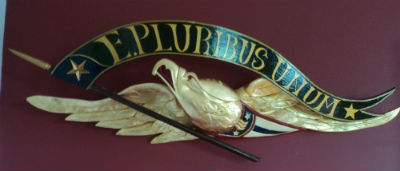 Classic 'Kittery Bellamy Eagle'
45 inches wide, 12 inches tall, 6 inches deep


The eagle above is the iconic form within Bellamy's body of work. America's national identity was given voice and brought to life through our national symbol. Folks could add their personal touch (a tradition I have continued) with the banner message. This is my most popular eagle and banner slogans I have used have varied from holiday greetings to home addresses to popular patriotic phrases such as 'Sic Semper Tyrannis', "Don't Sink the Ship", & 'God Bless America'.

It features a spread wing eagle. The head and neck are carved from a separate piece of wood and applied to a base between the wings. The neck sweeps upward and the carved head has all of Bellamy's stylistic features. Applied to the eagle and running diagonally in front of the right wing is a carved flagpole. Below the finial of the pole is an attached carved and painted banner that has a reverse curve with a swallowtail end over the wings. I prefer to duplicate the original gilt surface. The front of the banner has a carved & gold-leafed five pointed star set into a blue background. Below the neck and running along the bottom side of the left wing is a carved and painted American shield with small carved five & gilded stars. The shield features red, white and blue paint decoration. The eye, tongue and interior of the eagle's mouth utilize the original red polychrome. The banner is painted with blue lettering and is embellished with red shadowing. The borders of the banner feature a red pinstripe.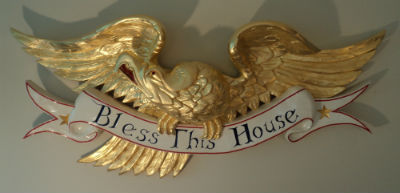 Bless This House, 36" wide


Typical carving time is from 25-75 hours, and finishing time another 10-25 hours. I prime with 3 coats of tinted shellac, sanding between, before beginning the painting process. Originals sell at auction for $500k-600k! Fortunately, mine are magnitudes cheaper.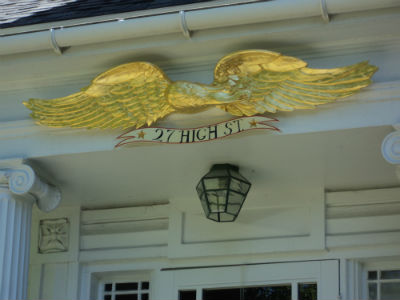 John Haley Bellamy 'Providence' style eagle.
62 inch wingspan, gold-leaf


I carve lots of other folk motifs, such as whales, angles, cod fish, etc. The eagles are my favorite.


---
William can be reached directly via email at dei.gratia123@gmail.com. You can also visit his website at www.LineAndBerry.com and his Facebook page at www.facebook.com/williamfrancisbrown.
Return to the Wood News Online front page