Show Your Shop!
For this popular monthly column, we invite you to SEND US PHOTOS of your woodworking shop along with captions and a brief history and description of your woodworking. (Email photos at 800x600 resolution.) Receive a $50 store gift card if we show your shop in a future issue.
---
Down to Earth Woodworking
By Steven D. Johnson
Racine, Wisconsin
Experiencing "the Zone"
In this month's Down To Earth Woodworker , Steven Johnson reviews some of your responses to his Shooting Board article, and explains why one would use a shooting board at all. He also discusses the phenomenon of getting into "the zone", and whether you can cause it to happen yourself, or if it can only occur spontaneously.
---
A Trip to Lie-Nielsen Toolworks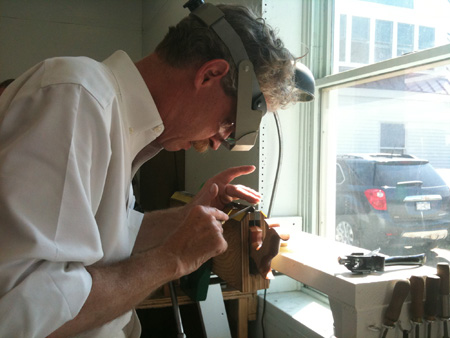 In July, Highland Woodworking owner Chris Bagby and a couple of Highland staffers headed up to Maine for the first Lie-Nielsen Toolworks dealer training workshop. We got a tour of the impressive factory with tools being manufactured right before our eyes, learned a quick, straight forward method for getting a plane iron perfectly sharp every time, experimented with lots of fascinating hand tools, and much more!
We documented each day of the trip in the Highland Woodworking blog with photos and description. Check them all out below!
Day 1
Day 2
Day 3
Day 4
---
Ask the Staff
Question:
I have a piece of wood I'd like to salvage. It is about 24" x 6" and varies from 1/2" thick at one end to about 5/8" thick at the other. What is the easiest way to mill this to 1/2" from end to end?
E-mail us with your woodworking questions. If yours is selected for publication, we'll send you a free Highland Woodworking hat.
---
The New Galbert Caliper
This superb invention will enhance your spindle turning experience. Peter Galbert's direct reading caliper is a "tape rule for woodturners."
---
Build a Windsor Chair with Peter Galbert, October 23-29, 2010
Build your own Windsor chair during this 7-day event, plus take home the skills to build many more. Professional chairmaker Peter Galbert will show you all you need to know, plus coach you from start to finish. Space is limited, so sign up early.
In Peter's class, you will learn:
Sharpening and tool tuning
Splitting
Shaving
Bending
Turning
Joinery
Design Considerations
Wood Technology
and lots more...
FIND OUT MORE inside ,
or sign up for the class HERE .
---
New Lower-Priced SawStop Cabinet Saw
The award-winning SawStop Professional Cabinet Saw has just become more affordable. Now being offered for August delivery with 120 volt 1.75 HP motor, the SawStop PCS175 is priced at only $2299. (The 3 HP model requires that your shop be wired for 220 volts.) Now more shops than ever will have access to SawStop's safety performance, quality, and innovative engineering.
---
SawStop's New High Efficiency Dust Collection System Leads Industry
In addition to their new 1.75 HP 110V Professional Cabinet Saw, Sawstop has just introduced a new overarm guard and dust collection system that is available for any Sawstop model.
---
Great Buy on a Premium Sheffield Back Saw
A special purchase allows us to offer this premium quality 14" 12tpi tenon saw for a spectacular low price. Manufactured in Sheffield, England under the Footprint brand, this saw features the finest Sheffield steel, a heavy solid brass back, a strong and straight blade with hand-sharpened teeth and a traditional beechwood handle. Supply is limited.
---
Finishing Wood
with Alan Noel
Avoiding Furniture Damage

---
Bending Wood:
How to Build an Inexpensive Steam Box
Bending green wood to form chair parts or other curved elements is not rocket science, but it does take a little know-how. Our short illustrated tutorial on how to build one using simple materials has helped many a woodworker get started.
We also offer an excellent small electric-powered steam generator made by Earlex that is ideal to use with a small home-made steam box. SAVE! While supplies last, a special purchase allows us to offer it to you for only $49.99, a 28% discount off our regular price.
---
WOODWORKING
TIPS MAP
An easy way to navigate our entire highly-informative woodworking website.
---
Quantity Discounts on Hardwood Lumber
10% discount on 50 BF (assorted). 20% discount on 100 board feet.
Available for in-store purchase only, premium hand-selected Walnut, Cherry, Mahogany, Red Oak, quartersawn White Oak, Maple, Poplar, European steamed Beech, Purple Heart and others. Random widths and lengths, planed 2 sides, one straight edge. Stop in and check it out!
---
Try our new Woodworking Article Search Feature
on the Highland Website
We've been writing and publishing articles on woodworking techniques and the use of woodworking tools for over 30 years! Many of these are archived on our website, but until now there was no easy way to search the entire collection for specific info.
We're now pleased to present a new search engine designed just for this purpose. (Please continue to search for our products using our original website product search engine.)
---
Commodity, Firmness
& Delight
This intriguing article by Wallace Macfarlane first appeared in Wood News No. 18 in the fall of 1986. In it he examines the notion of the artist's 'eye', and how it applies to woodworking craftsmanship. We've also included a thought-provoking response to the article that ran in the following issue of Wood News , written by Jack Tuberville, a reader who believes the eye is less important than the enjoyment.
---
Show Your Stuff!
For this new column, we invite you to SEND US PHOTOS of your favorite woodworking projects along with captions and a brief history and description of your woodworking. (Email photos at 800x600 resolution.) Receive a $50 store gift card if we show your stuff in a future issue.