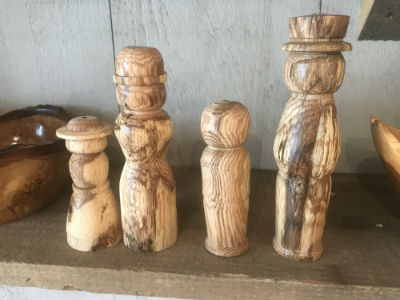 Meet the Oak Family
A Demonstration of Woodturning
By Temple Blackwood
Demonstrating woodturning is an excellent way for woodturners and woodworkers to further develop skills and to share the learning experience. One of Temple's most popular demonstrations is turning various wooden figurines based on the person
or family who is watching the demo.
Click here to read more
Book Review:
Build 25
Beautiful Boxes
By J. Norman Reid
Perhaps you're looking for ideas about small things you can build as gifts. Like many of us, you may have an abundance of leftover scraps just too good to burn but too small for furniture. Whatever your motive,
Build 25 Beautiful Boxes
may be a great way to meet your needs.
Click here to read more
Poll: How Do You Get Your Woodworking News and Project Ideas?
Back in the day, woodworking project inspiration mostly came from magazines and public television. Once the internet came along, we now have a variety of sources including YouTube channels, blogs, forums and how-to websites. This month we want to know how you get your woodworking news and inspiration?
Click here to answer
Finishing:
Flattening Agent
Mistakes and Remedies
By Alan Noel
Alan recently learned that when you wet sand a satin finish you can level the flattening agent, which can actually be very beneficial when you've made a finishing mistake.
Click here to read more