Tool Review: Woodpeckers Ultra-Shear
Carbide-Tipped Turning Tools
By Jeff Fleisher
Click on any picture to see a larger version.
Woodpeckers Ultra-Shear Carbide-Tipped Turning Tools provide an alternative to traditional woodturning bowl gouges, spindle gouges and scrapers. There has been a revolution over the past few years of woodturners moving away from the traditional tools to carbide-tipped tools. The biggest advantage is that you do not have to sharpen the tool...just loosen the carbide cutter head and rotate it to a new cutting surface. Although the cutter head can be sharpened, most turners will just throw it away when all surfaces are dull and buy a new cutter to put onto the same handle.

A few years ago Easy Wood Tools came out with a set of carbide-tipped tools that featured a round cutter, a square cutter and a diamond shaped cutter. These were all mounted on a piece of straight bar stock as shown below.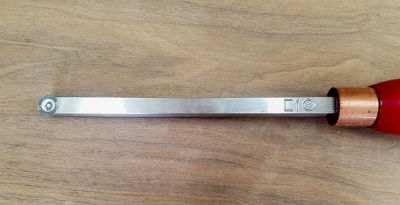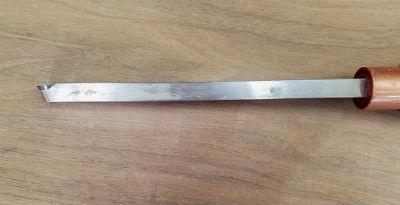 These tools worked quite well for primary cutting by placing the shaft on the tool rest and directly inserting the cutter head straight into the wood. Unfortunately, turning the cutter to 45 degrees to do a shear finishing cut was a little problematic because of the square shaft not sitting flat on the tool rest. This could lead to catches that are potentially dangerous to the turner and could ruin your turning.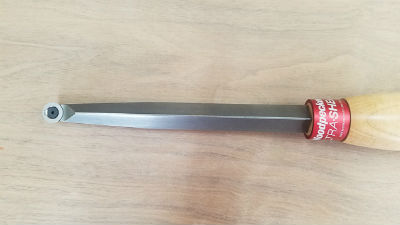 The newer Ultra-Shear Carbide-Tipped turning tools from Woodpeckers have a flat bottom which sits firmly on the tool rest for conventional straight-on cutting but the sides of the tool have a 45 degree bevel "flat" on the bottom edges that allow you to tilt the tools to take finishing shearing cuts, while the tool shank remains flat, level & stable on the tool rest. Therefore, once you have your primary form, you can tilt the tool over onto the beveled surface and you can safely make a shear cut. David Ellsworth says that "...a shear cut is what allows me to start sanding at 240 grit."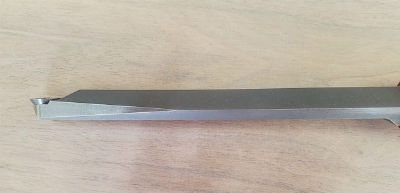 In practice, your primary cutting can be done with the tool flat on the tool rest, as shown below: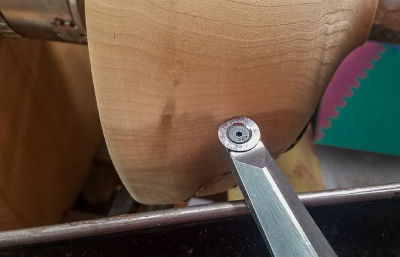 For all of these cuts, the tool handle is held parallel to the floor. Once the overall shape is made you can roll the tool over 45 degrees and be in position for the shear cut. Again, the handle is still held parallel to the floor. It will look something like this: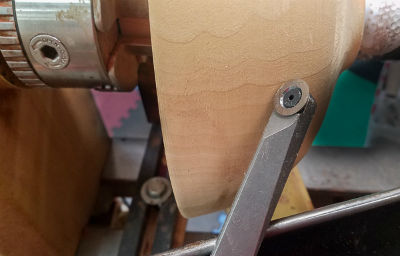 You should get "whisper-thin" shavings coming off the cutter and will have an extremely smooth surface. Using a shear cut to create that final surface will save you a lot of sanding time and make your turning a much more enjoyable experience.

The Ultra-shear tools come in three sizes.
Full Size - These are for larger size projects like bowls and larger spindles for table legs. They are 24" overall length with 16" hard maple handles.
Mid Size – These are for smaller projects like smaller bowls, spindles and pens. They are 15-1/4" overall length with 11" hard maple handles.
Pen Size – These are intended for pen turners but you can also use them for any type of small project. They are 12-1/2" overall length with 9-1/4" hard maple handles. The pen size tools do not have the 45 degree flats, they are just too small, but do have rounded bottoms which does help a little when shear cutting.
The Woodpeckers Ultra-Shear tools come in the same three shapes as earlier carbide cutters. They are: Square for rough shaping and outside curves, Round for inside curves and finish turning and Diamond for detail turning.

Woodpeckers has taken an already useful tool and has improved the overall design. You can now perform shear cuts with the tool flat on the tool rest which makes it a much safer cut. You should seriously consider joining the carbide cutting revolution and add a few carbide-tipped cutters to your collection of woodturning tools.

Click here to find out more and purchase your own Woodpeckers Ultra-Shear Carbide-Tipped Turning Tools from Highland Woodworking.

Click here to view our Tool Review Archive.

---
Jeffrey Fleisher has been a woodworker for approximately 20 years and a professional woodworker for the past 6 years. He is the president of his local woodturning club, the Woodturners of the Virginias and past president of the Northern Virginia Carvers. You can see some of the furniture he has made at www.jeffswooddesigns.com. He can be reached by email at furnmkr@gmail.com
Click the images below to visit some of our most popular tool departments
| | | | | | | |
| --- | --- | --- | --- | --- | --- | --- |
| | | | | | | |
| Finishing | Books | Clearance | Festool | Planes | Sharpening | Wood Turning |
Highland Woodworking
1045 N. Highland Ave. NE
Atlanta, Georgia 30306
Tel. 800-241-6748
Email us at email@highlandwoodworking.com
Visit us on the web at www.highlandwoodworking.com
Copyright © 2019 Highland Hardware, Inc.

Errors regarding pricing and specifications are subject to correction.
SOME SALE QUANTITIES MAY SELL OUT and become unavailable at the advertised price.