Here's My Woodturning!
By Diana Pueppke
Lincoln, Nebraska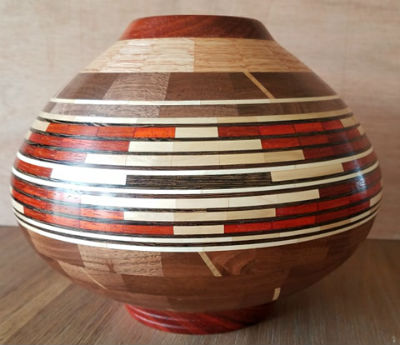 This Sun Footed Bowl is made out of maple and walnut. It is 12" in diameter and 6" tall
with 164 individual pieces. With the foot being solid it has a little heft to it.


I started woodworking in 2009 when I bought a small table saw and my husband bought me a plunge router for my birthday. With these tools, among many wood projects, I made a large dollhouse for the young daughter of a friend of mine.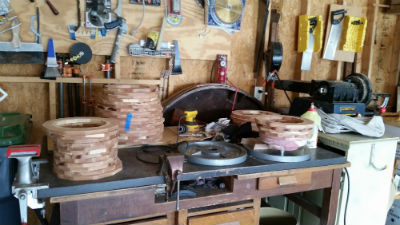 Segmented turnings in progress.


The woodturning bug bit me when my older brother, Mike, gifted me a 1980's Shopsmith that ran perfectly. I was hooked! My preference and specialty is segmented turning. I am very content with the time, the precision, and the patience that segmented woodturning requires.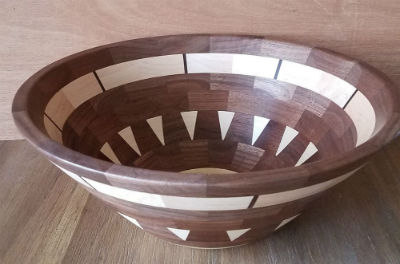 A segmented bowl made out of walnut and maple with wenge slices at the top.
This Sun Dial bowl is 11-3/4" in diameter and 4-5/8" tall with 121 individual pieces.


My woodshop is our two stall attached garage. When I go out to my shop, I move our truck out of the garage and onto the driveway so I can have 24 square feet of woodworking bliss. All of my machines are bolted down to reclaimed cabinets on wheels. I invested in a small midi lathe which I do most of my turning on, although sometimes I do receive requests for bowls that require my larger Shopsmith. For any aspiring woodturners with a limited amount of space, I would say put your machines on cabinets with wheels for easy mobility.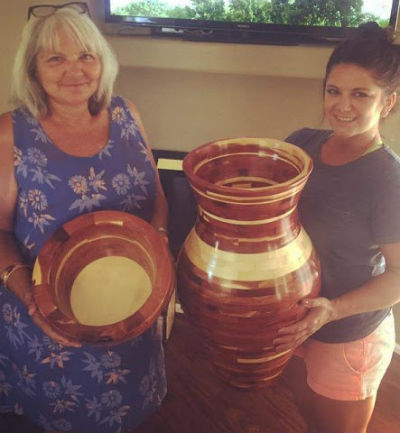 I made the large segmented vase from cedar for my daughter, Sara.
It has 456 segments and I turned it on my large Shopsmith lathe.


I am a perfectionist and am very dedicated in giving my best to my customers. Below are a variety of my turnings.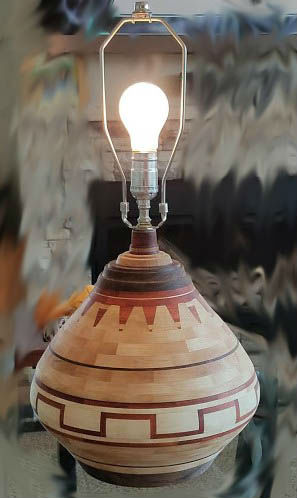 The lamp is made out of Maple, Walnut, and Padauk. I made it for a friend
of mine for her 65th birthday
---
Diana can be reached directly via email at Nebraskawoodturner@gmail.com.
Return to the Wood News Online front page
Woodturning Submissions

Would you like for your turnings to appear in this column? We invite you to SEND US PHOTOS of your woodturning projects along with captions and a brief history and description of your project. (Email photos at 800x600 resolution.) Receive a $50 store credit redeemable towards merchandise if we show your turning in a future issue.

Click here to submit
your woodturnings




Highland Woodturner Archive

Want to see more turnings and get woodturning advice? Check out our archive of old issues of The Highland Woodturner, our old woodturning newsletter.

Click here to view our turning archive



Click the images below to visit some of our most popular tool departments
| | | | | | | |
| --- | --- | --- | --- | --- | --- | --- |
| | | | | | | |
| Finishing | Books | Clearance | Festool | Planes | Sharpening | Wood Turning |
Highland Woodworking
1045 N. Highland Ave. NE
Atlanta, Georgia 30306
Tel. 800-241-6748
Email us at email@highlandwoodworking.com
Visit us on the web at www.highlandwoodworking.com
Copyright © 2020 Highland Hardware, Inc.

Errors regarding pricing and specifications are subject to correction.
SOME SALE QUANTITIES MAY SELL OUT and become unavailable at the advertised price.