Here is my Woodturning!
By Jack Stumph
Click on any image to see a larger version.

I have been doing some kind of woodworking since I was young kid helping my uncle roof and replace siding. My first real build was a gun rack I made in wood shop in high school. My favorite type of woodworking is working on the lathe, to be able to grab some random piece of boring wood and turn it into something beautiful. I have only been turning for a few years and was inspired to do so after I joined a wood club. I watched a club member turn a Christmas ornament for his demo and I was hooked. The lathe is such a quick, gratifying way of creating a wood project and is easy to get drawn into. My advice to anyone that enjoys wood and woodworking is to seek out a club nearby and join in. The experience and knowledge that the club has to offer is immense and I have yet to meet a woodworker that was not willing to show or explain how he or she accomplishes their craft.

I am a member of the Montgomery County Woodworkers Club and the International Wood Collectors Society. I am very lucky to have a wife that has let me build a 1900 sq ft shop and buy many nice tools to outfit it with. We have been blessed with 2 sons and 4 grandsons that might some day have the same passion I do for wood.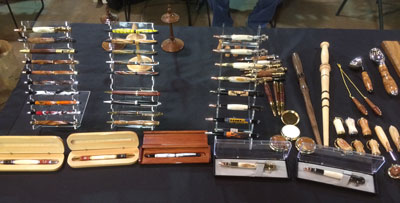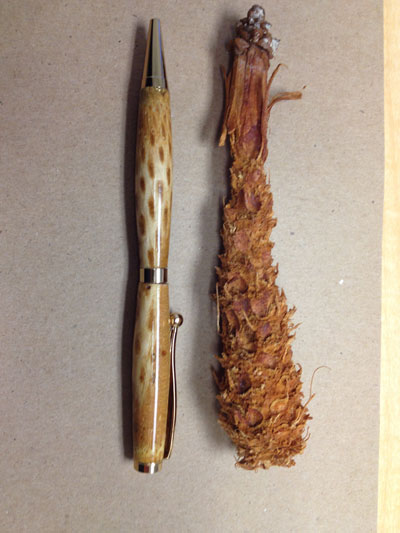 I have made pens out of corn cob, deer antler, pine cones,
cactus, and acrylic.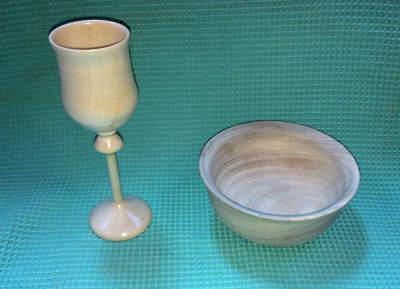 The maple goblet was a club challenge and
the bowl is made out of camphor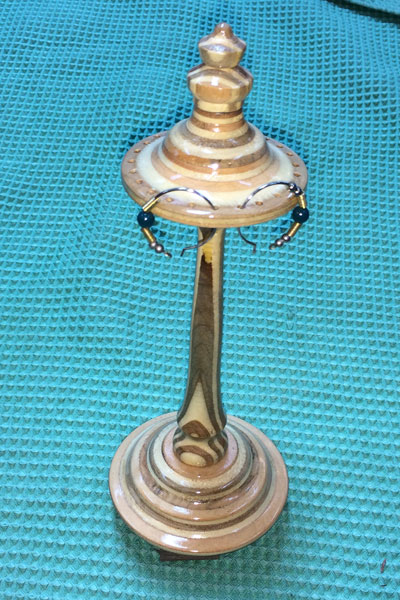 The earring tree is out of plywood
---
Jack can be reached directly via email at wjs58@yahoo.com.
Return to The Highland Woodturner front page
Click the images below to visit some of our most popular tool departments
| | | | | | | |
| --- | --- | --- | --- | --- | --- | --- |
| | | | | | | |
| Finishing | Books | Clearance | Festool | Planes | Sharpening | Wood Turning |
Highland Woodworking
1045 N. Highland Ave. NE
Atlanta, Georgia 30306
Tel. 800-241-6748
Email us at email@highlandwoodworking.com
Visit us on the web at www.highlandwoodworking.com
Copyright © 2017 Highland Hardware, Inc.

Errors regarding pricing and specifications are subject to correction.
SOME SALE QUANTITIES MAY SELL OUT and become unavailable at the advertised price.