Click on any image to see a larger version.

I began working with wood as a teenager. I started woodturning in the late 1970's with a rudimentary lathe powered by an old refrigerator motor. With a full-time job, family, house, and yard to care for, I was only occasionally able to practice turning. Upon retiring in 1998, I joined the American Association of Woodturners and our local affiliate, the Piedmont Triad Woodturners Association. Learning from our club members and demonstrations, as well as books and magazines, I practiced more and moved up to a much better lathe. For me, this is a hobby rather than a business.

Three years ago, my wife and I moved to the Salemtowne Moravian Retirement Community here in Winston-Salem, NC. A woodworking shop is provided for the residents' use, where we repair furniture and other things for residents and make things. I moved my lathes and associated tools here to the woodworking shop. Some things I make are gifts for friends and family. What products I do sell are donated through the Salemtowne Retirement Community Gift Shop, where the proceeds are used for the benefit of our residents. And, I also donate some of my work annually to an art show that benefits our local Senior Services Meals on Wheels Program. Woodworking and other activities here keep me out of trouble!

One of North Carolina's "Treasure Trees" – a Scarlet Oak, stood on the Salemtowne campus near the Babcock House. This tree, 110 feet in height, with an 81-foot crown spread, had a 33- inch diameter and a large burl near the base. The burl was 5 feet wide and 5 feet high, protruding 18 inches from the tree. On June 20, 2017, the tree succumbed to insects, and fell. The first three pieces below are from that burl.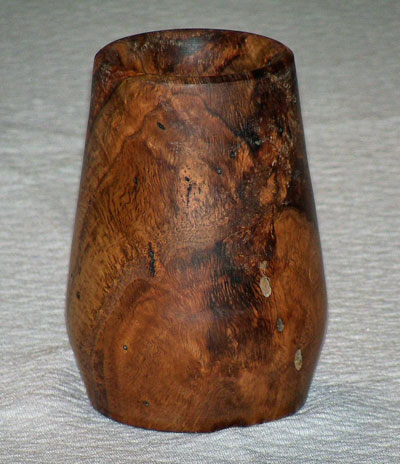 Hollow Form from a Scarlet Oakburl.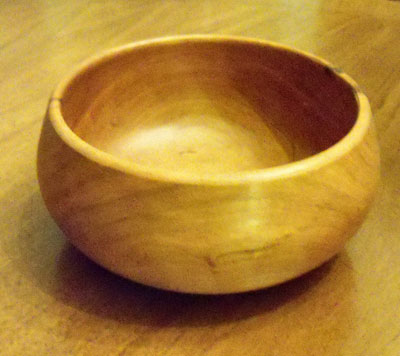 Cherry Bowl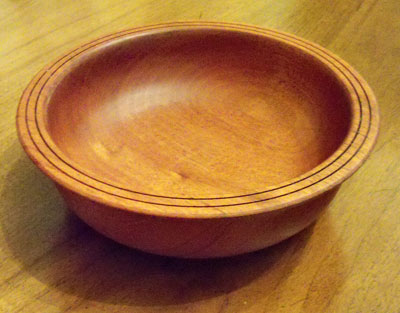 Mahogany Bowl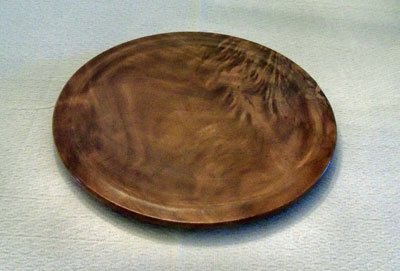 Walnut Plate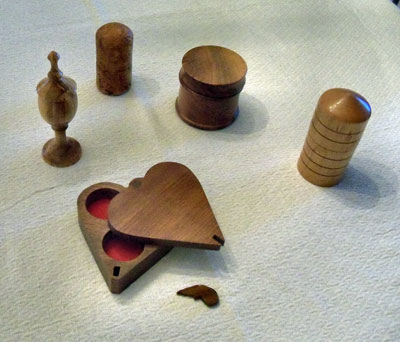 Turned Boxes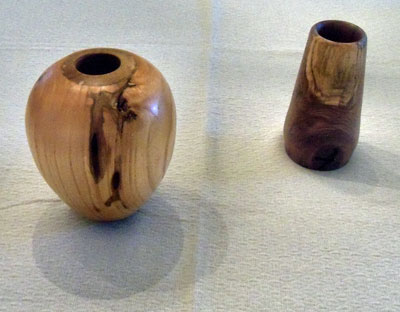 Hollow Forms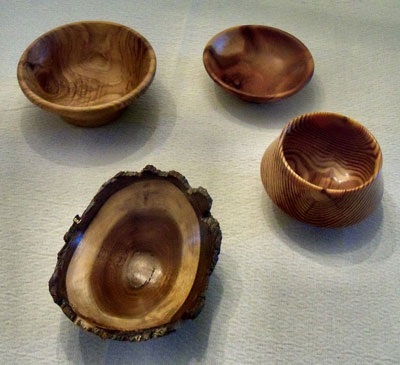 Natural Edge, Ash, Cherry, Heart Pine Bowls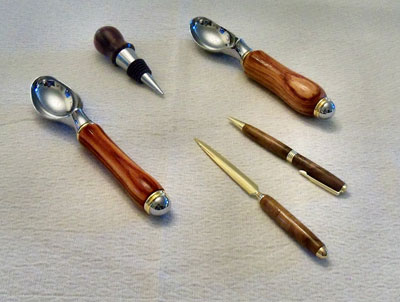 Scoops, Pens, and a Stopper
---
Return to The Highland Woodturner front page