February. Winter snow and ice. Single digit temperatures and wind in mid-coast Maine make it fairly easy to comply with the keep-healthy practices of the current pandemic. Now is the prime time to fell trees in the woodlot before the sap runs and long before the forest wakes up. I do need (really, this is a deep and irresistible annual compulsion) to harvest some fresh birch for classes and summer demonstration bowls, several of which will be used in the working colonial kitchen at the Wilson Museum in Castine during the summer. I have a conveniently located, broken and leaning birch tree that, hopefully having been propped up off the ground, will be richly spalted and ready for turning.

As many of us age into emerging responsibilities of family seniority, we have time and inclination to reflect on our own experiences, family traditions, and stories of our own "amazing" and "impressive" adventures of the past. If we are lucky, we have opportunities to share these enhanced tales with our younger generation relatives and their friends, an important transmission of passing along oral history, family values, identity building, and family pride. But the competition for grabbing today's children's time and attention is stiff, and it is essential to have "a gimmick" that will attract them and sustain their desire to participate. One of my mentors who successfully ran a strong youth program in his church was guided by his maxim, "leave them with a strong desire to want more" so they will be eager to come back for another experience.

The practical application of these ideas is ever-present in my work in my winter wood harvest, in the shop, and when I do my summer woodturning demonstrations at the Wilson Museum.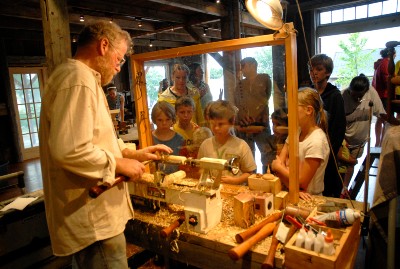 Always looking for opportunities to acquire the time and attention of my grandchildren and other people with their children, I frequently scale a project to the abilities and ages of my audience.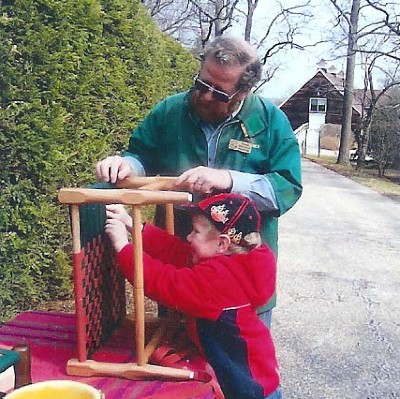 Three things guide my plan:

Create a safe project/environment where the rules are simple and clear and where the project is within the grasp of the student's independent reach as determined by age, maturity, dexterity, and experience.
Provide instructional support to remain responsive to the student's choices and goals while ensuring some level of success. Share an honest, constructive conversation of the challenges and pitfalls that includes steady positive encouragement as well as suggestions for the next attempt, remembering that this is the student's experience and not the teacher's proficient perfection.
Identify a reachable end-goal with an intrinsic, concrete reward for the student to take the end-product home.

In the Wilson Museum summer demonstrations, the working Village Blacksmith has the children (and sometimes adults) pump the bellows for the forge in his shop while he hammers out a small iron hook that the "working apprentice" can carry around and later take home and use proudly.


In the summer colonial kitchen, our Executive Director/demonstration cook involves a steady flow of young girls and boys in feeding the open fire, rolling and kneading the bread dough, shoveling the prepared loaves into the fireplace to cook, placing the cooked loaves on the large grape-leaf plates, and passing out the new loaves to eager museum visitors. The process works beautifully for demonstration-made bread, donuts, and (of course) hand-cranked ice cream.


In my woodturning demonstrations, both at the Museum and in my shop, the students in the audience (and sometimes adults) help choose the project – spinning tops, Harry Potter wands (that magically clean your room and do your homework), belaying pins drilled to accept an ink pen cartridge – as well as choosing the specific "personalized" Sharpie colors used in finishing and adding decorations using the electric hot pen. I think the most successful part of this and other projects we offer is that the children get to keep what they participated in making for FREE! And it becomes their own possession to take home with them. (We are definitely popular on this score).

At the heart of our demonstrations we are teaching, and the results show as children and their parents frequently come back each summer for more hooks and to see what other items we might offer, often suggesting a new item they might wish to have. One of my most memorable demonstration moments came several years ago when I ran short on prep time to prepare blanks for turning wands. Taking the easy way, I clipped several small branches from a live oak in our woods, cut them each to 12" (the maximum length for my old Jet mini), and added them, complete with bark, to my bucket of sawn blanks on my way to the Museum. During my demonstrations, having run out of the dimensioned blanks, I picked up one of the bark-covered blanks and mounted it. One young fellow in the audience, probably about 8 years old, said with amazing clarity, "Look, mom, he's using a real piece of wood!"

With my oldest son and his son and daughter nearby, I often look for projects we can do together. We are just at the beginning stages of a two-year boat building project in a shed off my shop that we built together last fall for this purpose.


Given that the time and weather were perfect for my annual turning-stock wood-harvest, I also took advantage of their youth and strength to share some chainsaw safety and use practice with my grandson, focusing on milling the log for turning a series of spalted birch shallow bread plates. With many years of working together in different ways, we all enjoy the special opportunity for our three generations to coordinate our knowledge and efforts as a team.


In response to the COVID-19 isolation within our schools, both on-campus and remote learning, several parents came looking for an active, participatory, creative learning experience for their children. Together we worked out a safe plan that includes a pattern of wearing facemasks and wearing the full-face shields typical of woodturning safe practices, as well as maintaining social distancing and remaining in a "family" pod.


Our local bookseller and her son (who has been homeschooled this year), have added woodturning to his regular weekly curriculum. We share a passion for turning wood, learning the terminology, learning the physics, and setting goals and challenges for ourselves.


After a few instructional lessons, he took over making his plan for each day and working almost independently on his project-of-the-week in a shop-time session.


He and many other students have come for a variety of shop-oriented, learning projects over the years.


This has enriched their lives with the power of knowing the pleasure of how to make things out of wood. It satisfies the innate desire to create and allows the shared time of adults and youths working together, which is invaluable for building family history and connections both within and beyond the parent/child group.




Get your kids into woodworking with specialty tools and kits available at Highland Woodworking


---
Located in Castine, Maine, Highlands Woodturning gallery and shop offers woodturning classes and shop time, a gallery of woodturned art, custom woodturning for repairs, renovations, and architectural installations. You can email Temple at temple@highlandswoodturning.com. Take a look at Temple's Website at http://www.highlandswoodturning.com/