The Joy of Multi-Axis Woodturning
By Ray Bissonette
Snyder, NY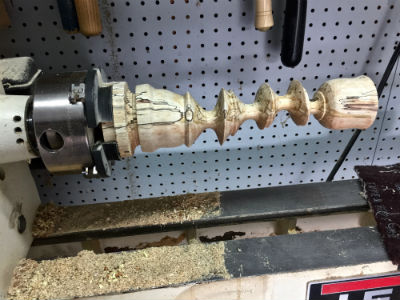 Spalted Maple Firewood Piece


What began as an experiment about seven years ago has become my favorite woodturning pastime. I call it free hand offset turning. The choice of name derives from a couple factors: what I make emerges from only a rough plan with little or no measurement or layout relative to the work of most turners; I turn off center without tailstock support; the end product is always a bit surprising, usually pleasant but not always.

I previously wrote a column about my offset turning in addition to sharing some of my turnings in a past Show Us Your Woodturning column. This time I wanted to share my actual step by step process:

1. Begin with stock about 2-3 inches. Length should probably be no more than 12 inches but start with about 8 inches of working stock. It's best to begin small when you're first starting out.

2. Ensure there is enough space for the cup and thickness for the base for both physical and aesthetic balance, absent that you'll need to build out by bonding to sides or embedding. Then all turned as one. Otherwise you're making two items.

3. Turn between the centers to your desired thickness (base and cup again). Square off both ends! You'll be glad you did.

4. If possible, taper cylinder to minimize mass at the tailstock end.

5. Turn tenon on heavy end to insert in the chuck jaws. Not too much deeper than necessary to fit and allow an ample shoulder for the chuck. When the tenon is too long it prevents the chuck jaws from engaging the tenon shoulder and is not safe!

6. Measure the depth of the tenon to maximize stock within chuck jaws. Angle slightly outward as you would on a bowl tenon. Again, do not exceed chuck jaw recess!

7. Remove from centers. Affix chuck. Don't be shy about tightening pressure. Use all three holes if you have them.

8. If you want to alternate offsets, number the headstock end 1-4 corresponding to chuck jaws. If you want to mark off the length of your offsets you can do this now on the shaft.

9. Hollow the cup end — I use a drill, parting tool, and side cut scraper to minimize lateral pressure. Sometimes I use a spindle gouge inside out, which is nerve wracking for me. It might be a lot easier if you use a steady rest. I don't but I should. I do use a tennis ball against the cup when finishing the cup and first stem exteriors.

10. Shape the exterior of the cup and initial stem or axis. The diameter of the stem is your choice based on visual preference and tolerance for possible snap. My earlier ones were about 3/8 inch but I notice they're getting thicker as I lose my nerve. Finish sand. You can't go back.

11. Loosen the chuck enough to shift to the next offset position and angle off center about an eighth of an inch. More if you want but make sure to leave enough tenon to allow secure grip by the jaws. The width of the distance from chuck jaw to tenon shoulder determines the depth of your offset. You can measure this if you want identical degrees of offset along the piece. After you loosen the chuck to reposition, snug your workpiece into the chuck to be certain all jaw surfaces and tenon shoulders are in solid contact.

12. After inspecting this, loosen and reposition.

13. Position the tool rest by hand turning. Get as close as possible. Put the base of the tool rest beneath the area to be cut. You want to maximize stability.

14. Adjust your face guard. Place a sheet of something with contrasting color beneath your offset to help see the profile and where the tool is.

15. Stand aside and start the lathe at about the speed you roughed out the cylinder. Maybe around 800 rpms. Remember the first offset is most turbulent. It's farthest from the anchor (headstock) and the arc of rotation and air to wood ratio are at maximum. After the first offset I increase speed to about 1000 RPMs.

16. Select by eye, if you haven't marked it out, an area for the first cove. I use a 3/8 bowl gouge ground sharp to begin to nip away until cove definition appears. Then I switch to a 3/8 spindle gouge to get in deep. And remember, slower speeds do not prevent catches. But the dilemma here is that centrifugal force increases with speed.

17. When the first offset is complete, push the piece back into the chuck and tighten lightly before tipping the second offset. This insures that all jaw surfaces but the offset are tightly engaged. Give your chuck another crank (I do this periodically throughout job). And remember that sanding an offset cove may be more risky to tender flesh than cutting.

18. When you've successfully completed your first offset, you know what to do and it gets easier as you move toward the headstock.

19. Before you part off, remember to reset the piece flush in the chuck. Some have been known to forget this step!

A friend of mine helped me make a video to demonstrate my method for off-center spindle turning, which you can view here: Multi-Axis Spindle Turning.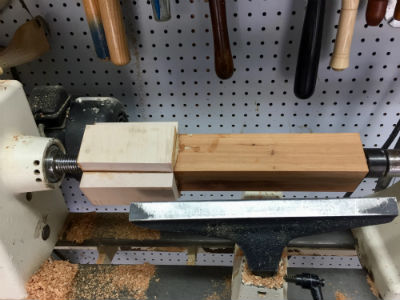 Cherry and Maple Setup in the Lathe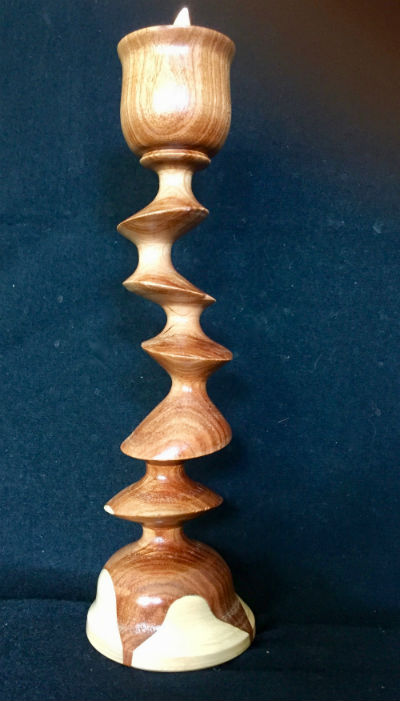 Finished Cherry and Maple Candelabra
---
You can email Ray at rbissone@buffalo.edu . You can also see more of his work at his personal website, bevelrider.com.
Return to The Highland Woodturner front page
Click the images below to visit some of our most popular tool departments
| | | | | | | |
| --- | --- | --- | --- | --- | --- | --- |
| | | | | | | |
| Finishing | Books | Clearance | Festool | Planes | Sharpening | Wood Turning |
Highland Woodworking
1045 N. Highland Ave. NE
Atlanta, Georgia 30306
Tel. 800-241-6748
Email us at email@highlandwoodworking.com
Visit us on the web at www.highlandwoodworking.com
Copyright © 2018 Highland Hardware, Inc.

Errors regarding pricing and specifications are subject to correction.
SOME SALE QUANTITIES MAY SELL OUT and become unavailable at the advertised price.