Click on any picture to see a larger version.
Turning the Corner focuses on using woodturning on the lathe as a way of enhancing cabinetry, furniture designs, and architectural installations. Each article also suggests an important woodworking book to read, reread or listen to, and a link to an appropriate article in The Highland Woodturner. Along the way, these articles seek to inspire woodworkers (cabinetmakers, carpenters, and housewrights) to extend their skills into basic, novice, and advanced woodturning while discovering for themselves this particularly sensual and spiritually rewarding dimension of working with wood.
---
While the meditative rewards of artistic design, project analysis, and thoughtful planning clearly energize the enthusiasm of a woodworker, the core of achievement comes from learning the array of tools, practicing tool use and maintenance, and gaining both the skills and confidence needed to be able to execute the end-goal vision into reality. For the woodturner, one team of tools that is often ignored as poor-country-cousins to the more glamorous skew and gouge families, is the team made up of parting tools.

Parting tools, often found in "sets" of spindle tools, are among the easiest woodturning tools to learn to make, use correctly, and sharpen. They are uncomplicated, versatile, and allow the student accentuate the difference between "riding (rubbing) the bevel" to achieve a smooth cut and coarsely scraping the sharpened edge to roughly grind away the fibers of wood to achieve a profile. My mentor regularly repeated: "work with the tools to cut wood the way it wants to be cut."

Sometimes, amazingly, the opportunity to acquire a set of antique turning tools presents itself and, in my case, in 1973, for an impressive, budget-breaking $50, I added the 1909 "Sears Professional" set to my embryotic collection of turning tools.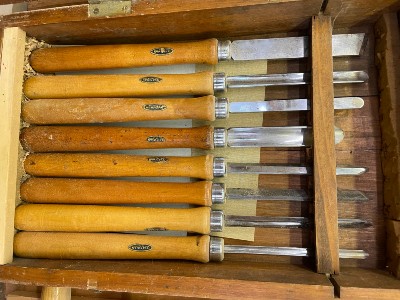 This set of chrome plated tools contain a wonderful, well-balanced "diamond point" parting tool. (I built the pine box for them at that time, and occasionally still bring them out for flashy demonstrations).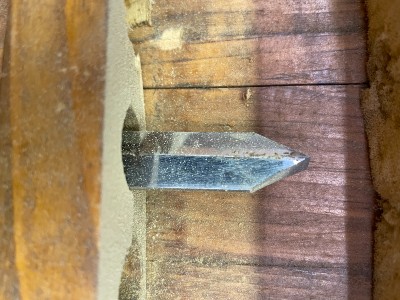 A lucky-find of a more recent antique set of Buck spindle tools was given to me by a retiring woodworker, and it includes a simple version of a straight-sided parting tool. (Note: both antique sets have dramatically better steel than many of the less-expensive sets of today).



My preferred diamond point parting tool is the 5mm (3/16") Sorby due to the quality of its steel in holding an edge and for its balance in use. This tool is widest at the sharpened point and narrows as the sharpened bevels travel away from the point.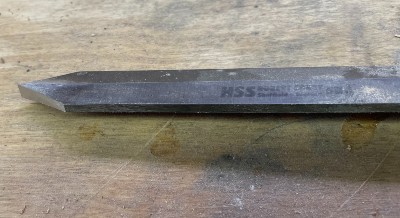 In my shop, the spindle tools work best with a hollow grind (seen here) because the bevel curves around the rounded stock as it addresses a cut. This presents more metal surface to the wood, promoting greater control for a precision cut. I find this true for all of the rub-the-bevel cutting tools – gouge, skew, and parting tool.

Straight sided parting tools seem to be the norm in today's spindle sets, and it is fortunate that they come in different thicknesses. With the bevel rubbing, these tools can be tremendously effective in thicknessing diameters for a tenon, cutting a clean vee-groove, shouldering, and parting the wood in a tight corner.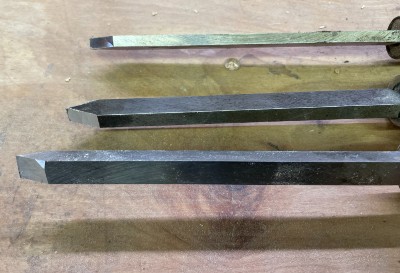 My other go-to parting tool is the 3/8" beading and parting tool (again Sorby). The width of this tool allows the turner to use a common box-wrench for sizing tenons without having to stop the lathe to measure, and it rolls beads, corrects shoulders, and cleans tight details like no other tool.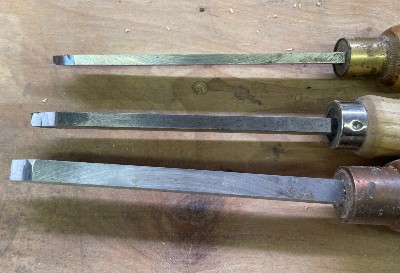 A close cousin to the 3/8" beading and parting tool, which is so central to my own kit, is the bedan tool which has gained considerable popularity among a number of turners. As I have no personal experience using this particular tool, I can only say that it appears to be half of the beading and parting tool I use so often. Occasionally I have seen it sharpened with a micro-bevel on the back side, which makes it even more similar to the traditional beading and parting tool. I would suggest that with the 3/8" beading and parting tool being hollow-ground on both of the two bevels, the tool and its sharpened edge is more useful for holding the sharp edge to make clean tenons, beads, shoulders, and other detail work. However, I would invite others who regularly use both the 3/8" beading and parting tool and the 3/8" bedan to share their experience with me in hopes that I will be motivated to add a bedan to my kit.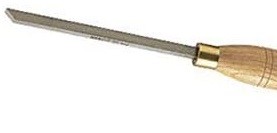 A frequent occurence when cutting off a lidded box, goblet, hollow form, or even a spinning top made from a beautiful blank is a limited space left between the chuck and finished work. This requires an extremely thin parting tool (two pictured) which has a point that severs the wood fibers cleanly and the long, flat blade scrapes clean the end grain using the same technology as a standard scraper.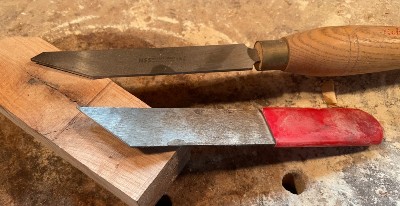 Perhaps the most unusual and specialized parting tool is the "fluted parting tool" which can make clean cuts through the end grain with its points and then clean the resulting edge with the sharpened flute. For turners who struggle with the skew to make this cut or the more challenging transition cut from square pommel to rounded leg, this tool is a likely substitute that is more manageable and adequately similar.


In the course of reading through a friend's copy of an 1898 Machine Shop Apprentice textbook, the short chapter on woodturning tools and use did not mention the parting tool. The instructor/author rambled on about gouges and skews and their applied use, but I was fascinated to find no mention of this key tool that seems most like the cutting tools used in a machine lathe. My uninformed conclusion was that either the parting tool and its use were so obvious that it did not deserve mention or that the parting tool, like so many of our new woodturning tools developed for special applications in the past forty years, was developed later by some bodger or frustrated woodturner with a blacksmith friend trying to find "the perfect tool" for an application, a life-long quest for many of us.



Click here to visit the Woodturning department at Highland Woodworking
---
Located in Castine, Maine, Highlands Woodturning gallery and shop offers woodturning classes and shop time, a gallery of woodturned art, custom woodturning for repairs, renovations, and architectural installations. You can email Temple at temple@highlandswoodturning.com. Take a look at Temple's Website at http://www.highlandswoodturning.com/