Here is My Woodturning!
By Paul Brown
Murphy, NC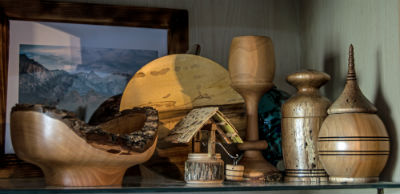 Click on any image to see a larger version.


I grew up near Pittsburgh, PA and every male student in my high school was required to take wood shop and metal shop as part of the graduation requirements. We were given a basic project in wood lathe operations and I somehow made an "A" with my lamp woodturning. It wasn't until years later that I had my second introduction to wood turning while working as an instructor at a Sheltered Workshop where furniture refinishing was one of our specialty services offered to the public. One of our clients had an old Oak Buffet that had one of its turned legs missing. I was the only staff member with any background in woodturning so I tackled the job!



I was always fascinated with turning so years later while in Seminary at the Candler School of Theology, Bishop Frank Allan of the Episcopal Mission at Emmaus House in Atlanta asked if I wanted to help setup a new mission program where we would teach local youth how to do woodturning. I jumped at the opportunity! Bishop Allan found funding that secured 5 mini-lathes, a drill press, grinding wheels, and all the chisels and sharpening tools that a respectable woodturner would be proud to own! Our initial weekend saw just 8 potential students but as others saw the beautiful pens and bowls that our students produced, the program grew to serving a standing room only crowd.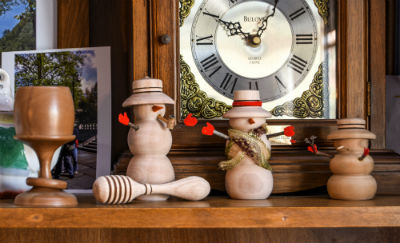 Variety of woodturning projects


My first job after Seminary took me back to my beloved Western North Carolina Mountains and Hinton Rural Life Center in Hayesville, NC. I essentially worked with a team of specialists who organized volunteers and coordinated a summer missions program that repaired and built homes for needy folks in four western counties. My boss, Clay Smith, was a woodturner and chairmaker and he was instrumental in encouraging me to expand my woodturning skills. When I retired after 7 years I began traveling with my wife to craft shows all over the Southeast. I joined a Craft Guild, Appalachian Heritage Crafters (now defunct), where I marketed my items. I assisted an old Warren Wilson College Alum, Joe Ruminski, teaching woodturning to alumni and their families at The Alumni Weekend Retreat two years running.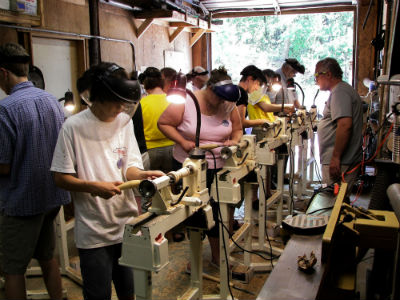 Assisting at the Warren Wilson Alumni Weekend


Woodturning and woodworking feed my creative side and I have expanded my projects to include Adirondack Chairs, tables, lamps, and anything else my dear wife needs around the house. My wood shop is located in my garage and I get the majority of my wood blanks from firewood and downed trees on our 10 acres of wooded land near the Tennessee border. I also love digital photography and have taken well over 80,000 photos over the last ten years.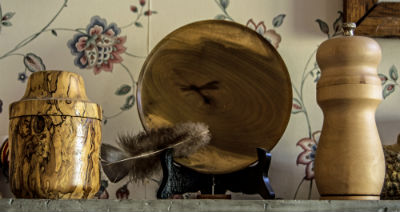 Ambrosia Maple lidded box - Poplar Plate - Dogwood Pepper Mill


I became acquainted with Highland Hardware back in 2001 while helping Bishop Allan at Emmaus House and over the years I have relied on the skill set of the staff whenever I find my own skills lacking. I always find an answer, class, an idea or the supplies needed to get my projects going.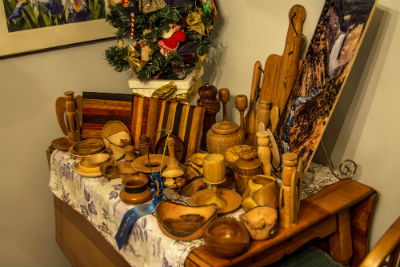 Variety of woodturning projects


I am a Vietnam Veteran and would love to pass on what little I have learned to a young veteran with a passion for woodworking.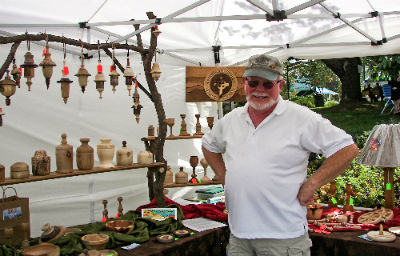 A booth with my turnings at the Hayesville, NC Craft Show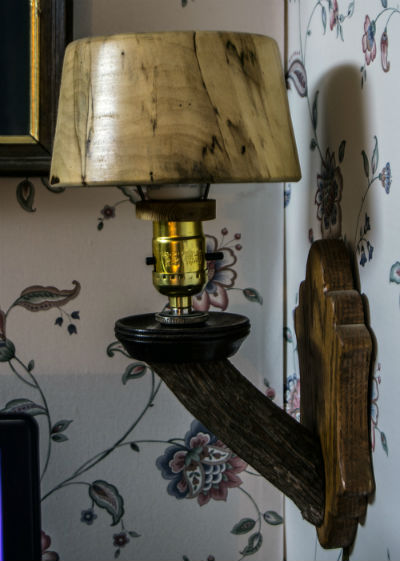 Ambrosia Maple Lampshade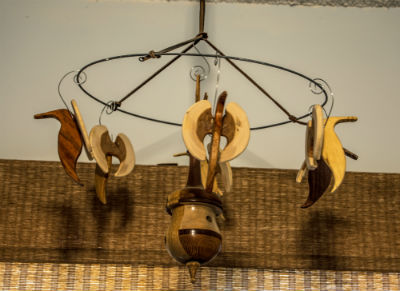 Scrapwood Hummingbird Mobile
---
Return to The Highland Woodturner front page
Click the images below to visit some of our most popular tool departments
| | | | | | | |
| --- | --- | --- | --- | --- | --- | --- |
| | | | | | | |
| Finishing | Books | Clearance | Festool | Planes | Sharpening | Wood Turning |
Highland Woodworking
1045 N. Highland Ave. NE
Atlanta, Georgia 30306
Tel. 800-241-6748
Email us at email@highlandwoodworking.com
Visit us on the web at www.highlandwoodworking.com
Copyright © 2018 Highland Hardware, Inc.

Errors regarding pricing and specifications are subject to correction.
SOME SALE QUANTITIES MAY SELL OUT and become unavailable at the advertised price.